A southern French classic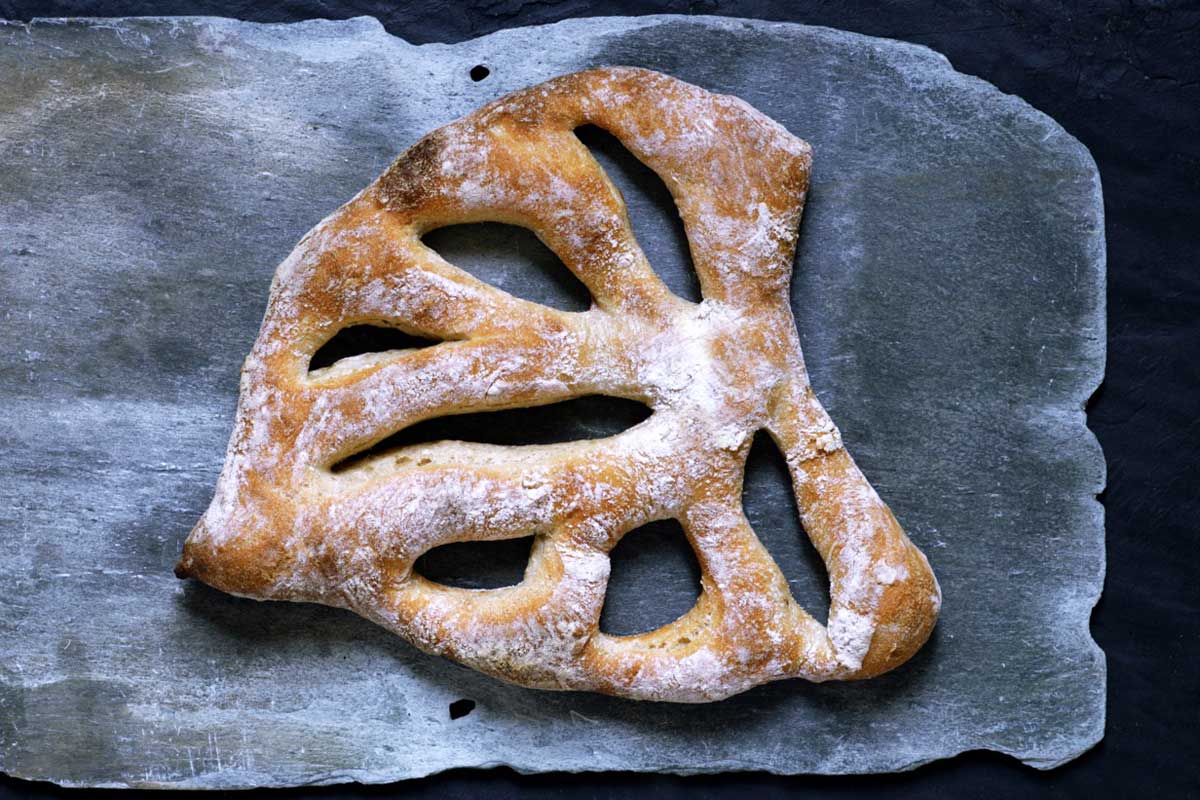 Photo © Jean Cazals
Ingredients
500g strong bread flour
350g water
10g fresh yeast
10g salt*
* in line with the Food Standards Agency's 2012 salt reduction target, the Campaign recommends using 8g
Method
Rub the yeast into the flour using your fingertips (or mixing if using dried yeast). Add the salt and water. Work the dough with one hand (or use rounded ended of your scraper) for 2-3 minutes until the dough starts to form.
Lightly flour the work surface, place the dough on the flour and form the dough into a ball by folding each edge in turn into the centre. Place the dough into a mixing bowl and cover with a tea towel. Rest for at least 20 minutes in a warm, draught-free place.
Rest the dough for up to an hour. Turn out gently onto a well-floured work surface. Be careful not to deflate it, but expect it to spread out to cover a square of your surface. Generously flour the top of the dough and cover with a clean tea towel to rest for 5 minutes.
Using the flat edge of your plastic scraper, cut the dough into 2 rectangles, and then cut each piece again into three roughly rectangular pieces. Make 1 large diagonal cut into each piece of dough making sure you cut right through to the work surface, but not through the corners. Make 2 smaller diagonal cuts on each side of the central one. Gently open out the holes with your fingers and shake off the excess flour.
Lift onto a lightly floured baking tray and slide onto the hot baking stone or tray in your oven. Bake for 10-12 minutes until golden brown and then brush with more olive oil.
---
Taken from Dough by Richard Bertinet (Kyle Books), reproduced here with kind permission to coincide with Real Bread Week 2017
Reproduction prohibited without written permission of the copyright holder.
---
Social sharing
If you make this, please share your photo(s) with the world on social media using #RealBread and other relevant hashtags, linking back to this recipe. Better still if we can see you in the photo, too: #WeAreRealBread!
Please don't forget to tag us, and the recipe's author. You can find us on:
Published 29 Mar 2017
Real Bread Campaign: The Real Bread Campaign finds and shares ways to make bread better for us, better for our communities and better for the planet. Whether your interest is local food, community-focussed small enterprises, honest labelling, therapeutic baking, or simply tasty toast, everyone is invited to become a Campaign supporter.
Support our charity
Your donation will help support the spread of baking skills and access to real bread.