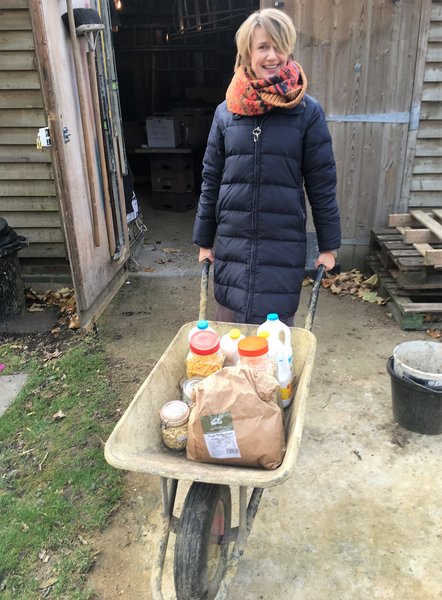 Photo credit: Phili Denning
Collection two was on Saturday morning, in bright sunshine luckily, (as rain is also going to have to be a consideration!) but at least it meant we didn't have to deal with the dark issue. I did however open our back gate for people to access the garage more easily. Wheelbarrows were clean (or as clean as builders wheelbarrows would ever be) and at the ready.
I had two sets of scales available and a collection of jugs, marked to show the level of 500ml, 1 litre and 1.5l for the cleaning liquids. These decanted the cleaning products much faster than the funnel into people's bottles.
Photo credit: Phili Denning
Hubby came up with a great new funnel for getting the dry goods into narrower jars.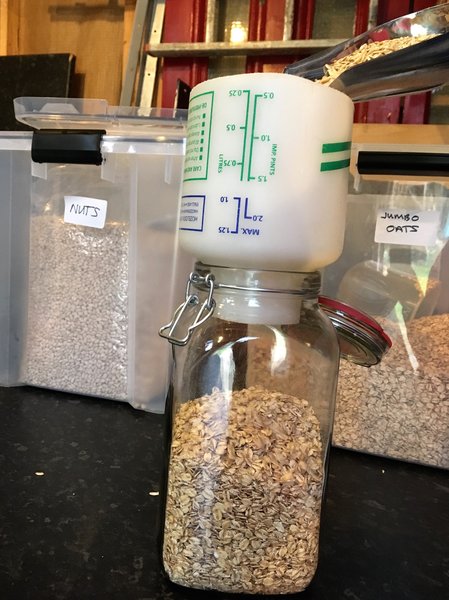 Photo credit: Phili Denning
Four people came to this collection. It still took a considerable amount of time, two hours in total, but that halved the time per member from collection one!! (A lot of chatting was being done too though!). More refinements still needed.
---
Read the next stage in Phili's journey: Collection three - my birthday!
Find out what inspired Phili to start her food co-op journey
Share
Get updates
Menu
Support our charity
Your donation will help us support communities to set up and run food coops and buying groups across the UK to improve access to healthy food.