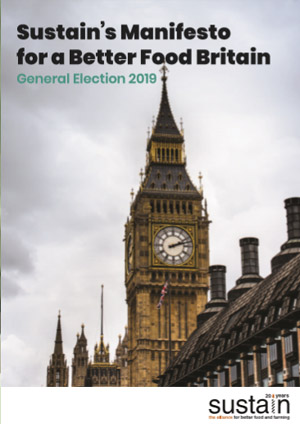 Sustain's Manifesto for a Better Food Britain 2019
Our manifesto sets out what we want government and policy makers to do, to secure a Better Food Britain.

Download the 2019 Sustain Manifesto
The UK's exit from the EU has vast implications for our food, fishing and farming and Sustain is campaigning to ensure that our leaders continue to uphold good standards in all these areas.
---
No deal for food and farming FAQs Brexit fish FAQs
---
While it is beyond our remit to comment on the political scenarios, our work since the referendum has clearly demonstrated that there would be many negative and costly consequences of a 'no deal' Brexit, including interruptions to our food supply, lowering our food standards and imperilling livelihoods in the food and farming industries. You can read our views on this in full here.
Looking beyond the exit, Sustain has been working hard with Alliance members and other organisations to secure good post-EU food and farming policies. We are organising our work around three main themes:
Protecting existing high standards for food, fishing and farming
Building a new framework for standards in food, fishing and farming that are fit for the future
Ensuring that voices are heard - especially those of concerned citizens, smaller farmers, fishers and food producers; food, farming and fishery specialists; and those experiencing disadvantage
Sustain continues to coordinate organisations who work on the environment, health, trade, animal welfare, farming, fishing, workers' rights, food safety, and economy to cultivate a shared voice for better food, fishing and farming. Key elements of our work are reported in the menu on this page.
Please read our proposals to the UK Government for what should be covered in the new Farming policy and Fisheries policy.
To ensure joined-up policy activities, Sustain is also working with:
Brexit: We stand at a cross-roads. When the UK leaves the European Union, will our leaders uphold good standards for our food, farming, fishing and trade deals? And will they agree a sensible deal with the EU? We need to make sure that they do!
Menu
Support our charity
Donate to enhance the health and welfare of people, animals and the planet.