Anne-Marie Trevelyan has been appointed as the new International Trade Secretary in a government reshuffle. She replaces Liz Truss, who moves to the post of Foreign Secretary. We congratulate both on their appointments. Here Sustain Head of Public Affairs Orla Delargy outlines five issues that we would like to see Ms Trevelyan prioritise.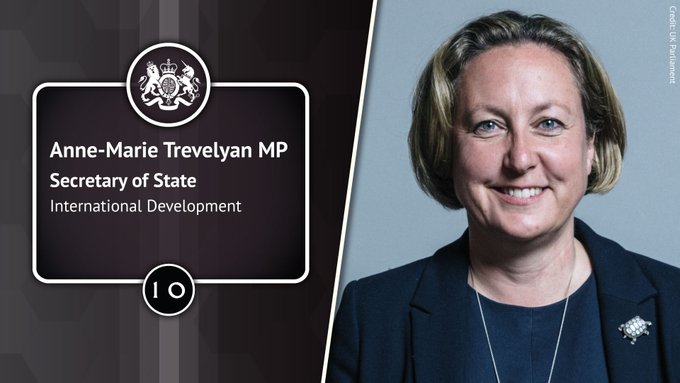 Credit: UK Parliament and UK Gov
The Government's own research shows that protecting food and farming, and farmer livelihoods are the top priorities in trade for the UK public. The Government is poised to sign a trade deal with Australia that permits lower food and farming standards than the UK. We would suggest that the new Trade Secretary puts the following five food and farming issues at the top of her to do list.
Create a set of core environmental, food and animal welfare standards for all imports.
This was a recommendation made the Trade and Agriculture Commission in March 2021. It was then echoed in the second part of the National Food Strategy, published in July. More than 2 million people signed petitions calling for food standards to be protected in law during the Agriculture Bill debates in 2019. Which? polling consistently finds consumers want food standards protected, regardless of their income level; in fact, those on low incomes disproportionately want them safeguarded.
Respond to the temporary Trade and Agriculture Commission report and put the statutory Trade and Agriculture Commission in place urgently
The Government rejected the public's call to protect food standards in law. It opted instead to establish a temporary Trade and Agriculture Commission. It subsequently committed to creating a statutory body that would advise parliamentarians on the impact of trade deals. The initial Commission published a lengthy report with extensive recommendations in March 2021. The Government has yet to respond to this report and is yet to establish the permanent Commission. It needs to do both before it signs a deal with Australia.
Revisit the terms of the trade deal with Australia
The Government made huge concessions to the agriculture lobby in Australia by offering a zero tariff, zero quota deal on produce on beef, sheep meat and sugar. Australian farmers are permitted to produce food to lower standards and can do so at scale and cheaply. By increasing trade in this cheap, low standard produce it will put the livelihoods of UK farmers at risk, as well as endanger plans to reward farmers for delivering public goods such as improving soil health and reversing nature loss. UK farmers have made it clear they will not be able to compete with low standard produce and deliver environmental improvements at the same time. Furthemore, concessions have also reportedly been made on removing climate commitments in favour of more general references - this would be a backward step for tackling climate change.
Deliver on promised health impact assessments
When the government opted to set up the Trade and Agriculture Commission rather than write food standards into law it promised that it would examine the impact of trade deals on human health. This commitment was dropped from the remit of the commission, with trade Ministers arguing at the time that there were other, more experienced public bodies better placed to perform this task. Can the Minister say which public body will perform this duty? Given the Australia deal involves the importation of huge amounts of red meat and extra sugar, as well produce with pesticide residues or produced using antibiotics banned in the UK, answering this is a priority.
Throw open the doors
The Department for International Trade has been negotiating behind closed doors. There is no published trade strategy. Any available negotiating objectives are too general to be useful. Civil society organisations are forced to glean information from partner organisations in other countries or via other government's websites. The public has been badly served and history shows that poor deals, negotiated behind closed doors can be derailed by them in time. Ms Trevelyan needs to shift her Department's policy towards open engagement.
Orla Delargy
Head of Public Affairs
Orla is Head of Public Affairs for Sustain and also leads the communications for Sustain's work on Good Food Trade. She is working hard to promote the opportunities and threats for food, farming and fishing as we exit the EU so we all have decent food to eat at the end of the process.
Support our charity
Donate to enhance the health and welfare of people, animals and the planet.