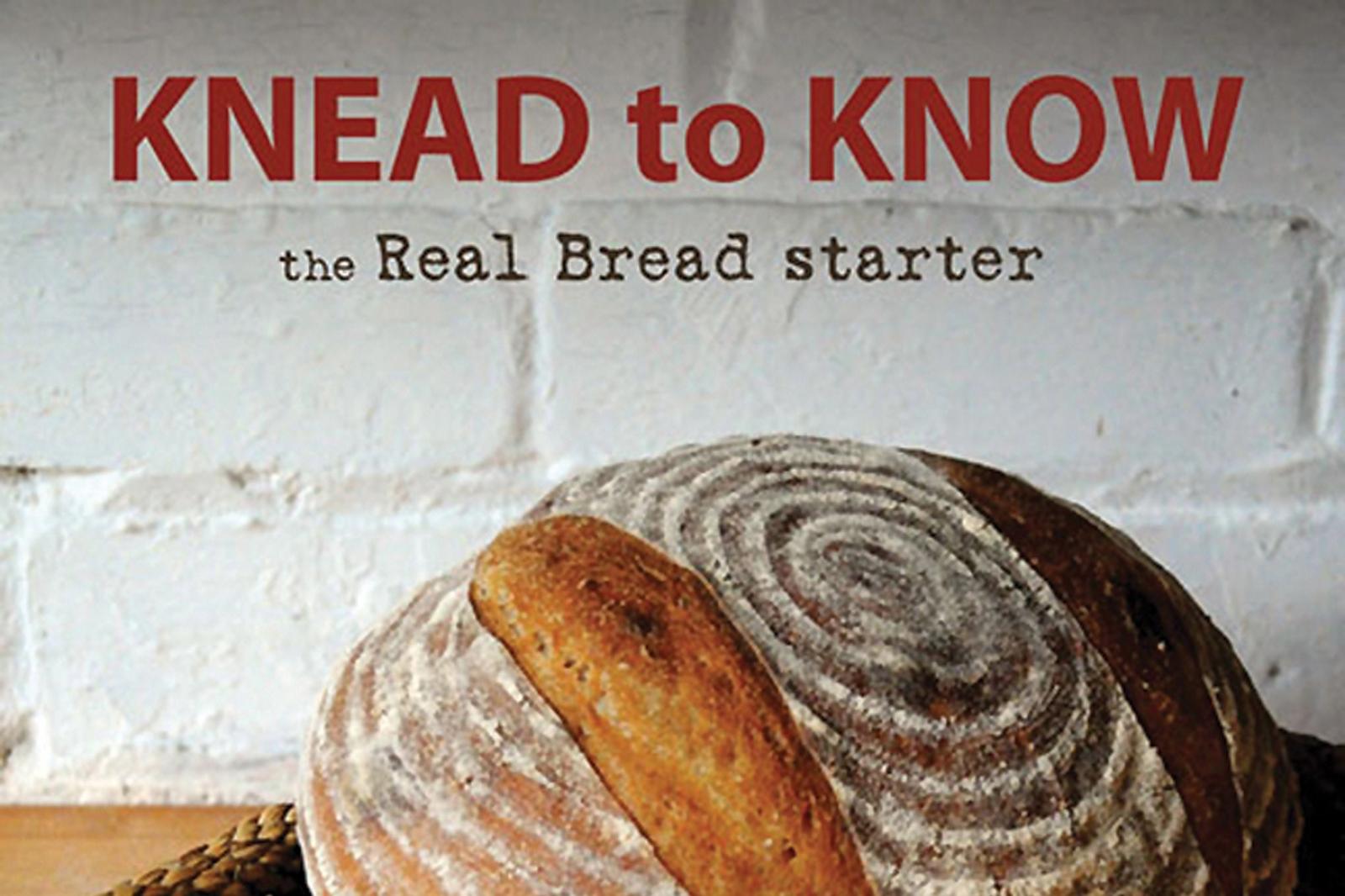 Chris Young / realbreadcampaign.org CC-BY-SA 4.0
Knead to Know...more
We will publish the updated and expanded 10th anniversary edition of the book in November 2021.
July 2021: With the launch our crowdfunding campaign to publish the new edition, we have withdrawn the original PDF.
January 2018: After six years of reprints, the book is now out of print and the publisher has no current plans to reprint. It is, however, still available as a PDF.
Knead to Know is the introductory guide to success in bringing Real Bread back to the heart of your local community.
"The most practical book for anyone thinking of starting a bakery enterprise." Emma Parkin, Emma's Bread, Exeter
"There are lots of books with bread recipes in them, but only one with a bakehouse recipe." Alex Lister, Rise Artisan Bakehouse, Durham
See also
Out of print
January 2018: After six years of reprints, the book is now out of print and the publisher has no plans to reprint.
Sustain's original limited edition of 1000 copies of Knead to Know published in 2011 SOLD OUT in early 2012.
Thanks to ongoing high demand, it took the fancy of food and drink specialist publisher Grub Street.
We're flattered and delighted that our little book has been picked up by such a well-respected publisher and now sits alongside the likes of Elizabeth David's English Bread and Yeast Cookery in their catalogue.
The Grub Street edition of Knead to Know was first published on 1 June 2013, ISBN 9781903060490, RRP £15.
What is Knead to Know?
Knead to Know is the introductory guide to success in baking Real Bread for your local community.
Inside its covers, you'll find 140 pages of information on ingredients, basic recipes, techniques, business models, marketing, media relations, legislation, money matters, equipment, apprenticeships, courses, equipment and ingredient suppliers, further reading, and much more?
Who's this for?
Microbakers
New and exisiting small, independent high street bakers
Community Supported Bakers
Real Bread social enterprises
Whether baking once a month in your own home for a local produce market, joining together with your neighbours to set up a Community Supported Bakery, or looking to succeed in baking Real Bread as a traditional high street baker, this is the book for you.
Even if you're a professional baker already, inside you will find helpful advice on making the transition from additive-assisted production to baking Real Bread, and how to market it successfully.
Though much of the content will be of interest to readers around the world, information on insurance, money matters, legal stuff, courses and training, ingredient and equipment suppliers is all aimed at readers in Britain. Oh, and we don't do cups: the recipes are all metric.
More...
In between these wholesome slices of advice, we've packed Knead to Know with tasty crumbs from people who know how to knead, including master bakers Paul Barker, Troels Bendix, Aidan Chapman, Paul Merry, and Andrew Whitley; as well as UK Community Supported Bakery pioneer, Dan McTiernan of The Handmade Bakery.
Chapters
Click here for a PDF sampler of the contents.
Foreword by Richard Bertinet
Introduction
About Real Bread
Get Real!
A trail of breadcrumbs from your kitchen
Kicking the additive habit
Ingredients
Notes on Real Bread recipes and methods
Some basic Real Bread recipes
Community Supported Baking
Different types of Real Bread bakeries and outlets

People
The bakehouse
Equipment
Insurance
Money matters and admin
I fought the law?
Marketing
Media relations
Courses and training
Ingredient suppliers
Equipment suppliers
Bookshelf
More useful links
Though much of the content will be of interest to readers around the world, information on insurance, money matters, legal stuff, courses and training, ingredient and equipment suppliers is all aimed at readers in Britain. Oh, and we don't do cups or imperial: the recipes are all metric.
PDF sampler
Click here for a PDF sampler of a small fraction of the contents of this jam-packed handbook.
Reviews
'Your book is brilliant!' Lucas Hollweg, Sunday Times food writer
'Starting a community bakery? This new book is indispensable kit' Joanna Blythman, investigative food journalist and writer
'Whether you fancy joining neighbours to set up a Community Supported Bakery, or want to establish your own high street artisan bakery, this book tells you what to do. As well as basic recipes, it contains wholesome advice on everything from equipment, to techniques and money matters.' Clare Hargreaves, BBC Good Food Magazine 'good reads' (June 2011)
'This handbook has been written to help anyone who wants to set up a community bakery in their home, or indeed small commercial bakers who want to stop using additives and switch to making real bread.'
Charles Campion, London Evening Standard
'The book looks great!'
Vicki Hird, Friends of The Earth
'Bakeries like The Handmade Bakery co-operative in Yorkshire, featured in last week's Telegraph are providing an inspirational, clear example of a potential working model for the future and, with the support of organisations like The Real Bread Campaign?s Knead to Know, a self help guide to new entrants to the industry, there is hope that, in the long run, David may yet triumph against all the odds.'
Angie Greenham, thecraftbaker.co.uk
'The Real Bread Campaign are to be congratulated. The first striking thing about 'Knead to Know' is the excellent design. The content is thoughtful, inspiring, packed with relevant experience & insight. Above all, it's steeped with practicality. If your curious about whether community baking is for you, I recommend you buy 'Knead to Know'.
Carl Legge, Lynn Lines
Bakers inspired by Knead to Know
2 August 2011
Here are just some of the people who've been helped by Knead to Know in setting up and running microbakeries and other Real Bread enterprises.
Ravi Muniandy in Suffolk baking around 100 loaves a week to supply a Country Market and two independent shops locally.
'Chef on a Bike' Dave Foster of Stocksbridge, Sheffield has twenty regular customers, forty who buy less regularly, and has baked for two country fairs and several other events.
Mark Woods in the West Midlands has also started a bread club, baking around thirty five loaves twice a week for subscribers.
Michael Gopfert in Merseyside, who is now baking forty loaves at a time, and has taken on a helper, resulting in many gains for the local community.
Peter Barabas in south Manchester, who reported that Knead to Know gave him the confidence and the knowledge to start a small scale, subscription-based home bakery.
Abi Tomlins and friends in Bournemouth are also just starting out, reporting that they're running a Community Supported Bakery trial called 'the baker's dozen' from a suburban flat, where they're baking twelve loaves of Real Bread a week to deliver to twelve households over a twelve week period.
Gary Mercer in Surrey has also taken the first step towards starting a bakery, selling his wares at a local school fayre as part of his market research.
What readers have said
For feedback collected in February 2012 from 100 of the first 1000 Knead to Know readers, click here.
Here are a few highlights of earlier feedback from just some of the hundreds and hundreds of Knead to Know readers.
'Brilliant, inspiring, it helped me to believe I really can do this!'
'Knead to Know is a regular reference and reassurance book. It provides me with advice and accounts of other bakers' experiences. Most importantly it provides me with contacts which I have used continually.' To see more of this reader's story, click here.
'This is an excellent resource - absolutely essential reading for anyone wishing to do commercial baking at any level. Pragmatic approaches and honest discussions about the pitfalls and costs of setting up a Real Bread bakery. Fantastically inspirational - I can't wait to get started!'
'Knead to Know is helping me now as I work towards obtaining planning permission for the full-blown bakehouse and oven setup in my backyard. I'm also finding the marketing tips/hints in your book really helpful - I keep returning to those pages to remind myself that I need a coherent message to go with what everybody says is great bread. It's just so practical having advice on all aspects of setup in one simple book.'
'I'm a home baker dreaming of one day opening my own bakery. This book got me even more excited than ever before.'
'Looking through the book inspired me to set up my small business from home. I am now selling weekly at the local Country Market and two local independent shops. The book gave me some ideas on insurance for the business, as well as other useful information and confirmed my belief that ordinary people with a passion for Real Bread can make a difference to their community. I am now baking around 100 loaves a week with one domestic double oven, taking over my parents kitchen most days of the week!'
'Great book that's turned my wonderings into a burning passion.'
'Lovely little book.'
'Informative and inspirational. Gave me a genuine insight into what would be needed to go from enthusiastic amateur to baking bread for my community.'
'Cracking read, full of great infomation, if you havent got it borrow, buy it or miss out!'
'It is a good guide for a novice wishing to start up a business.'
'I found the book very special and exceptional. I've got loads of bread recipe books but none with actual advice on insurance, law, and management aspect. So Knead to Know makes me feel I got one step closer to providing or bringing Real Bread to my friends and neighbours.'
'I have recommended it to my friends, and it has inspired me to take the huge step into baking commercially.'
'A great read and useful practical publication which pulled all the useful info together - thanks.'
'I have only had a few minutes to look through this and it's amazing! Wish it had been around when i was dreaming of starting out, but reckon it will still be useful to me now! So detailed and inspiring.'
'I think it was well designed, informative and a pleasure to read and good to flick through, loved the pictures.'
'This is the perfect resource to help you to start thinking about baking real bread for your community. The book is full of inspiration and insights, and with enough factual content to make you feel confident about putting your own ideas into practice.'
Where to buy out in the real world
Knead to Know was republished by Grub Street on 1 June 2013, has been reprinted many times since. Although it is cureently out of print, it might be (as they say) still available from some good bookshops.
Help your highstreet!
If you don't buy it from us (though we'd like you to as more of your cash will go to the Campaign) then please support your local economy by ordering from a small, independent, local bookshop, rather than a supermarket, or a large online retailer that perhaps doesn't pay as much tax as might seem fair considering its whacking gread profits, and might well not be reinvesting a penny in your local community...
Original stockists
Below are the stockists of the original 2011 edition. To find out whether is any still has copies available and how they are selling it ( e.g. by mail order, in a shop/mill/bakery or as part of the price of a course), please contact the stockist in question.
I want to sell Knead to Know
January 2018: After six years of reprints, the book is now out of print and the publisher has no current plans to reprint. It is, however, still available as a PDF
If you'd like to stock Knead to Know in your bookshop, bakery, baking/cookery school, equipment supply outlet, flour mill, or wherever, please contact Grub Street's trade enquiries handling service:
Littlehampton Book Services Ltd, Faraday Close, Durrington, West Sussex BN13 3RB
Telephone: 01903 828800
Fax: 01903 828801
As Knead to Know is now published by Grub Street, the Real Bread Campaign will redirect people making any trade enquiries to LBS Ltd.
Review copy requests and other media enquiries
Review copies
January 2018: After six years of reprints, the book is now out of print and the publisher has no current plans to reprint. It is, however, still available as a PDF
Media enquiries
For media enquiries about the book, the Campaign and Real Bread in general, please contact Knead to Know editor and Real Bread Campaign co-ordinator Chris Young. He can also help to arrange interviews with the book's contributors. chris [at] sustainweb.org
For any non-media enquiries that are not answered on our jam-packed website (try the search facility), please email realbread [at] sustainweb.org
Other bready publications from Sustain
You might also be interested in more publications including:
Slow Dough: Real Bread
The Real Bread Campaign's first recipe book.
Bread Street: the British baking bloomer?
London Food Link's 2004 report into the state of the industry, which helped to pave the way for the Real Bread Campaign.
Are Supermarket Bloomers Pants?
The Campaign's 2010 investigation into what really lies behind supermarket in-store 'bakery' loaves.
Lessons in Loaf
Our guide to help teachers' bring Real Bread making into the classroom, with suggestions for using bread as a topic across a wide range of curriculum subjects.
Bake Your Lawn
We help kids to follow the Real Bread journey from seed to sandwich with our guide on how to take a handful of wheat and grow it, mill it, bake it, eat it.
A Wholegrain of Truth?
The Campaign's investigation of 'wholegrain' loaves marketed by some of the UK's highest profile industrial loaf manufacturers found one loaf that declared merely a miserly 6% wholemeal flour.
Rising Up
​The Real Bread Campaign report on the therapeutic and social benefits Real Bread making offers to people living with mental health issues, or otherwise facing a tougher time than most of us.
To order a copy or find more details of any of the above, please visit the Sustain publications catalogue.
Share
Get updates
Real Bread Campaign: The Real Bread Campaign finds and shares ways to make bread better for us, better for our communities and better for the planet. Whether your interest is local food, community-focussed small enterprises, honest labelling, therapeutic baking, or simply tasty toast, everyone is invited to become a Campaign supporter.
Support our charity
Your donation will help support the spread of baking skills and access to real bread.