In late 2015, Corinne Castle spoke to bakers working with farmers and millers to create unique and often truly local loaves.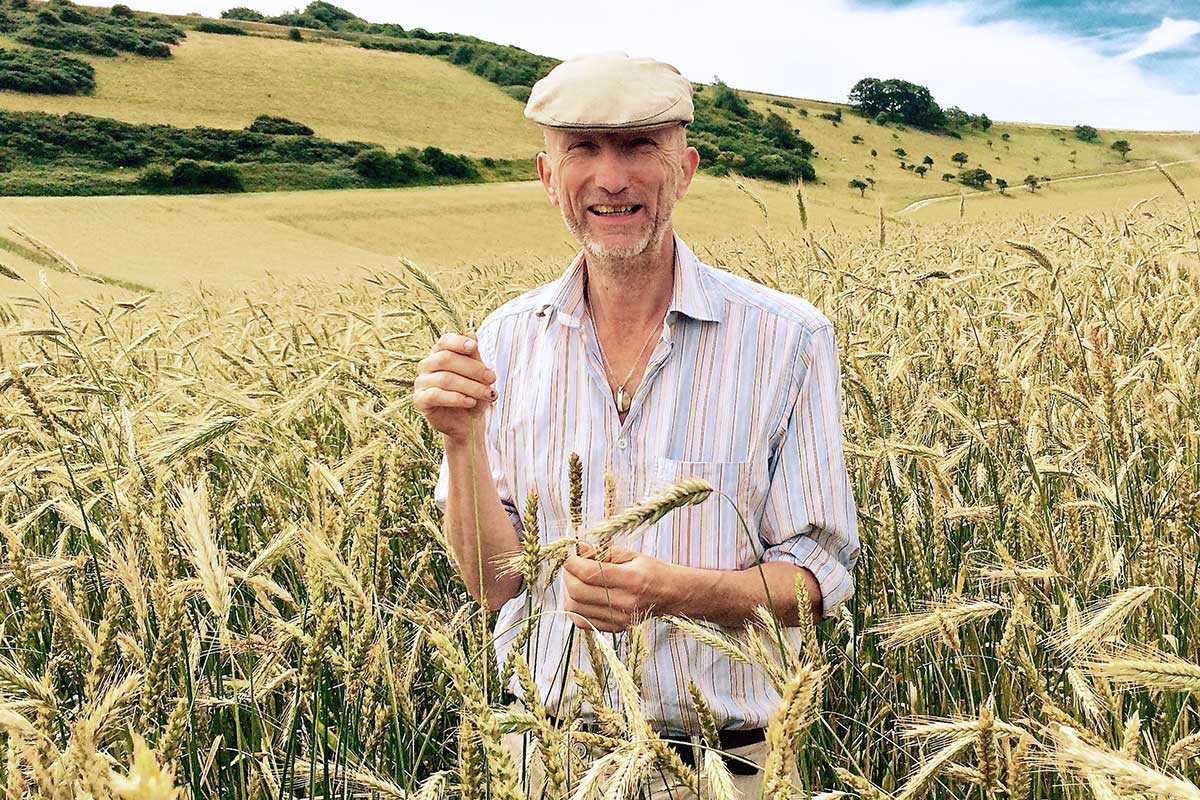 Michael Hanson © Matthew Geraghty
As I write, I'm eating a slice of Torth Gymreig (meaning Welsh Loaf) from Bara Menyn Bakehouse in Cardigan. The flour that baker Jack Smylie Wild used was stoneground just a few miles away at Felin Ganol watermill, milled by Anne and Andrew Parry from wheat grown by local farmers. The web from farm to plate is small and perfectly formed.
This is the way that more Real Bread could be (ideally, should be) made in the UK. Buying local has become a fashionable food choice, but is location reason enough? What else is there to consider when choosing local ingredients and food products?
Local loaves
Seed to sandwich
Small local businesses can complement each other when they work together. When George Casey started Haddie & Trilby bakery in Leamington Spa he approached miller Karl Grevatt at nearby Charlecote Mill asking for "any strange grains, something unusual," as a contrast to commercially available flour. Karl suggested grain from a local farmer and the resulting bread proved so popular that together they bought the entire next harvest, which Karl stores and mills as George needs it.
With Torth y Tir (Loaf of the Land) in Pembrokeshire, Wales, Rupert Dunn is developing a social enterprise with similar ideas at the core. He is growing Welsh heritage wheat variety Hen Gymro, which is then milled by the Parrys at Felin Ganol before being baked in a wood fired oven. For Rupert, "working directly with your hands, growing, you can see the journey from grain to loaf, it's incredibly satisfying, working with the elements - earth, air, fire and water - that we're dependent on for our existence."
Integrity
Growing heritage wheats supplied by John Letts of Lammas Fayre, and returning some of the harvest as tithe payment, is valuable for Michael Hanson in a number of ways. The returned seeds assist in bulking up the seed bank, it is developing a landrace – that is a mix of varieties specifically suited to his area – and the resulting flour is a unique ingredient for his bakery and pizzeria, The Hearth in Lewes*. "Integrity is the heart of everything," explains Michael, with food sovereignty and creating a sustainable local food system his primary aims.
For the farmers, millers and bakers I spoke to, ecological and environmental considerations are amongst their top priorities. At Paul's Bakery in Melton Mowbray, Paul Jones uses flour made from heritage wheat grown bio-dynamically on a local farm. Being able to source an ingredient produced using this lower-impact, lower-carbon method of farming is an important consideration for him, as is having the grain milled using wind power.
Be your own miller
Buying directly from farmers gives bakers greater control of their flour supply. Using their electric powered stonemill, E5 Bakehouse in London can experiment with different grains to suit their needs and supplement the flour they buy in. Spelt remains popular with customers but at times they have found it difficult to source enough flour to meet demand. By growing their own crops and buying directly from farmers they can ensure a regular supply, to be milled as they require. After trialling different wheat varieties, baker Kate Hayter explained that they chose Mulika, a modern variety, as their main grain for the first year due to its great flavour.
A challenge for bakers using British stoneground, often single variety, flours is the cost, which can be around double that of standard roller milled flours. A couple of years ago, Syd Aston moved his bakery to Sheepdrove Farm in Berkshire and began using flour milled on site from wheat grown on the farm. On the subject of how to attract customers to pay the price the bakery needs to create an excellent product, Syd says "we have always been organic so have always needed to be a bit different to be able to sell our blooming stuff."
Cutting your coat...
Stoneground flours need more care and attention than roller milled flours that have been blended to produce reliable, consistent loaves. Throughout the year the flour will behave differently, Brockwell Bake Association founder Andrew Forbes advises "you really need to build communication between farmer, miller and baker so they get best from whatever season and soil produce locally." In a sentiment echoed by others I spoke to, miller Michael Stoate at Cann Mills in Dorset recommends "don't follow a recipe to the letter, have a feel for the bread and nurture it, get water content right by reading the grain, fermentation and handling it, by reading the dough, and mother it throughout."
The technical challenges of using British grain that has been stonemilled requires an experienced baker using traditional methods. If you live near to anyone producing such wheat, flour and bread they should be celebrated for reviving and maintaining these skills and knowledge, they need our patronage and support.
*since closed down.
@bara_menyn
@felinganolwatermill
@soyfoodsltd
@torthytir
@e5bakehouse
@haddieandtrilby
@charlecote_mill
@astonsbread
@brockwell_bake
@michael.bakerman
See also
Around the world for a local loaf
Nordic saga
Mountin' a comeback
Sowing the seeds of loaf
Solidarity stories
Small is bountiful
Lay all your loaf on me
Grassroots grain Britain
Landrace for life
Capital grains
The grain in Maine
---
Article originally published in True Loaf magazine issue 26, January 2016
Published 29 Nov 2021
Real Bread Campaign: The Real Bread Campaign finds and shares ways to make bread better for us, better for our communities and better for the planet. Whether your interest is local food, community-focussed small enterprises, honest labelling, therapeutic baking, or simply tasty toast, everyone is invited to become a Campaign supporter.
Support our charity
Your donation will help support the spread of baking skills and access to real bread.