Scotland The Bread's Hannah Ewan tells of bread communities working together for equal access to good food.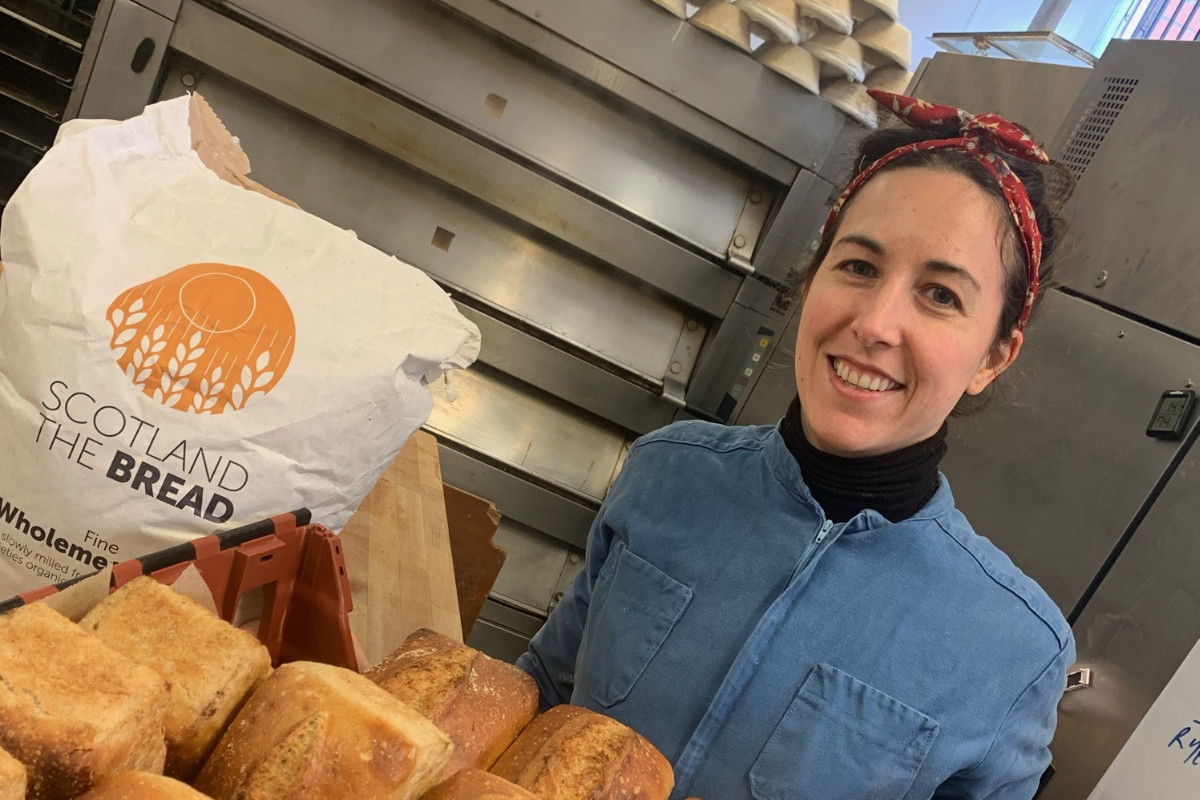 Emily Sandeman © The Wild Loaf
In August 2020, we launched our Solidarity Bag scheme to provide flour to community bakeries that support equitable access to nutritious bread. By late January 2021, the generosity of our customers had enabled us to supply Real Bread bakeries with more than half a tonne of Scotland The Bread's organic, heritage wheat, wholegrain flour.
We devised the Solidarity Bag in response to the critical shortage of flour during the first Covid-19 lockdown, but the problem of affordable flour that supports both physical and environmental health dates back much, much further. Affordability is an oft-cited barrier to swapping sliced white for slowly-fermented sourdough bread, but we reject the idea that people on low incomes must be resigned to eating industrial loaf products of questionable nutritional value.
Our scheme embodies a shared act of solidarity between interlinked communities. Our pay it forward system enables our customers to buy bags of flour to support community bakeries. In turn these dough dealers work hard to ensure that people in their neighbourhoods continue to have access to nutritious flour and delicious bread. Solidarity Bags help them to do so at an honest and more affordable price – without hidden, displaced costs that might be associated with supposedly 'cheap' industrial products.
As Real Bread Week 2021 approaches we're working to make new flour connections that will allow more people across the UK to enjoy a better version of this staple food.
Sharing Scousers
Everton in Liverpool has one of the highest child poverty rates in the UK and, as elsewhere, families' ongoing financial struggles are being further compounded by the pandemic. Emily Sandeman and Jess Doyle of The Wild Loaf are making a regular donation of their Solidarity Bag bread to Everton nursery. Nursery staff members then distribute it directly to families, along with other food and essential supplies. In addition, Wild Loaf's customers have been donating money when they order, which funds the purchase of food and other essential items requested by the nursery. These are then delivered with the freshly-baked sourdough for the amazing staff team to pass onto the families they know need the most support.
Emily and Jess say: "These bread deliveries have been incredibly well received. It is sad that stories of food poverty are far too common lately. We're hoping for some drastic change when we begin to emerge from this crisis. We want to keep learning how to be better bakers as part of an evolving food system that looks to provide solutions, not create more problems. The revolution is well under way!"
Scottish solidarity
The Tobermory Bakery is currently gifting soup and sandwiches to Glen Iosal, the local supported living facility. Scotland The Bread flour is ensuring the bakery's owners can keep people in their community supplied with affordable slowly-fermented sourdough: all the more valuable as they run the only bakery on the island.
Looking ahead, one Solidarity Bag baker set to unleash flour power in his local community is Claudio Leoni. Previously a head chef, Claudio started his microbakery, Sourcloud Bakes, from his Aberdeen home in March 2020. Having honed his sourdough skills and established his business, he will soon be working with local charities to supply bread for families and people in need. Donations of bread to the local food bank will support people who are coping on low incomes (a position into which responses to the pandemic have forced many more people) or find themselves isolated by lockdown. Claudio says: "I think bread is essential and no one should go without it!"
How to get involved
If you are involved in a bakery, organisation or project in the UK whose community could benefit from free Solidarity Bags of flour, please get in touch with Scotland The Bread.
Everyone else can buy either a whole or half 16kg sack of flour from our online shop. We will then organise and pay for delivery to a participating bakery, which in turn will share and distribute it among community members as Real Bread, or in its raw state.
Published 22 Feb 2021
Real Bread Campaign: The Real Bread Campaign finds and shares ways to make bread better for us, better for our communities and better for the planet. Whether your interest is local food, community-focussed small enterprises, honest labelling, therapeutic baking, or simply tasty toast, everyone is invited to become a Campaign supporter.
Support our charity
Your donation will help support the spread of baking skills and access to real bread.