Campaign supporter Kim Bell set up Small Food Bakery on the edge of Nottingham city centre in 2014.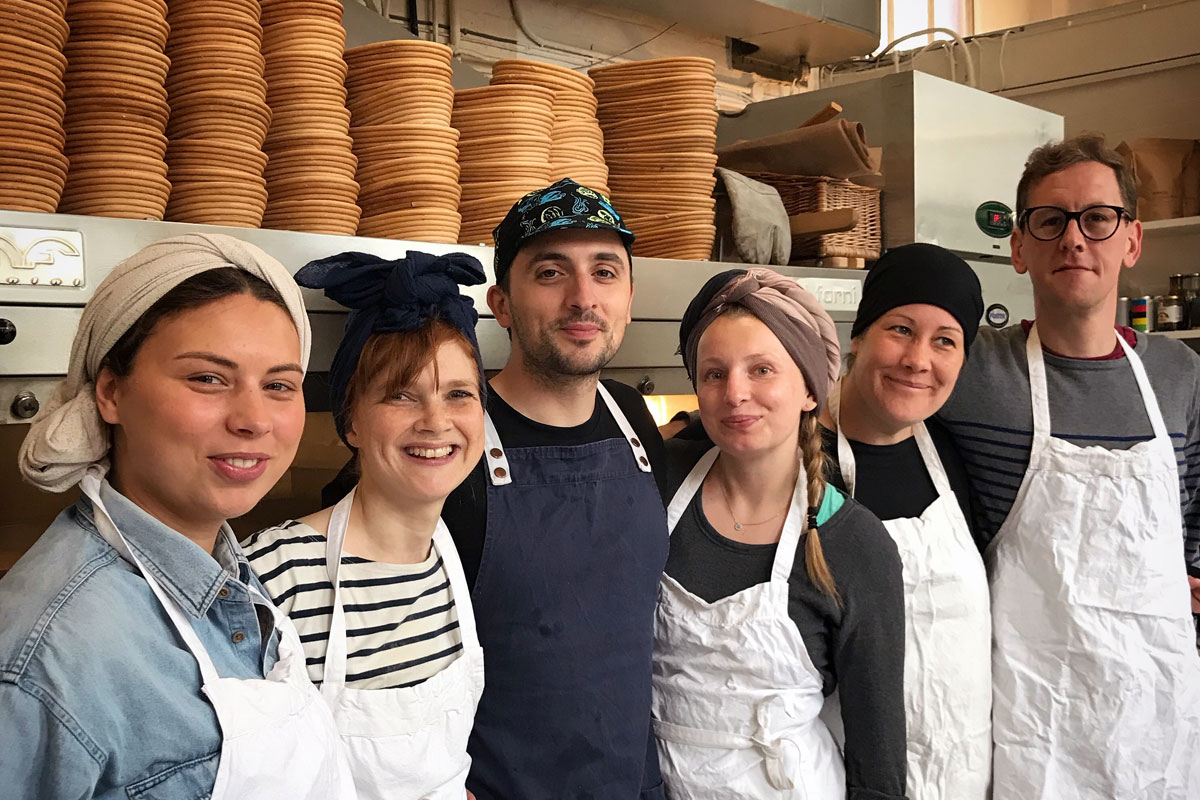 The Small Food Bakery team © The Small Food Bakery
A rented kitchen space with no shop front in a former primary school on a residential street is not an obvious choice for a retail bakery, but it appealed to me. The building was being used by a dynamic group of artists and curators, the rent was low and I saw the potential here to do something different.
I had been reading about the social and environmental destruction caused by the big industrial food system. Back then 97% of food was being bought through the supermarket system, 70% of which was coming from just four chains. Most loaves came from supermarkets, which procured them from an even narrower group of giant industrial bakeries, and there were no Real Bread bakeries in Nottingham city centre. I found the seemingly relentless efforts to industrialise and homogenise our food quite terrifying and destructive on many levels.
The power of sour
It wasn't just bread I was interested in, but it struck me as a most poetic starting point. I heard a 'power of sour' lecture by Real Bread Campaign co-founder Andrew Whitley about sourdough and socialism. I loved it. Perhaps I didn't understand all of it back then but, on some intuitive level, I knew that baking bread by hand using natural leaven was a political act. It was the perfect foundation for starting to think about reversing the commodification of food. From that day I was determined that I would only bake with a sourdough starter and that I would try my best to remove all of the faceless, industrial ingredients from my bakery tool kit, or at least deeply question them.
'I knew that baking bread by hand using natural leaven was a political act'
I had read about regenerative agriculture and admired people who could wrap their heads around such complex problems, building real value for future generations. I wondered what a regenerative approach to food manufacturing and retail might look like, and whether I could figure out how to do it in our urban location.
Teamwork and dynamism
Six years on, Small Food Bakery is a team of six full-time bakers. They are all multi-skilled; each of them takes part in all aspects of running the bakery from mixing the dough through to cooking or working the till. Responsibilities are non-hierarchical, determined by need on any given day.
We open to our customers three days a week, serving around 300 people a week directly. Apart a couple of restaurants, we don't do wholesale. Loaves of Real Bread account for 35% of our sales, with a further 30% made up of pizza, brioche and laminated pastries. We also sell cakes, biscuits, ferments and preserves. We sell all of our ingredients, including fresh fruit and vegetables, and cook a supper once a week, which people can eat in or takeaway. Our product range is dictated by the ingredients available to us, which forces us to be dynamic and to learn how to navigate a little uncertainty.
Microcosm of a food system
Over the years I've continued to be inspired by regenerative agriculture. We regularly visit farms, attend agricultural conferences and engage as much as possible with the ways in which our ingredients are grown. There is so much to be gained from doing this. Small Food's microcosm of a food system is built on direct relationships within our team, with our customers and with the farmers and other producers who grow and make ingredients for us. We are accountable to each other to do the best job we can. Scale is limited by the number of meaningful relationships we can realistically manage.
Moving away from monoculture
One of the greatest privileges of the Small Food journey so far was meeting and working with the late professor Martin Wolfe. He was an early pioneer of agroforestry and a plant breeder, who specialised in cereal crop pathogens. It was Martin who taught me most about both the main ingredient in the bakery, wheat, and also the most important principle in sustainability; diversity.
For many years he had be working at the Organic Research Centre on what is known as a composite cross population (CCP) of wheat. This involves planting a number of wheat varieties together, collecting and saving the seeds to sow the next season and then repeating the process over a number of generations. The result is a genetically-diverse crop, adapted to cope with local growing conditions, and climate or pathogen pressures. Perhaps the best known CCP is the ORC Wakelyns Population, which Martin named YQ (for yield and quality) wheat. Particularly suited to organic and other low-input farm systems, CCPs are a counter move to the monoculture of chemically-farmed varieties that dominate our global loafscape.
I initially went to Martin because I saw some value in baking with wheat grown in an agroforestry system, with food crops and trees interplanted together. I knew that wheat is usually grown as monoculture crops in large fields and felt that this was not a good way to farm. The education I gained from Martin went far beyond this, as he explained to me the science and politics of the plants themselves. I realised that all the details matter, and that to build real, resilient food systems that challenge the top-down control of 'big food', we need to prioritise complexity and diversity, tracing our ingredients right back to both seed and soil.
Non-commodity grain economy
Most grain leaves the farm in large haulage trucks, its identity immediately lost in and to commodity markets. Inspired by Martin, and with the support of other people who had been similarly inspired by his ideas, I decided to convene UK Grain Lab. The aim of this gathering of farmers, bakers, millers and academics is to discuss and develop ideas and create a non-commodity grain economy in the UK. I wanted to see if we could build a system that respected identity, not just of the grains, but also of the people who worked to breed, grow, mill and bake them.
UK Grain Lab is about bringing people together with a common interest. The UK's alternative grain economy is a work in progress, but that initial meeting has inspired lots of action. We now have new regional groups including the South West Grain Network, Yorkshire Grain Alliance, and Common Grains in Scotland. There are more bakers pushing forward to bake Real Bread with grain grown and milled in the UK.
Baking is an agricultural act. I would encourage everyone involved in making Real Bread to engage and with the farming systems behind our main ingredients, right down to where the seed comes from.
---
This article was written before lockdown and originally published in True Loaf magazine issue 43, July 2020.
Published 15 Sep 2020
Real Bread Campaign: The Real Bread Campaign finds and shares ways to make bread better for us, better for our communities and better for the planet. Whether your interest is local food, community-focussed small enterprises, honest labelling, therapeutic baking, or simply tasty toast, everyone is invited to become a Campaign supporter.
Support our charity
Your donation will help support the spread of baking skills and access to real bread.