Mike Pinard and his wife Jenny grow heritage wheat in the borders between Surrey, Kent and Sussex.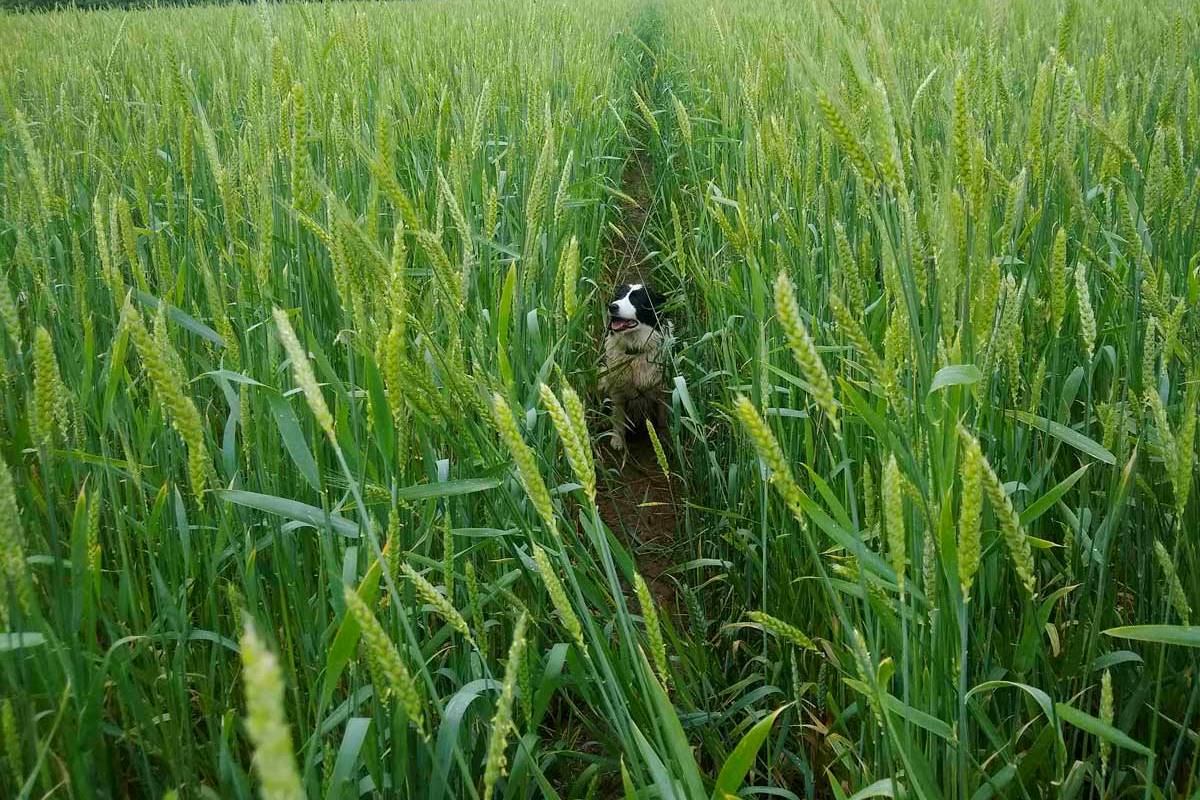 Photo © Mike Pinard
My interest in heritage wheats started around five years ago when I suddenly started to feel bloated after eating anything made from wheat. When looking into why this might be, I found articles that led me to question whether I might be able to tolerate the gluten in heritage varieties more easily. Could it be that the focus on high yield and 'bread making quality' by 20th century cereal breeders has led to a situation in which the gluten might not be as easily digested by some people, including me?
By chance at the same time, I met Brockwell Bake founder Andy Forbes, who was looking for a farmer to grow on some of the heritage (aka heirloom) varieties he has spent around a decade researching, acquiring and growing. We grew fifteen of his wheats on our farm and I was really fascinated by the husbandry, which was completely different, and having only a few old texts to shed any light on how to grow them. Modern wheats require lots of (mainly artificial) inputs throughout the season, whereas heritage wheats were bred in times when they had to rely on what fertility the ground had at planting, genetic diversity for health, cover crops to supress weeds and maybe a quick harrow to remove some of them.
Vive le difference
A modern wheat crop is usually of a single variety (or cultivar), so all of the plants are genetically identical. Such a genetically homogenous crop might give a higher yield but a disease, or other challenge to which it has no natural defence, may well decimate it. This lends itself poorly to survival without the intervention of fertiliser and insect/herb/fungicide sprays. Heritage wheat crops have a broad genetic base, allowing some members of each year's crop to overcome a particular challenge, eg a disease, low or high rainfall etc. If seeds from the crop are saved and replanted year after year in the same region, the population will adapt to local conditions. This human and natural selection results in what is known as a landrace, which typically will give a dependable (if not spectacular) yield.
When ready to harvest, heritage wheats are tall, typically with ears of different looks and colours, unlike the uniform dwarf plants in modern wheat fields. I felt I was seeing fields of wheat that had not been seen for over a hundred years and whilst harvesting them I was struck by the thought that I was probably the first person ever to have done so using a combine harvester. I was hooked.
What is heritage wheat?
I can't really define that but what I can say is that Maris Widgeon is not one. First marketed in 1964, it's younger than me and I'm certainly not prepared to be called heritage! The term sometimes gets confused with ancient wheats, but these are different species (including einkorn and emmer), while heritage wheats are cultivars of the same species, Triticum aestivum. Some people (particularly in the USA, it seems) define heritage wheat as available prior to 'The Green Revolution' that followed World War II. The way I like to look at it is that the wheat variety/ies should be over 100 years old, when the use of cereal hybridisation (rather than selection) really began to accelerate.
We farm in a way some call 'regenerative' but I call it stepping back to slower, less intensive, more natural farming. We base our planting system on no-till, meaning that the seed is planted directly in soil that hasn't been tilled (ploughed), unless the weather makes it impossible! Soil does not take kindly to being smashed to pieces by ploughing every year. Left undisturbed, the soil and its inhabitants form a highly-evolved, balanced ecosystem that sequesters more carbon dioxide.
We are not organic farmers as I believe that that is not the best way forward in this time of the climate change crisis. Ploughing can release three tonnes of carbon dioxide per hectare, and I see no viable way of farming organically without tilling, so instead we choose not to till and to use minimal herbicide applications to combat weeds. You take your choice but always try to see all the pros and cons of that choice and of the alternatives.*
Taste the difference
Besides looking and growing differently what makes these wheats so interesting? In a word, taste. If you consider that bread was the mainstay of most people's diet for centuries, then taste must have been a consideration in breeding as good flavour would be a necessity.
Testing this year's varieties has been a great treat! Not being a skilled baker, I made loaves in a bread machine, using a 50/50 mix of my wholemeal heritage wheat flour and strong white flour. It's not artisan but as this is the way I'd say a large percentage of people who make bread at home do it, I helps me to judge from their viewpoint. The beautiful taste and texture of freshly-ground flour has been a revelation. The stars of the show were Red Lammas, Old Kent Red, Chidham Red, Orange Devon BRC and Benefactor, which was absolutely brilliant for pizza. It is incredible to return some of these varieties to the areas and fields where they were once grown.
This time we've only planted twelve hectares. Our main marketing begins after Christmas. Some of the wheat we harvested in 2019 will be used as seed and some will go to bakeries with their own mills. We are also very fortunate to have the local, fully-restored Oldland Windmill producing flour for us. It is an amazing feeling to watch it once again milling the same varieties that it did centuries ago. We currently sell stoneground wholemeal flour but are also looking at selling the grains for people to mill
themselves.
As for digestibility, I can't say for certain but my personal experience is that I can eat as much of my heritage wheat as I like with no problems
*You can read one discussion of these issues in the Soil Association briefing To Plough Or Not To Plough: Tillage and soil carbon sequestration [ed.]
---
Originally published in True Loaf magazine issue 42, January 2020.
Published 12 Oct 2020
Real Bread Campaign: The Real Bread Campaign finds and shares ways to make bread better for us, better for our communities and better for the planet. Whether your interest is local food, community-focussed small enterprises, honest labelling, therapeutic baking, or simply tasty toast, everyone is invited to become a Campaign supporter.
Support our charity
Your donation will help support the spread of baking skills and access to real bread.