In 2017, Robert Penn set out on a journey to grow and mill wheat to bake a year's supply of Real Bread.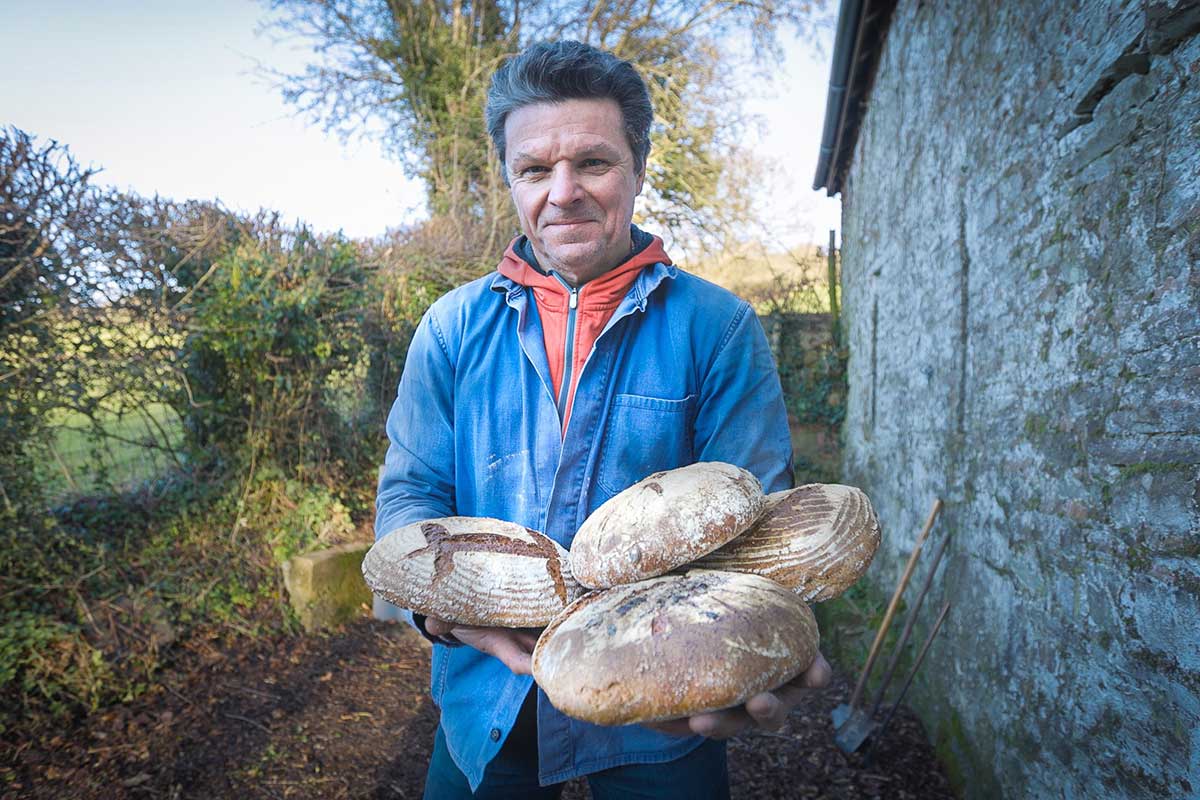 Robert Penn © Mike Erskine
One of the rewards for an author of narrative non-fiction books is the people you meet. Over my twenty years writing books on subjects as diverse as the British weather and the social history of the bicycle, to our relationship with the ash tree, I have learnt to cherish this. Even so, when I started researching a book about bread, I was surprised at how knowledgeable, friendly and forthcoming the community of growers, millers and bakers in the world of Real Bread are.
Almost the first person I met was Andy Forbes, a baker activist and 'wheat chaser' who maintains an extraordinary website called Brockwell Bake Wheat: Gateway. This has data on over 400,000 wheat 'accessions', or entries in gene-banks, that humans have grown throughout the ages around the world. Andy also grows some of these wheat varieties in allotments, school grounds and community gardens across south London. As we were sowing grain on a patch of soil the size of a tennis court in Ruskin Park, south London, he introduced me to heritage grains. That afternoon, I asked myself for the first time: Could I sow an acre of wheat myself? With Andy's help, I discovered it was possible.
Landrace wheat
Andy put me in contact with Dr. Ed Dickin, to work out exactly what to plant. Ed, a lecturer at Harper Adams University in Shropshire, is an authority on cereal production and improvement. He also breeds and grows many varieties of wheat in trial plots, both at the university and on his farm. When I told Ed that I wanted to grow wheat that made tasty bread, he explained to me the myriad species of wheat and their complex classification.
From the beginning of agriculture in the Near East, Ed said, farmers knew to keep a selection of wheat seeds at harvest time to sow for the following year. Over millennia, as each community observed the strongest plants, selected the best ears and re-planted the largest grains. Through this process, tens of thousands of genetically-diverse wheat populations called 'landraces' evolved across the globe, each with the characteristics most likely to thrive in local soils and microclimates. Unlike modern agriculture's single strain monocrops, each population comprised dozens, perhaps hundreds of subtly different varieties of wheat, all with different genotypes. At a practical level, this made landrace populations at least partially resistant to extreme weather and disease, because some of the varieties always yielded—a form of organic insurance for the farmer, against total crop failure.
By the end of the eighteenth century, there were dozens of different landrace populations in cultivation in Britain alone. The names of these landrace wheats tripped off Ed's tongue: Kent Old Hoary, Orange Devon Blue Rough Chaff, Red Lammas, Montgomery Red, April Bearded and Blue Cone Rivet. Landrace wheats began to disappear when, in 1882, Scottish plant breeder, Patrick Shirreff used hybridisation—the deliberate crossing of two plants to create a new hybrid or 'cultivar' that combined the desirable characteristics of both parents—to produce a successful wheat hybrid. The pursuit of greater yields and higher levels of strong gluten at the expense of everything else, including tastier bread, became paramount.
The millers
I left Ed with a few kilos of a Welsh landrace wheat called Hen Gymro (Old Welshman), which I sowed in a field above the River Usk, at the eastern end of the Brecon Beacons range, a few miles from my home. Almost a year later, after I had harvested, threshed and winnowed my wheat, Ed introduced me to Andrew and Anne Parry, millers at Felin Ganol watermill in west Wales. My stream of questions for them – on cleaning grain in preparation for milling, on milling itself and how flour ages – was endless.
The Parrys only restored Felin Ganol and started milling a few years ago. They remembered asking some of the same elementary questions I was asking and were sympathetic. Andrew showed me how to remove the grit, chaff, grass seeds, stray oats, spikelets, straw, dust and other bits of detritus that I had failed to winnow out by hand. Anne explained to me how diseases like fusarium, bunt and ergot infect wheat, and how to look for insect damage, lost embryos, sprouted grains and even broken seeds in a sack of grain.
Seed-to-loaf community
In the modern era, we have grown so distant from the story of cultivating wheat at small scale to make bread that we have forgotten how complicated and difficult it can be. Almost everything that could have gone wrong, did go wrong. My acre flooded in winter, the rabbits had epicurean feasts, the growing season was poor. Despite all of this and more, because of the advice and time willingly given to me by the community I met along the way, I harvested just enough wheat to make bread for my family for a year.
Since writing the book, this seed-to-loaf community has grown again. Emily Powell, my neighbour in the Black Mountains, now grows ten acres of YQ population wheat every year. She also bought an electric powered stonemill from Austria to mill her own grain, selling wholemeal and white flour, semolina and bran to local artisan bakeries, plus a few microbakeries and home bakers like me. Emily doesn't have much spare time, so I have ended up as her 'test baker'. I'm trying to understand how the enzymatic activity and protein content of her flour alter in the days and weeks after milling, and how this translates into baking qualities.
Several readers have contacted me about sowing Hen Gymro on a small scale and I am now able to pass on the advice I was given. I am also part of the informal Welsh Grain Forum, which includes growers, millers, maltsters, brewers and distillers, as well as bakers, activists and academics. It's only a wee organisation: generally we trade information, but the goal is to develop a national grain economy in Wales. The community that engaged me at the beginning of my journey is rising, like dough made with stoneground, wholemeal flour, slowly and assuredly.
Slow Rise: A Bread-Making Adventure is published by Particular Books / Penguin.
The Real Bread Campaign encourages people to buy books from local, independent booksellers.
See also
Nod Torth Bara Go Iawn yn Gymraeg
Nordic saga
Mountin' a comeback
Sowing the seeds of loaf
Solidarity stories
Lay all your loaf on me
Grassroots grain Britain
Landrace for life
Capital grains
The grain in Maine
---
Originally published in True Loaf magazine issue 48, October 2021
Published 24 Nov 2021
Real Bread Campaign: The Real Bread Campaign finds and shares ways to make bread better for us, better for our communities and better for the planet. Whether your interest is local food, community-focussed small enterprises, honest labelling, therapeutic baking, or simply tasty toast, everyone is invited to become a Campaign supporter.
Support our charity
Your donation will help support the spread of baking skills and access to real bread.