Farmer and bakery owner Andrew Neagle reflects on west Wales local grain trials in 2021.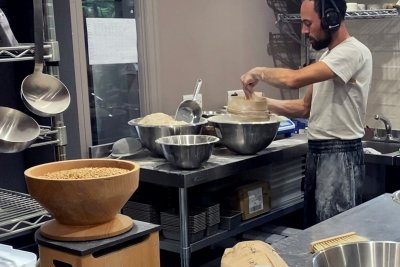 ANUNA grain trial. Copyright: Andrew Neagle
My wife and I set up Becws Crefft ANUNA (ANUNA Craft Bakery) on our small farm in Capel Dewi, near Llandysul, in December 2017. We provide handmade sourdough Real Bread and viennoiserie to local residents and visitors to west Wales through our farmers' market stalls and wholesale customers. We wanted to share our recent experiences of Grawn Hynafol Cymru (Heritage Grain Trial Wales) which has brought together farmers, millers and bakers from across Pembrokeshire and Ceredigion.
Local food
As the human race unfortunately continues its collective march towards climate breakdown, we've thought a lot about what our role should be in helping to mitigate the crisis. We chose to play a part in creating a more resilient local grain economy, which supports farmers, millers, and bakers, and results in nutrient-dense Real Bread for people in our community.
If you've ever been lucky enough to visit our beautiful part of the UK, you might have been struck by the absence of arable crops. The farming predominantly practised here is livestock – mainly sheep, plus cows for beef and dairy. This was not always so – a rich history of mixed farming still lives in the recent collective memory.
Small farms and undulating topography have meant that local farmers are unable to compete in a marketplace based on the wide expanses of cereal monocrops found in places such as East Anglia. We're an enterprising bunch though, and our remoteness engenders a strong sense of community and mutual support. To create something unique and commercially viable, the challenge was (and remains) growing grains that thrive in our mild, maritime climate and also have excellent baking qualities that enable us and fellow bakers to create consistently nutritious and beautiful sourdough Real Bread.
Sowing the seeds
Supported by the Welsh Government, EIP Wales, EIP-Agri, Organic Research Centre and Farming Connect, the Grawn Hynafol trials in 2021 involved three farms in coastal Pembrokeshire growing test plots of ten different grains. These included 'ancient' wheats einkorn (Triticum monococcum) and emmer (T. turgidum subsp. dicoccum), as well as 'heritage' and modern varieties of bread wheat (T. aestivum). All crops were grown with minimum inputs to organic standards.
After a less than glorious summer, thankfully we experienced a short window of sunny, hot, drying weather at the beginning of September. The harvest was brought in over one (long) day. With limited drying facilities, we were all grateful for the support of the Real Seeds Company based in Newport, North Pembrokeshire, who set about drying the grains in preparation for milling. Finally, with the clock ticking, we were in the position to mill the grain and ready the flour for the baking trial.
The baking trials
Each flour was sieved to remove some of the bran and the extraction rate* was recorded. We then made a 70% hydration dough** with each flour, following our standard sourdough method. This involved a three-hour bulk fermentation and approximately 13-14 hours retarding. We made loaves from each dough in tins and using bannetons, then baked them in our Rofco B40 ovens at 280°C for the freeform loaves, 260°C for the tin loaves, turning down to 200°C for 30 minutes and 40 minutes, respectively. We took note of baking quality, including how each dough sat on the peel (whether it slumped or held up well); aroma (including any unwanted ones, such as the tell-tale pea aroma of vetch contamination), and how well it rose in the oven.
The proof of the pudding
We ran a blind tasting at Marchnad Llambed (Lampeter Market) on the 25th of Sourdough September 2021. We used the scoring system developed by Brockwell Bake Association founder Andy Forbes. This included scores for appearance, crust, crumb, aromas, taste, mouthfeel and harmony, which is what we called an overall score of the taste testers' impression of the loaf. We weighted the taste-based categories slightly more than the appearance categories.
The tables were set, the loaves were presented and with pencils and taste buds ready, the market goers were poised to give their verdicts. They sampled Real Bread made from April Bearded, Atle, Hen Gymro, Maris Widgeon and Mulika varieties of bread wheat. They also tried loaves we made from einkorn, emmer, rivet wheat (T. turgidum) and a mixed population landrace of wheats grown by Torth y Tir in Pembrokeshire.
A loaf made from Mulika, a modern wheat variety, proved most popular with the tasters, followed by a rivet wheat loaf. While we (and others) were disappointed that a heritage wheat didn't come out on top this time, in many ways, we were not surprised by the result, given that most people's palettes are familiar with modern wheat varieties. We feel that the heritage wheats might've scored better had we tailored the recipe and method to suit each flour, which the trial did not allow. The tin loaves tended to score higher than their banneton-proved counterparts, which generally did not rise and keep their shape as well. Again, this was not surprising as people often buy with their eyes.
We are especially grateful to Tony Little of Sustainable Farming Consultancy for inviting us to be part of the trials. We are confident they have helped to demonstrate that growing bread making quality wheat is eminently possible in west Wales. With opportunities for sharing equipment across small farms, and the will of communities to support their farmers, millers and bakers, together we can grow a sustainable grain economy here in Dyfed.
@anunabakery
*Wholemeal flour is 100% extraction. The more bran etc. that gets removed, the lower the extraction rate.
**Hydration is the amount of water relative to the flour. As a baker's percentage, 100% hydration is equal weights of flour and water.
You can email Andrew for more information on the trial and a copy of the final report. He is also keen to work with other farmers, millers and bakers developing local grain economies.
---
Originally published in True Loaf magazine issue 49, January 2022
See also
Y Marc Torth Bara Go Iawn
Grassroots grain Britain
Landrace for life
Weaving new bread webs
Around the world for a local loaf
Nordic saga
Mountin' a comeback
Sowing the seeds of loaf
Solidarity stories
Small is bountiful
Lay all your loaf on me
Capital grains
The grain in Maine
Published 1 Mar 2022
Real Bread Campaign: The Real Bread Campaign finds and shares ways to make bread better for us, better for our communities and better for the planet. Whether your interest is local food, community-focussed small enterprises, honest labelling, therapeutic baking, or simply tasty toast, everyone is invited to become a Campaign supporter.
Support our charity
Your donation will help support the spread of baking skills and access to real bread.