Britain's Best Loaf is Real Bread
A sourdough loaf by Real Bread Campaign supporter Bakerman takes top prize.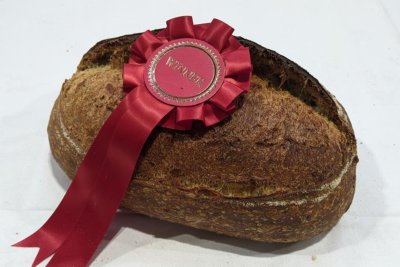 Britain's Best Loaf 2022. Copyright: British Baker
Having won the Sourdough With Other Ingredients category, the Darlington bakery's parmesan and black pepper sourdough has been crowned Britain's Best Loaf 2022.
According to British Baker, organiser of the awards, the loaf: "…brought strong aroma and flavours to the competition. The pepper provides a punchy kick which complemented the parmesan, according to the judges, who were also impressed with the overall look of the loaf as well as the quality of the internal structure."
Real Bread Campaign coordinator Chris Young said: "Congratulations to the Real Bread bakers for rightly gaining this recognition. At the risk of sounding like a broken record, once again they have shown that the best bakers excel thanks to their greater levels of skills and knowledge, rather than rely on a crutch of additives."
Best in show
Real Bread Campaign supporters won four out of the six categories and were highly commended in three.
Gluten Free
Winner: Smoked Beetroot & Sweet Chilli Loaf, Stir Cambridge
Highly Commended: Gluten Free Seeded Loaf, Two Magpies Bakery
Innovation
Winner: Turmeric, Red Onion & Nigella Seed Sourdough, Bakerman
Highly Commended: Turmeric Sourdough with Cranberries and Walnuts, The Baking Room
Plain Sourdough
Winner: Everyday Sourdough, Bakehouse at Cakesmiths
Highly Commended: White Sourdough, The Danish Bakery
Sourdough with Other Ingredients
Winner: Parmesan and Black Pepper Sourdough, Bakerman
Highly Commended: Fruity Botanical Sourdough, Country Style
White
Winner: White Farmhouse Loaf, Elsie May's Cafe, Bar & Bakery
Highly Commended: White Tin Loaf, Seasons Bakery
Wholegrain
Winner: Malted Barley Sourdough, Lovingly Artisan
Highly Commended: Watford Sour, Flourish Craft Bakery
Campaign supporters on the judging panel were:
Alexandra Vaughan, owner/head baker, The Crow's Rest Bakehouse
Clare Barton, owner and head baker, Bakehouse at 124
Lee Smith, baker and owner, Poppyseed Bakery
Martin Hunt, owner, Joe's Bakery
Steve Wells, managing director and owner, Brook Food
See also
What we're fighting for 2023
Support our charity
Your donation will help support the spread of baking skills and access to real bread.