Council of Trustees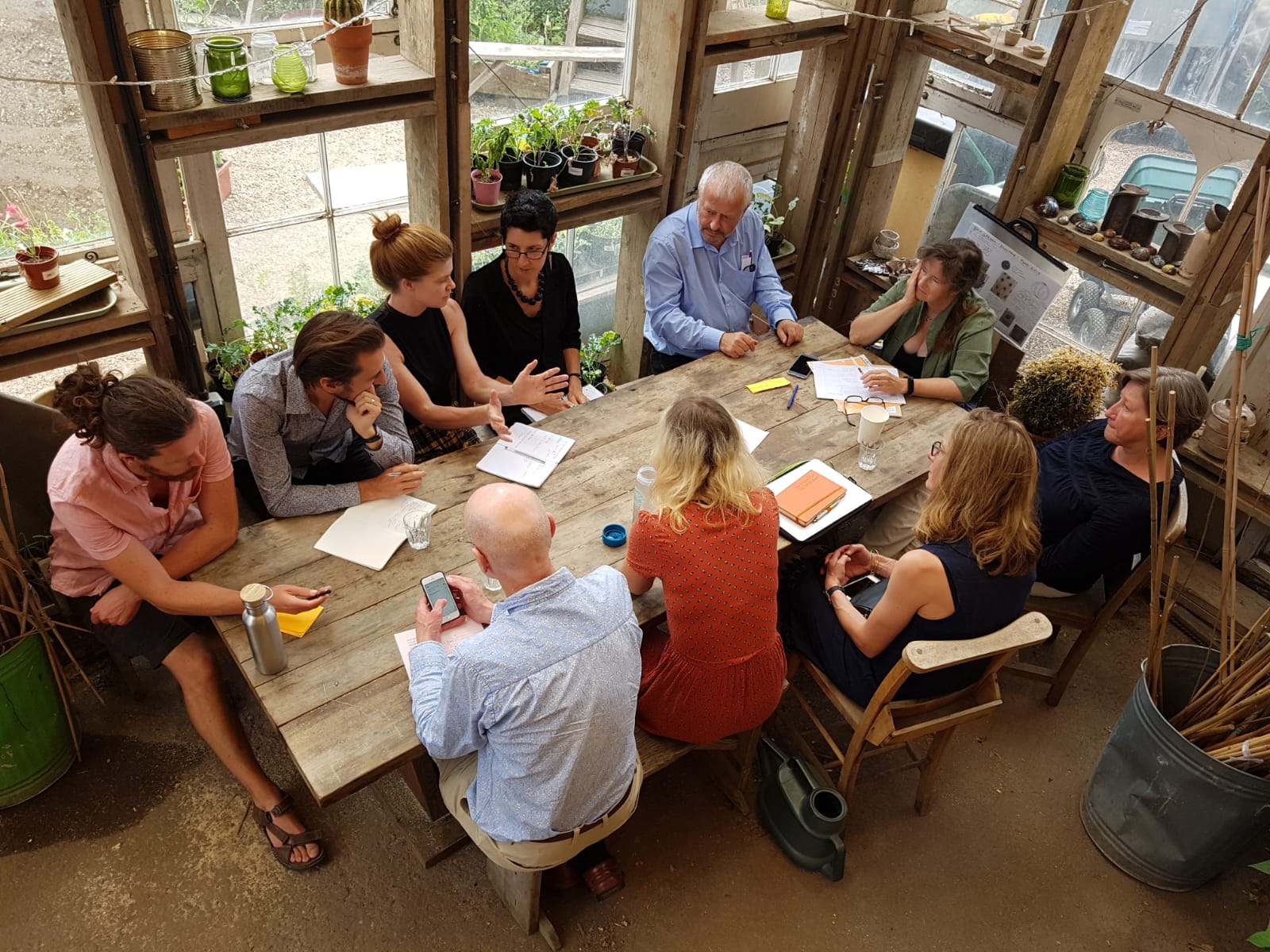 The Sustain alliance is governed by its membership, which is open to national organisations that do not distribute profits to private shareholders and thus operate in the public interest.
Members must be wholly or partly interested in food and/or farming issues and support the general aims and work of the alliance. Sustain's membership usually meets once a year in a general session at the Annual General Meeting, and many members also attend a range of specialist policy and project working party meetings, which are usually chaired by a member of Sustain's Council of Trustees, as well as specialist events tackling issues of common concern.
The current members of Sustain's Council of Trustees are listed below - highly experienced and much valued advisors on Sustain's governance and strategic direction. They are elected by Sustain's membership (and a minimum of one third of the Council must stand down each year) to form a governing body of up to 15 Trustees.
All Trustees declare any relevant interests when they are elected, and at the beginning of each quarterly meeting, and these interests are publicly available on Sustain's website (see below). Sustain's Council of Trustees meets quarterly to guide the work of the alliance, subject to approval by the members.
---
Professor David Barling
Declaration of interest: None
Professor David Barling has served on the Sustain Council of Trustees since his election in 2005, and has been re-elected several times in recognition of the wealth of connections and expertise he brings to the role. He has supported Sustain's work in a number of capacities over the years as – for example – one of the instigators of the Agri-Food Network; chair of Sustain's Good Food on the Public Plate working party; chair of Sustain's Good Food for our Money Campaign that won mandatory standards for food served in Central Government; and as Sustain's representative on the Programme Management Board for the establishing years of the Sustainable Food Cities network, run as a collaboration of Food Matters, the Soil Association and Sustain.
David Barling is now Professor of Food Policy and Security and Director of the Centre for Agriculture, Food & Environmental Management (CAFEM) at the University of Hertfordshire, and he leads the Food System and Policy Group. There, he specialises in governance of the food supply and food security. David has conducted research and consultancy for a number of UK, European and International Governmental bodies as well as for NGOs.
Josie Cohen
Declaration of interest: None.
Note: Josie's role on the Sustain Council of Trustees is a 'job share' with Keith Tyrell
Josie Cohen joined Pesticides Action Network UK (PAN UK) in June 2017 to head up the organisation's UK campaigning, policy and communications work. She studied politics at university and has spent the last fifteen years working as a campaigner for a range of organisations including the League Against Cruel Sports and Save the Children UK. For the past decade she has focused on social, environmental and human rights issues associated with large-scale agriculture, leading ActionAid UK's biofuels campaign and working on land rights for Global Witness.
Catherine Fookes
Declaration of interest: Member of the Executive of SERA, Labour's Environment Campaign; the Organic Trade Board has members who are part of the food industry
Catherine Fookes is Director of the Women's Equality Network Wales. She was previously Campaign Manager at the Organic Trade Board where she has managed its marketing campaigns and communications since 2010. She is a member of the Welsh Government's Food & Drink Wales Industry Board advising on how to grow sales of Welsh food and drink. Catherine worked previously at Sustain on the Organic Targets Bill Campaign, and at the Soil Association and ActionAid on food campaigns. She has an excellent network with contacts across food, farming, the environmental movement and government.
Bridget Henderson
Declaration of interest: None
Bridget Henderson is the research officer for the food, drink and agriculture sector represented by Unite, the union. Unite has more than 100,000 members in its food, drink and agriculture sector, and thousands more across all industrial sectors linked to the food chain, such as those in logistics and transport, printing and packaging, and the public sector. Formerly the editor of Landworker, the journal for rural workers, and now as the sector researcher, Bridget brings experience and insights of Unite members to contribute to Sustain's work in building a better, safer and fairer food system.
Clare Horrell
Declaration of interest: None
Over the past 10 years, Clare Horrell has been working directly with food and farming enterprises around the UK developing funding, mentoring and impact programmes to support their development. A particular focus of her current work is developing new ideas and programmes to fill the "black hole" that exists between grant funding and commercial lending that leaves many food and farming enterprises under-resourced and unable to develop. Clare's work has given her a deep and personal understanding of the challenges, pressures and stresses that these enterprises face as they try to operate in a hostile economic, political and cultural environment. It has also given her the opportunity to work with many of the pioneers in the sector who are creating a food system based on values not on money. As a Sustain Trustee, Clare states: "I hope to bring these voices to the Sustain table and help support Sustain's work in pressing for a radical rethink of our food and farming system. Sustain's strength lies in its membership and the people and enterprises that those members represent. Now more than ever, the voice of those enterprises must be heard as we head towards Brexit and beyond."
Katharine Jenner
Declaration of interest: None
Katharine is Chair of Sustain's SUGAR SMART campaign
Katharine is a Registered Public Health Nutritionist and the Campaign Director of the award-winning salt reduction charity Action on Salt (CASH), its international arm World Action on Salt and Health (WASH) and Action on Sugar, which aims to reduce unnecessary sugars in the population's diet. She also runs the only charity dedicated to lowering the nation's blood pressure, 'Blood Pressure UK' and is a Visiting Lecturer in Public Health Nutrition at several UK Universities. Katharine worked as a media strategist for several years and as such is very interested in developing innovative approaches to communicating public health. Formerly, Katharine was Chair of Sustain's Campaign for Better Hospital Food.
Laura Mackenzie
Declaration of interest: Laura is a member of the committee of Another Europe is Possible
Laura Mackenzie is Climate Change Campaigner at Friends of the Earth. She formerly served as Head of Policy (Farming and Land Use) at the Soil Association and as Head of Public Affairs. Sustain benefits from Laura's insights, expertise and links on - for example - farmer-led innovation, environmental policy and climate change - and building on the strong collaboration and connections between the organisations that already exist. She also brings expertise and experience from several senior-level parliamentary, campaigning and advocacy roles in the third sector. For several years, Laura worked for a high-profile MP as their lead political and policy adviser, speech writer, and researcher on climate, environment, and trade policy. With the influence of Parliament over farming and food policy now greater than ever, her insider understanding of Westminster and Whitehall is valuable to Sustain's work and parliamentary strategy. Laura has a strong professional network, a Masters in Law in Development, and a liking for slow travel and extra-curricular environmental activism..
Dr Modi Mwatsama
Declaration of interest: None
Modi Mwatsama is Senior Science Lead (Food Systems, Nutrition and Health) for the food systems, nutrition and health strand of Our Planet, Our Health at the Wellcome Trust. Formerly, Modi was Director of Policy and Global Health at the UK Health Forum (UKHF). Her work includes advocacy for health-related agriculture, food and nutrition policy. Recent examples include successful advocacy (in collaboration with partners) to get sustainability principles incorporated within the government's healthy eating "Eatwell Guide", as a member of the advisory group that oversaw the work. She coordinated a project to develop consensus on a framework for action on healthy sustainable diets in the UK; and an international project on strengthening the governance of public-private interactions to improve diets. Modi was previously involved with several national public health groups including:
Public Health England groups on nutrient profiling and global health; and recent groups on sugar reduction, the Eatwell Guide, and "5 a Day".
She is currently involved with the following:
NGO steering groups – Eating Better Alliance (of which Sustain is a co-founder)
Professional groups – Council of the Association for Nutrition and the Health Improvement Group of the Faculty of Public Health.
Modi is a registered nutritionist with a Doctorate in Public Health; and also an Honorary Assistant Professor at the London School of Hygiene and Tropical Medicine.
Professor Mike Rayner
Declaration of interest: Member of the Sugary Drinks Industry Levy evaluation panel
Mike is Chair of Sustain, Chair of Sustain's Children's Food Campaign working party, and formerly Chair of the independent Children's Health Fund Board (now closed)
Mike Rayner is a Professor of Population Health and Director of the Centre on Population Approaches for Non-Communicable Disease Prevention at the Nuffield Department of Population Health of the University of Oxford. The Centre, which Mike founded in 1993, is a World Health Organisation Collaborating Centre on Population Approaches for Non-Communicable Disease Prevention. It carries out research into the promotion of healthier and more sustainable diets. Mike is also Chair of the Nutrition Expert Group for the European Heart Network based in Brussels. He is an ordained priest in the Church of England.
Shaun Spiers
Declaration of interest: None
Shaun Spiers is executive director of the environmental think-tank Green Alliance, with which Sustain works in close cooperation on Brexit-related farming and environmental policy. Prior to this appointment, he was chief executive of the Campaign to Protect Rural England (CPRE) since 2004. Before joining the CPRE, Spiers was chief executive of the credit union trade association Abcul, and was a Labour and Co-operative MEP for London South East between 1994 and 1999. Shaun took up the role at the Green Alliance at a pivotal time for British environmental policy. As he says: "Brexit is a once-in-a-generation chance to strengthen environmental protection, improve countryside quality and set a path to a low carbon and resource-efficient future. But it also carries with it great risks. Green Alliance's work with other green and civil society groups and progressive businesses will be essential to building a vision of the sort of country we want to be, and ensuring the best possible environmental outcomes." Shaun was previously Chair of Sustain's Sustainable Farming working party.
Christopher Stopes
Declaration of interest:
Consultant to Organic Farmers & Growers CIC
Trustee Pesticide Action Network UK
Member of the England Organic Forum
Christopher has been working in food and farming - largely organic - for 30 years, the past two decades as a freelance consultant working with European institutions, national governments, NGOs and business clients. Prior to that, as Head of Research at the Organic Research Centre, he was responsible for scientific agronomic and livestock organic research. He has substantial experience in organic food and farming - from the perspective of farm production and the farmer, and from the point of view of social and health outcomes of food and farming systems including organic, small-scale and Community Supported Agriculture initiatives.
He is past President of the European Group of IFOAM-Organics International - an organic advocacy organisation based in Brussels and working at all levels to make Europe more organic, as outlined in their Road Map for Transforming Food and Farming. Christopher has been involved in pesticide legislation and assessment, serving in the past on the government Advisory Committee on Pesticides (representing organic interests). He is a Trustee of Pesticide Action Network UK, so with this experience he is well aware of the issues surrounding the use of chemical pesticides and their interactions in food-, farming- and eco-systems, which together impact on human and environmental health and wellbeing. Christopher has been committed to the development and promotion of policies that support more of the good and less of the bad. He has been supporting Sustain in the development of the post-Brexit farm policy proposals since 2016.
Alison Swan Parente
Declaration of interest: Owner of Welbeck Bakehouse, a member of Sustain's Real Bread Campaign
Alison is Chair of Sustain's Real Bread Campaign
Alison studied social anthropology at the London School of Economics a very long time ago. She then did a child psychotherapy training and worked for 4 years at Rutgers Medical School in the USA, coming back to the UK in the late 70s and working variously at Hoxton Child Guidance clinic and the Royal London Hospital. She was Chair of the Trustees of the Women's Therapy Centre in Holloway for many years as well as working at Nottingham child and adolescent mental health services. She founded the Welbeck Bakehouse in 2008 and the School of Artisan Food in 2009. She knows a bit about cooking from her mother, her friends, her Italian husband, her library of cookbooks, and about education from her years of working with young people. She still has a lot to learn.
Keith Tyrell
Declaration of interest: None.
Note: Keith's role on the Sustain Council of Trustees is a 'job share' with Josie Cohen
Keith is Sustain's Treasurer
Keith Tyrell became Pesticides Action Network UK Director in May 2010. Keith has over 20 years' environmental experience. Prior to joining PAN UK he was the Director of Programmes and Research at the Koru Foundation - a charity that supports community scale renewable energy projects in poor countries. He also spent eight years working on UK and EU environmental policy at the ENDS Report where his last role was Climate and Energy Editor. He has extensive experience of working with grassroots organisations and ran the European arm of a three-year international research and advocacy project for WWF. He holds a Doctorate in Development Studies, and MA in Environment Development and Policy, both of which involved research into pesticides.
Victoria Williams
Declaration of interest: None
Victoria is Chair of Sustain's Food Poverty working party
Victoria Williams is co-founder and Director at Food Matters. Victoria's expertise centres on food poverty and food access issues, in particular interpreting national policies at a local level. Victoria has been working on sustainability and food poverty for over 20 years and is currently working on prison food reform, sustainable food systems approaches, and fruit & veg intervention programmes that bring together financial and motivational support for families living on low incomes. Before setting up Food Matters Victoria ran the Food Poverty Project at Sustain and worked at both its founding organisations - the SAFE Alliance and the National Food Alliance. She is chair of the board of the Brighton & Hove Food Partnership and also sits on the Programme Management Board of the Sustainable Food Cities Network.
Stephanie Wood
Declaration of interest: None
Stephanie is Vice-Chair of Sustain. She is also Chair of Sustain's London Food Link network and Capital Growth; and was formerly Vice-Chair of the independent Children's Health Fund Board (now closed)
Stephanie is Founder/Chief Executive of the charity School Food Matters, set up in 2007 to campaign for fresh sustainable school food and promote food education. In 2012 she joined the School Food Plan's Expert Panel, tasked by the Department for Education to create an action plan to support head teachers to improve food in their schools. She is now co-Chair of the School Food Plan Alliance. In her spare time she is a school governor.
Please note that under the terms of UK law, it is not legal for anyone with an unspent criminal conviction to serve as a senior member of staff, finance lead or charity trustee (without special waiver); and it is not legal for anyone with a criminal conviction, spent or unspent, to serve as a senior member of staff, finance lead or charity trustee if that individual is on the sex offenders register. All Sustain trustees, senior management team and the head of finance have confirmed that they are eligible to serve in their roles.
---
SHARE