Awards won by Sustain and its staff
Sustain is very proud of its work and its history, which is due to not only to the extraordinary range and depth of expertise in its membership and other networks, but also to its talented and energetic staff. Sustain is therefore delighted that independent bodies continue to recognise this outstanding quality, as reflected in the awards listed below.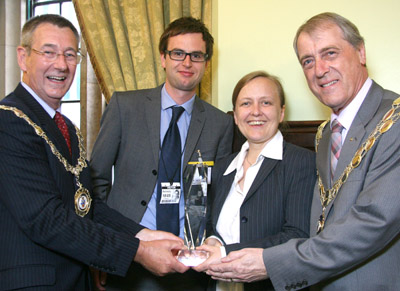 Above, Sustain's Alex Jackson and Kath Dalmeny (centre) accept the 2011 CIEH Presidents Award from CIEH's Stephen Battersby and Bob Foster (left and right). The President's Award from the Chartered Institute of Environmental Health is "for an organisation that has made a significant contribution to environmental health" and was presented to Sustain in May 2011 at a reception hosted in the House of Lords by kind arrangement of CIEH Vice President Joan Walley MP. In particular, the award recognised Sustain's work to improve food standards in public- and private-sector catering, such as the Good Food for Our Money campaign, Good Food on the Public Plate, Ethical Eats, Sustainable Fish City and healthy and sustainable food standards for the London 2012 Olympic and Paralympic Games.

Above, London Mayor Boris Johnson and Chair of the London Food Board Rosie Boycott accept a 2009 Certificate of Commendation from the Royal Horticultural Society for the Capital Growth initiative, which is run by Sustain (Ben Reynolds and Ida Fabrizio of London Food Link and Capital Growth are on the right). The Capital Bee project, linked to Capital Growth, won a Silver Award in the 2011 International Green Awards, in the Best Green Advertising and PR Award category.
Sustain project officer Jon Walker receives a Good Egg Award in 2009 from Rosie Boycott, Chair of London Food, on behalf of Good Food on the Public Plate
| | | |
| --- | --- | --- |
| | | |
| Jeanette Longfield, Coordinator of Sustain, with her MBE awarded in 2007 | Kath Dalmeny, Policy Director of Sustain (with Tim Lobstein of the Food Commission), with their joint 2006 Caroline Walker Trust Lifetime Award | Jeanette Longfield, Coordinator of Sustain, receives a BBC Radio 4 Food & Farming award in 2005 |
| | | |
| Vicki Hird, co-founder of the S.A.F.E. Alliance and now trustee of Sustain, with the 1994 Schumacher Society award | Peta Cottee, formerly Projects Director and now trustee of Sustain, with the 1996 Good Food Awards for the Food Miles campaign | Project officer Lianna Hulbert with the Good Housekeeping 'Consumer Campaign of the Year 2008 for Importance' award for the Children's Food Campaign |
2009 Sustain won a Certificate of Commendation from the Royal Horticultural Society, jointly with the Mayor of London and London Food Board. The commendation was for the Capital Growth garden at the Hampton Court Palace Flower show, demonstrating how to use small urban and domestic spaces for growing a colourful (and edible) array of fruit and vegetables in recycled containers. Read the press release
2009 Good Food on the Public Plate received a Good Egg award from Compassion in World Farming. The award was made in recognition of the project officers' (Jon Walker, Kena Duignan and David Rose), work to increase the number of free range eggs used in public procurement in London. Imperial College, Thamesbrook Carehome, Royal Brompton Hospital and the Royal Marsden Hospital of the Chelsea Cluster also won Good Egg Awards as did the British Library and Birkbeck, University of London from the Camden Cluster. Read the project report
2008 Sustain's Children's Food Campaign was recognised at the 8th Annual Good Housekeeping Consumer Awards, with an award for Consumer Campaign of the Year for Importance, for its work to improve children's dietary health and protect them from junk food advertising. Read the press release
2007 Jeanette Longfield, Coordinator of Sustain, was awarded an MBE in the New Year Honours "for services to food policy issues". Read the press release
2006 Emma Hockridge, project officer for Sustain's Good Food on the Public Plate project, was awarded a prestigious Nuffield Farming Scholarship to study how UK grown "exotic" produce could provide economic opportunities for ethnic communities. Download PDF for more information.
2006 Kath Dalmeny, Deputy Coordinator of Sustain, was given a Special Lifetime Award by the Caroline Walker Trust for her research and campaign work in support of healthier and more sustainable food. The Caroline Walker Trust runs an annual award ceremony to recognise the work of those who have sought to improve public health through good food. Details of the awards can be seen at: http://www.cwt.org.uk/awards.html
2005 Sustain was the winner of the Judge's Special Award at the BBC Radio 4 Food and Farming Awards in November 2005, in recognition of our 20 years' work with our members. Judge Sheila Dillon said: "It was Sustain's work into food that made it possible to start thinking about what to do, and what was wrong with school dinners." Read the press release
2004 Dan Keech, the first London Food Link project officer, was awarded a certificate by the Mayor, Ken Livingstone, thanking him for his "outstanding contribution to London".
2002 Eating Oil: Food supply in a changing climate, published, in association with Elm
Farm Research Centre, won the 2002 Guild of Food Writers Award for Investigative Journalism.
1995-1996 The S.A.F.E. Alliance was winner of the Good Food Awards 'Best Educational Campaign for Adults' for the Food Miles campaign. S.A.F.E. merged with the National Food Alliance in 1999 to form Sustain: The alliance for better food and farming. The S.A.F.E. Alliance undertook pioneering work on sustainable agriculture and the first report on the environmental effect of increasing food miles.
1994 The S.A.F.E. Alliance (see note above) was given a Schumacher Society Award. The Schumacher Society recognises those people and organisations that demonstrate that both social and environmental sustainability can be achieved by applying the values of human-scale communities and respect for the natural environment to economic issues.
1993 Jeanette Longfield, who was then Co-ordinator of the National Food Alliance (which merged with the S.A.F.E. Alliance to form Sustain in 1999) was Overall Winner of the Caroline Walker Trust Award. (See Kath Dalmeny, 2006, above for details of the Caroline Walker Trust).