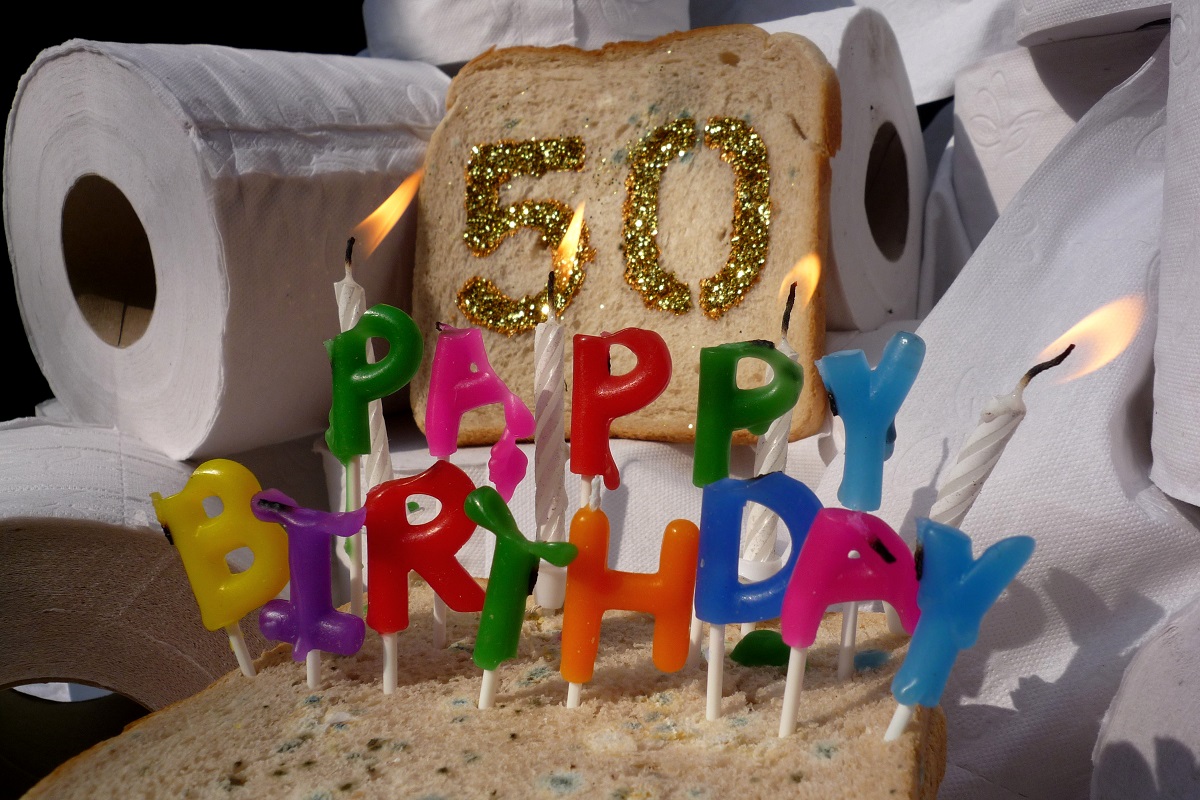 Photo by Chris Young / realbreadcampaign.org CC-BY-SA 4.0
As you might have noticed from recent media coverage generated by the Real Bread Campaign, July 2011 marks the 50th anniversary of the Chorleywood 'Bread' Process (CBP). Within a decade of its launch, CBP become the standard commercial method of production, and today continues to be the method by which around 80% of British industrial loaves are made.
Click here for our home movie of the long-overdue retirement of the Chorleywood Process
---
Notes on the Chorleywood Process
The Chorleywood 'Bread' Process (CBP) is the method by which the majority of wrapped, sliced industrial loaves are made in Britain.
War Child
The predominance of CBP in Britain today is the result of increasing industrialisation of food production after World War II. The market capitalist interests that accompanied this transition saw the move away from bread towards industrial loaf products speed up, resulting in a cheap (or should one say cheapened?), time-efficient, energy-intensive additive-reliant source of calories.
After the war, the UK government joined forces with the baking sector to create the British Baking Industries Research Association (BBIRA) in the Hertfordshire village of Chorleywood, a partnership meant to strengthen and protect both the British baking industry and British wheat farmers.
BBIRA's studies resulted in a proecess of controlled-energy, batch-mixing without bulk fermentation. It did, however, require additional inputs: chemical oxidising agents, emulsifiers, extra yeast and lots of water to adjust the consistency.
This process also required large volumes of refrigerated water to cool down the dough, which had been heated by the energy intensive mixing. Thus in July 1961 the Chorleywood Process, a high input, no time, energy intensive process was born.
What's wrong with the modern factory loaf?
As we have noted on our FAQs page, a growing number of studies suggest that Real Bread produced with longer dough fermentation times (especially in the presence of sourdough bacteria) could have positive implications in certain aspects of health and nutrition, including digestibility.
By contrast, CBP employs a whole cocktail of artificial additives – some deemed 'processing aids' and legally not listed on the label – to all but cut out the proving time. We believe the resulting dough to be 'unripe' and ask whether this could have a detrimental effect on more than just flavour. Just think of the effects of eating an unripe tomato.
The industry defends the current additives as safe, just as they used to defend the use of benzoyl peroxide, chlorine dioxide, potassium bromate and azodicarbonamide, all of which they were forced to withdraw, some as recently as 1999.
Historically, these industrial loaves had high levels of salt, though these have generally come down, allowing the industry to boast of large reductions.
Toasting the future
As we look ahead we must ask, what do we value in in our daily loaf? Is it its height or squishiness, as CBP marketers might have us believe? Is it the reduction of time and financial cost of production as BBIRA sought?
Or is assessing the value of bread about embracing time, flavour, community, and craft? The Real Bread Campaign believe that a future for bread in Britain that embraces its true values and conserves resources is far more likely to protect and preserve the interests, health, and culture of the British people than improvers, emulsifiers, and preservatives.
The this article contains extracts of Pappiness in Your Hands, a feature by Emily Earhart for the July-September 2011 edition of True Loaf, the Real Bread Campaign supporters' magazine.
---
Chorleywood Village Day
As part of the annual Chorleywood Village Day on 9 July, Real Bread Campaign members took a factory loaf across the village common to the Beaumont House Care Home, formerly the British Baking Industry Research Association building, for its long-overdue retirement.
See our news page for the full story. Click here for pictures.
Share
Get updates
Real Bread Campaign: The Real Bread Campaign finds and shares ways to make bread better for us, better for our communities and better for the planet. Whether your interest is local food, community-focussed small enterprises, honest labelling, therapeutic baking, or simply tasty toast, everyone is invited to become a Campaign supporter.
Menu
Support our charity
Your donation will help support the spread of baking skills and access to real bread.