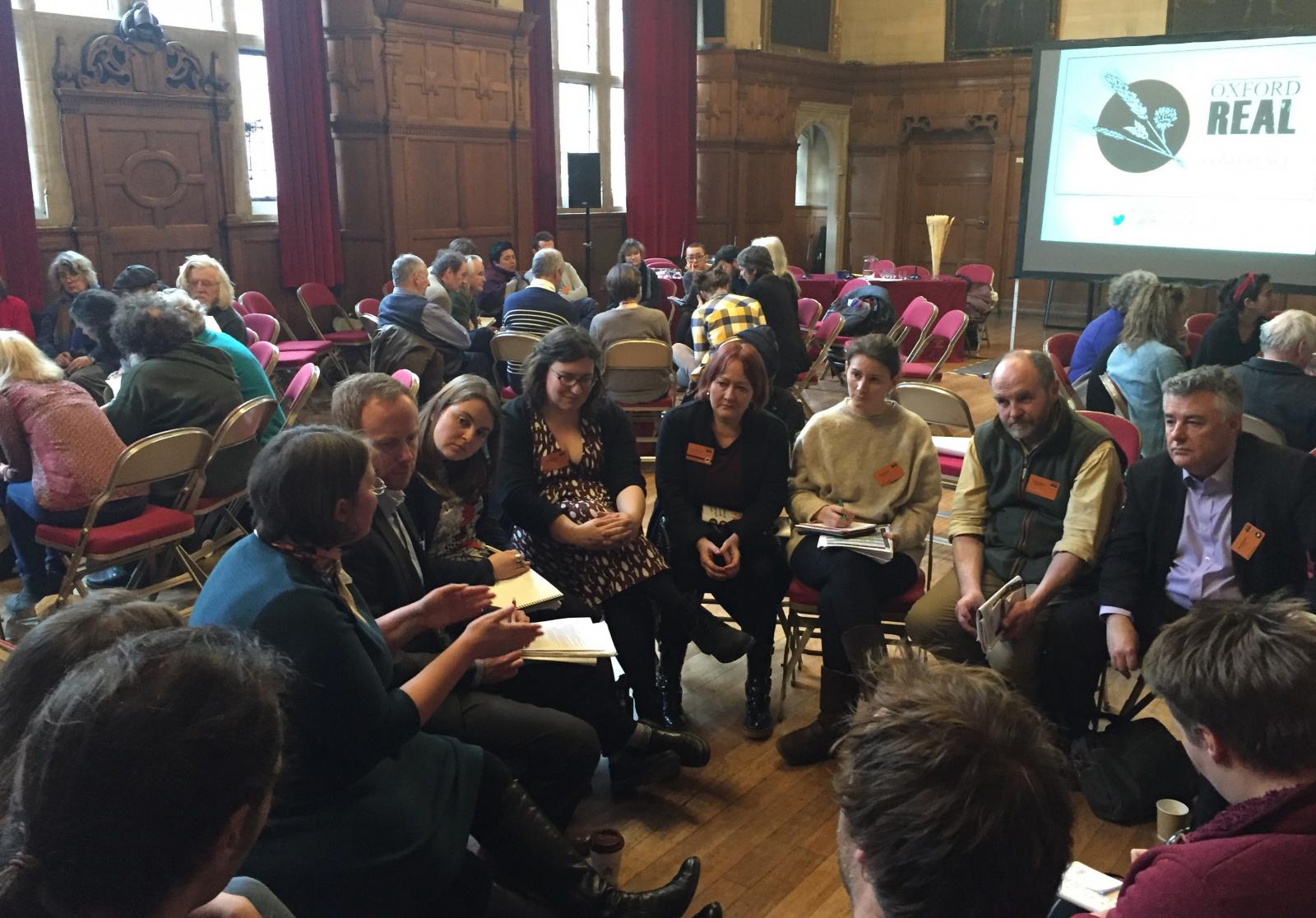 Photo of Sustain Brexit Forum at Oxford Real Farming Conference 2018
Sustain is campaigning for a Better Food Britain. This will seek to achieve the best possible outcomes for better food, farming and fishing as the UK leaves the European Union. The alliance met on 27 June 2017 to identify priorities for action in pursuit of the common goal of a Better Food Britain.
Over 50 organisations met on 27 June – coordinated by Sustain – to take stock of priorities for Brexit and the forthcoming Repeal, Trade, Agriculture and Fisheries Bills announced in the Queen's Speech in June 2017. The meeting also considered how we can work together to engage the public and to inform and influence decision-makers.
Participants represented organisations working on the diverse issues represented in the Sustain alliance – food safety and quality standards; consumer rights and protections; environmental protection; workers' rights; measures to tackle trafficking and modern slavery; labour conditions and skills; sustainable international development; organic food and farming standards; animal welfare; animal and plant health; chemical and pesticide controls; poverty and inequality reduction; and access to justice.
The Sustain alliance is working together to secure a food system that is healthy, fair, humane and sustainable, playing its part in tackling climate change. Common principles must apply to how we deal with farming, fisheries, health and social policy, as well as to new international trade deals.
During May, Sustain had sent a Manifesto for a Better Food Britain to all the main political party leaders and engaged with several of the manifesto teams. This had resulted in several specific 'policy asks' being adopted by opposition parties, including the Labour Party. Given the election result and new balance of power, this is now a platform on which to build.
At the Taking Stock meeting, updates were shared from key 'hub organisations' coordinating work on Brexit: Sustain (including alliance Sustainable Farming and Sustainable Fish campaigns); Greener UK, Unlock Democracy, and the Trade Justice Movement, as well as participants from specialist organisations. .
As a result of the Sustain Brexit Forum: Taking Stock, Sustain will work with members and colleagues to:
Produce and consult on a shared calendar of parliamentary milestones and third-sector opportunities.
Continue to provide information via the Sustain Brexit Forum enewsletter. Members and colleagues are invited to submit news for inclusion, as well as to encourage more people to sign up.
Work with members and colleagues on a public engagement plan. This is an exciting time to be mobilising people in support of a Better Food Britain – interest in politics is high; people care about quality, safety and values; nobody voted to see food standards get worse. There is greater appreciation of standards and regulations as 'protection'. Good communications are essential to "make the issues real" for citizens and policy-makers.
Work with members and colleagues on a plan for influencing decision-makers. Engaging decision-makers will be critically important over the coming months, including those who influence them. Rallying public support will also help. We need to be clear and coherent with our key messages and policy demands – strengthening these by making economic arguments, bringing the issues alive with real-life stories, and linking proposals to other policy priorities such as public health, tackling inequalities and climate change. Coordinating our efforts through political and engagement strategies will be very important.
Work with members and colleagues on a legal strategy; and publish a summary of legal milestones. At the moment, the Repeal Bill is the priority, but the Agriculture, Trade and Fisheries Bills will of course be very important to engage with. There is an emerging consensus across a very wide range of third-sector groups on the priorities, principles and detail of what we need to see in the Repeal Bill – with Unlock Democracy, Hansard Society, Greener UK, Wildlife & Countryside Link, Sustain and others ('hub' groups) developing a strong, consensus-based approach.
Detailed notes of the meeting, with insights and detailed actions, are available on request from: kath@sustainweb.org
Useful information sources
Sustain Brexit Forum: Tracks and coordinates work by food, health, consumer, farming and marine NGOs; particularly Repeal Bill, parliament, policy, public engagement and calls for a new Food Act. The Sustain alliance has also published priorities for the legal milestones in the coming Parliamentary session. For questions or to get on the e-newsletter list: kath@sustainweb.org
Sustainable Farming Campaign: The working party at Sustain is consulting on detailed work around farm subsidies, farm livelihoods and 'public money for public goods', and organising policy and advocacy work, including around the Agriculture Bill: vicki@sustainweb.org. Sustain's paper setting out a new farm policy framework is at: Beyond 2020: New farm policy.
Repeal Bill, third-sector coordination: Unlock Democracy will coordinate technical and advocacy work on the Repeal Bill, welcoming support from third-sector groups: alex.runswick@unlockdemocracy.org.uk. Unlock Democracy has also published useful materials on achieving a Democratic Brexit.
Environmental protections: Greener UK tracks and coordinates work on Brexit by leading environmental NGOs; particularly Repeal Bill, parliament, policy: amount@green-alliance.org.uk. Greener UK has also published a Manifesto for a Greener UK, a technical briefing on the Repeal Bill and a Risk Tracker on the status of environmental protections. Subscribe to Wildlife & Countryside Link's monthly e-bulletin to keep up to date with stories and developments on wildlife, biodiversity and land management aspects of Brexit and legal strategy, alongside other environmental news. WCL will be working on Agriculture and Fisheries Bills and the 25 Year Environment Plan.
International trade deals: The Trade Justice Movement coordinates campaigning for democratic control and accountability over UK trade policy, including the new Trade Bill: paul@tjm.org.uk
People's Food Policy: The People's Food Policy, coordinated by grassroots food growers and food sovereignty groups, sets out what an integrated food policy would look like if people were put at the heart of decision-making.
Further background reading
The Brexit White Paper sets out what the UK Government is seeking to achieve in negotiating the UK's exit from the European Union. Environment and consumer protection did not fare well; fisheries and farming were dealt with only sketchily.
The Repeal Bill White Paper sets out the UK Government's proposals for conversion of EU law into UK law. It is worth noting that whilst this promises to convert laws, there are uncertainties over whether crucial Treaty principles and Rights will be converted into UK law, for example:
EU Charter of Fundamental Rights
Principles: Precautionary; polluter pays; pollution rectified at source, etc.
Access to justice
Relationship to the European Court of Justice, including legal precedent
Co-operation and EU-level trade agreements
Involvement in decision-making
Shared strategies and trajectories on issues that are not (yet) framed as law (e.g. soil)
Institutions providing, e.g. monitoring, enforcement and product approval functions
Shared science and data
Distribution of money, e.g. via CAP farm payments; research programmes
The Queen's Speech, setting out the UK's legislative agenda for the two-year Parliament, including a raft of Bills relevant to Sustain's work: Repeal, Agriculture, Fisheries and Trade Bills. A background briefing on the Queen's Speech was also provided by the government.
Sustain Brexit Forum: Taking Stock, summary notes June 2017
Share
Get updates
Brexit: We stand at a cross-roads. When the UK leaves the European Union, will our leaders uphold good standards for our food, farming, fishing and trade deals? And will they agree a sensible deal with the EU? We need to make sure that they do!