How can we make genuine local food resilience a reality?
The Food Power Festival was a four-day online festival for food poverty alliances, food partnerships, local authorities and other allies working to tackle the root causes of food poverty. In this blog, Food Power's Cecily Spelling, summarises lessons from day four which explored how we can make genuine local food resilience a reality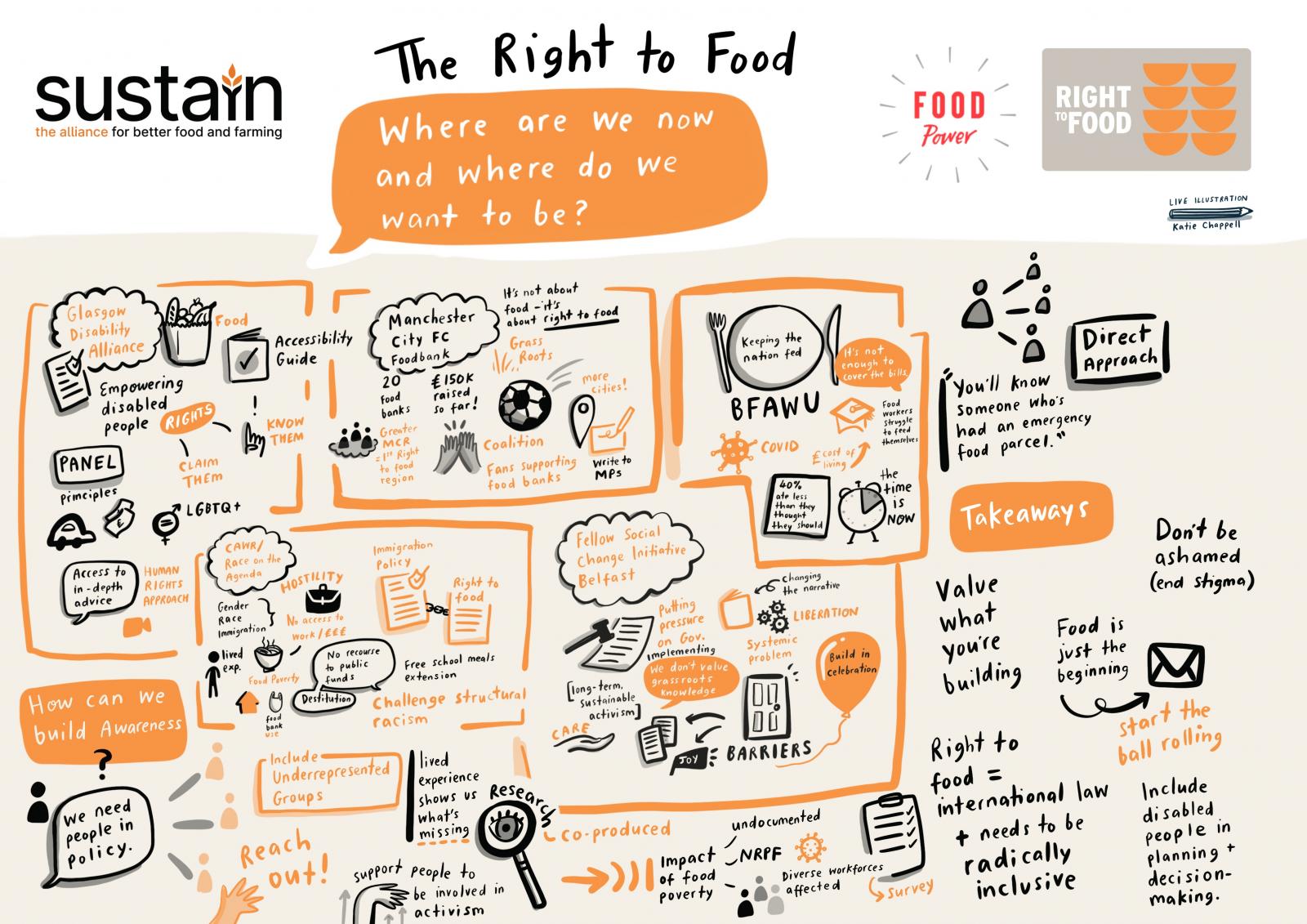 Katie Chappell / Food Power
The Food Power festival reflected on how to build resilient food poverty alliances, how to ensure dignified access to food and the lessons we've learnt during the pandemic. Throughout these discussions the word resilience came up again and again. We want communities to be resilient, we want to ensure local food resilience, we want resilient food systems. But what does that look like and how can we make it a reality? The final day of the festival focused on just that as together we discussed a vision for local food resilience and discussed the tools and tactics we can use, as a network, to make it a reality.
Food poverty alliances around the UK have been instrumental in delivering the emergency food response over the past year. With restrictions now lifting, we are starting to look towards recovery and here too, food poverty alliances can play a vital role in setting the food resilience agenda. To help begin this important work Food Power supported 15 alliances around the UK to deliver projects exploring building local food resilience. To help share their learning and build our wider vision of what local food resilience looks like, five of these projects shared their progress at the Food Power Festival. We heard about Leeds' building resilience toolkit, Preston's local food resources and recipes, Stockton's plans for a new pantry offering culturally appropriate food for their community, Edinburgh's Family Food Network and the neighbourhood food model in Walworth, Southwalk.
Though the projects differed, all alliances were clear: food banks are not the answer to tackling food poverty. These projects show that by listening to the needs of the local community, alternative models can be developed that build resilience through training and knowledge sharing and creating people-centred local food systems where farmers, businesses and low income families are all able to benefit.
In addition to sharing their progress at the Festival, alliances that received support were also invited to a workshop in March which explored what we mean by the term local food resilience. In this workshop alliances called for the establishment of some resilience principles.
To finish our exploration of local food resilience at the Festival, we hosted a session in partnership with the Right to Food campaign. In this session Glasgow Disability Alliance, CAWR, the Bakers, Food and Allied Workers Union (BFAWU), Act Now Northern Ireland and Manchester City Fans Food Bank Support discussed the need for a right to food.
Currently, many communities are unable to access the food they need, including the disabled community, people in the immigration system and low paid workers, especially in the food system itself. For example, a recent survey by the BFAWU found that 40% of respondents to their right to food survey of food workers said they were eating less than they should and 1 in 5 had relied on food from a friend or relative. These are the people who have been feeding the nation throughout the pandemic; they deserve better. A right to food could change things for the better by placing a legal responsibility on public institutions to ensure everyone has a right to food and is able to access healthy, nutritious food.
The movement for a right to food has grown over the past year as food poverty has risen up the public and political agenda. Football fans have come together to call for a right to food in Manchester. A host of cities have thrown their support behind a right to food, including Newcastle, Greater Manchester and Liverpool. Scotland has committed to introduce a new human rights bill that would see protections for the right to food. And the Environment, Food and Rural Affairs Committee in Westminster has called for a UK Government consultation on a legal right to food.
So how can we make genuine local food resilience a reality?
Move away from the food bank by working with our communities to find alternative, more dignified models of support that build skills, share learning and create stronger, local food systems
Enshrine a right to food, but to achieve this across the UK we need to combine local, regional and national action to tackle food poverty and continue organising and building the movement for change.
Read other blogs summarising the Food Power Festival and catch up on session recordings in full on the Food Power website.  
Sheep farmer. Credit: Cottonbro | Pexels
Published 2 Jul 2021
Food Power: Food Power is an exciting new programme working with local communities across the UK to strengthen their ability to reduce food poverty.
Cecily joined Sustain in September 2020 as the Communications and Network Coordinator for the Food Power project and the Food Learning Forum (on maternity cover).
Cecily Spelling
Communications and Events Coordinator Food Power
Support our work
Your donation will help communities identify ways to alleviate food poverty.