Now we are ten
Plenty has happened in the decade since our launch event one cold November day in 2008. Here's just a snapshot of the many high (and a few low) points on the Campaign trail so far…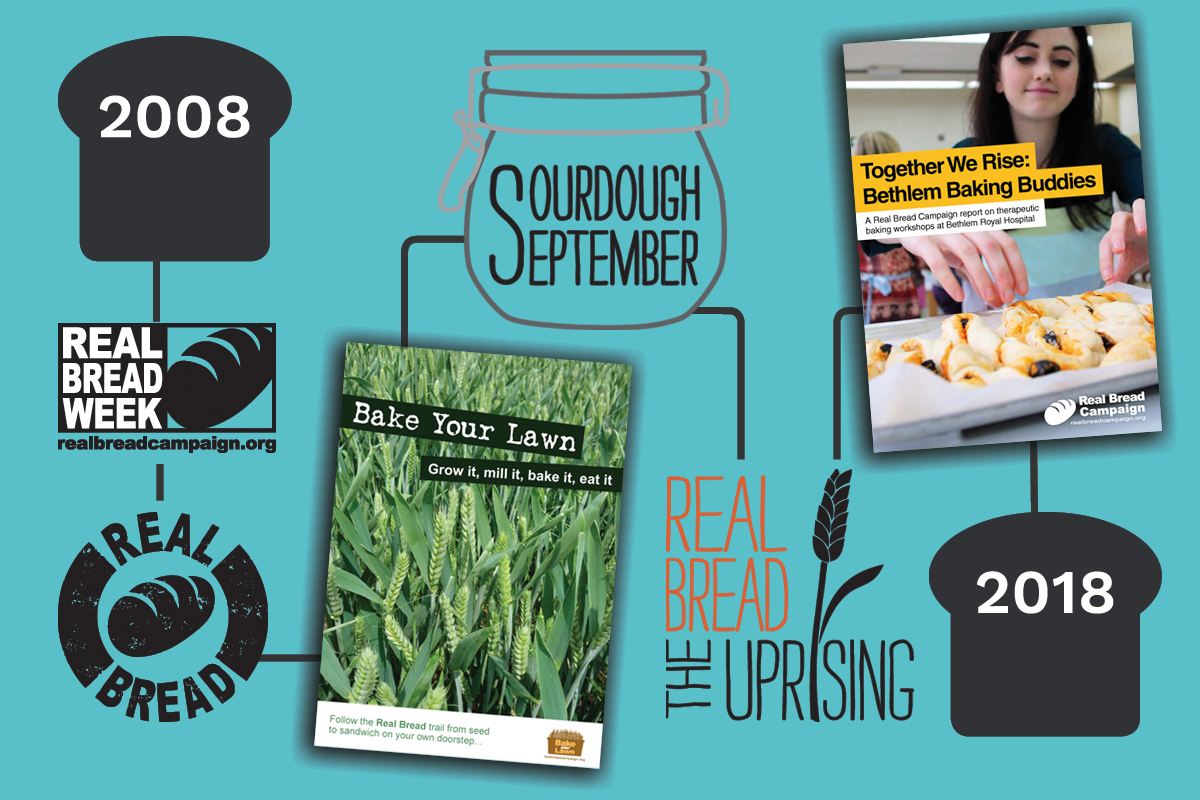 2008
November: After a year of meetings, planning and website building, the Real Bread Campaign officially launched by Sustain and Andrew Whitley at The Celtic Bakers in north London.
2009
April: Stick One on 'em! launched to urge the UK's industrial bakers to come clean about the use and labelling of hidden processing aids. The Federation of Bakers and its three biggest member companies update their websites, though sadly not their loaves or labels.
June: The Big Lottery Fund Local Food scheme awards a grant of £239,475 over four years.
August: Local Loaves for Lammas launched to encourage everyone to bake or buy Real Bread, ideally from locally-produced flour.
September: Real Bread Campaign network launched, to date attracting more than 5000 paying supporters in more than 20 countries.
November: More than 150 people attend The Rise of Real Bread conference at St Anne's College in Oxford.
2010
March: Are Supermarket Bloomers Pants? the 'loaf tanning salon' report, published.
May: The annual, international Real Bread Week (originally National Real Bread Maker Week) launched.
July: A Campaign complaint results in The Advertising Standards Authority (ASA) banning a Tesco 'baked from scratch' claim as untruthful and misleading.
December: Publication of Lessons in Loaf, a practical guide that helps teachers to introduce more than 10,000 children to making Real Bread and understanding that not all loaves are created equal.
December: The ASA rejects a Campaign complaint that a Hovis ad, which shows an oven being loaded by hand in a small bakery and the claim "as good today as it's always been", is misleading.
2011
January: Bake Your Lawn launched to help teachers and parents lead children on the whole journey from seed to sandwich. Starting with a handful of wheat, children in more than 400 schools learn to grow it, mill it, bake it, eat it.
January: Knead to Know published, guiding more than 5000 budding microbakers from Yarmouth to Yangon, and Thunder Bay to Kuala Lumpur.
February: Following Campaign guidance, the Royal Borough of Kensington and Chelsea switches to serving Real Bread to around 4000 pupils at 26 schools.
July: Pappy returns: To mark the 50th anniversary of the additive-reliant Chorleywood 'Bread' Process, the Campaign attends the Chorleywood Village Day, running baking sessions and taking a factory loaf back to the building in which the process was created, now an old folk's home, for its long-overdue retirement.
September: The Campaign works with Chefs Adopt a School to include Real Bread making in its programme, which continues to teach thousands of children to bake each year.
October: The Real Bread Loaf Mark launched. The scheme helps around 200 bakeries give shoppers an at-a-glance 'this is Real Bread' assurance.
2012
April: Real Bread Campaign, GM Freeze and the Bakers, Food and Allied Workers Union deliver an anti-GM (genetically modified) wheat pledge, signed by more than 350 bakers, millers, farmers and consumers from around the UK, to Defra.
April: The ASA rejects Campaign complaint that an Allinson advert showing hand kneading is misleading.
October: Thousands of people visit the three day Real Bread Festival held on London's South Bank.
2013
January: Around 80 people attend The Real Bread Get Together at the School of Artisan Food.
February: A Wholegrain of Truth? published. Revelations include that one industrial loaf marketed under 'the healthy halo of wholegrain' is made using only a miserly 6% wholemeal flour.
May: Knead to Know is republished by food and drink specialist Grub Street.
June: The Big Lottery's Local Food programme funding ends, with the Campaign having exceeded all of its project targets.
Sourdough September: launched. Activities include a global Twitter bread chat hosted from Chicago. The Campaign also secures Food For Life accreditation points for caterers that serve Real Bread; and wins a Young British Foodie award.
October: Rising Up published, highlighting the potential therapeutic, employment and social benefits Real Bread making offers to people living with mental health issues, or otherwise facing a tougher time than most of us.
2014
December: A step towards the full additive declaration the Campaign calls for is taken as the four 'token nutrients' added to most UK milled flour now have to appear on labels.
2015
May: The ASA recognises that '…any references to 'Real Bread' which related to bread that did not comply with the term as defined by the Campaign had the potential to mislead consumers.'
September: More than 200 people attend Real Bread: The Uprising, organised by the Real Bread Campaign and SOAS Food Studies Centre. Themes include therapeutic baking, sourdough for beginners and experts, and running a small Real Bread enterprise.
October: A Real Bread delegation meets the UK's Minister of State at the Department for Environment, Food and Rural Affairs to discuss the Campaign's demand for an Honest Crust Act.
October: A Campaign complaint leads to the ASA banning an Iceland ad, which shows a windmill and a handmade loaf being peeled into a wood fired oven, as misleading.
2016
January: At a second meeting with Campaign representatives, Defra declines to improve loaf labelling and marketing regulation, instead suggesting putting the onus on bakers to apply for a protected name status for sourdough and create a voluntary scheme for the use of terms including artisan.
September: Nourish Books publishes Slow Dough: Real Bread, the Campaign's first recipe book, in the USA and the UK.
2017
November: Publication of Together We Rise: Bethlem Baking Buddies, the report on a pilot series of therapeutic baking workshops run at Bethlem Royal Hospital.
October: More than 1500 people write to the Secretary of State at the Department for Environment, Food and Rural Affairs, calling for as Honest Crust Act. No one receives a response.
2018
January: Launch of the No Loaf Lost surplus reduction guide for SME bakeries, with more than 200 downloading it to date.
April: As the result of a Campaign complaint of December 2016, The ASA bans Pret A Manger from using 'natural' to advertise products made using artificial additives.
June: More than 280 people write to their MPs, asking them to support the Honest Crust Act call. Within days, four MPs submit Parliamentary Questions, and many more write to Defra.
October: Publication of Are Supermarket Bloomers (still) Pants?
November: Tickets for BATCH: London, the Campaign's main 10th anniversary event, sell out in under two weeks, more than a month before the event.
---
SHARE