A look back at highlights of the Campaign's work and achievements during 2019.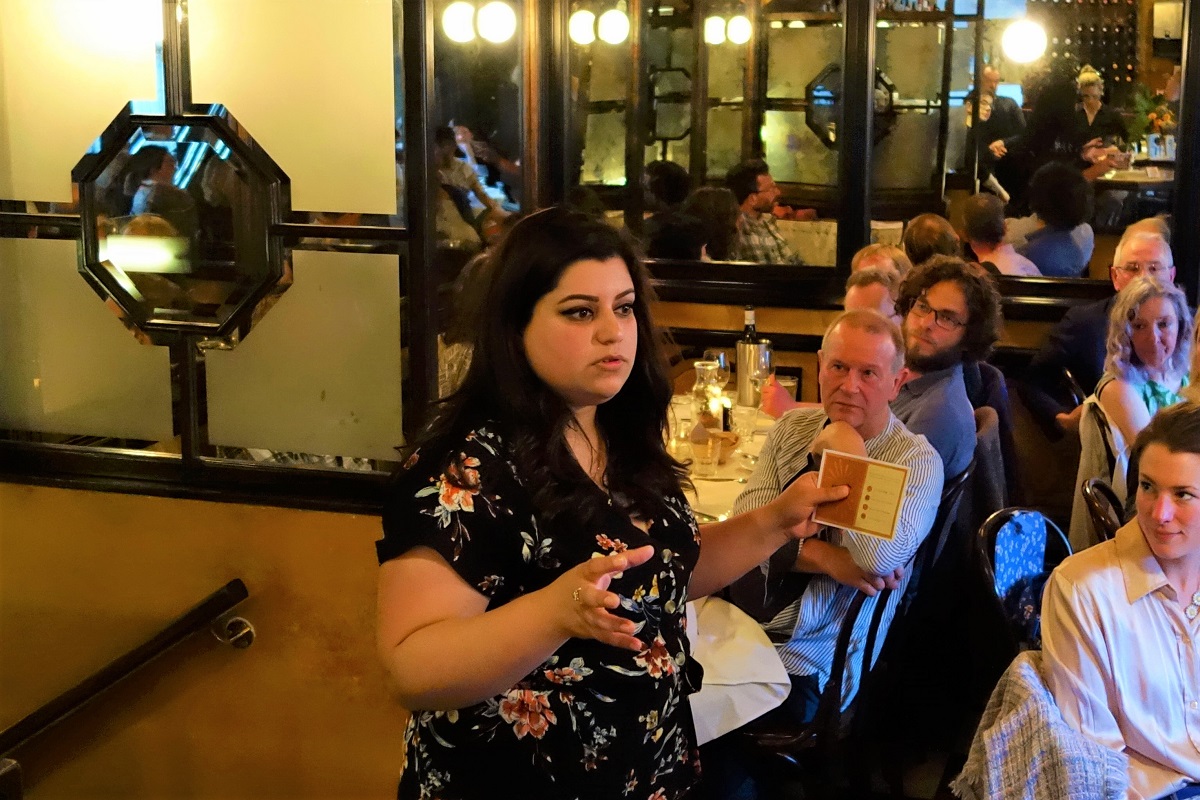 Campaign ambassador Ameena Nur at BATCH: Edinburgh by Chris Young / realbreadcampaign.org CC-BY-SA 4.0
Thanks to our supporters, this is just some of what we've been up to over the past 12 months.
You can read much more about what we, and our supporters, have been up to in the news and articles sections of our website and in True Loaf magazine.
January to March
Following a protest by the Real Bread Campaign and a number of our supporters, organisers of the Britain's Best Loaf awards reversed their decision to open up the sourdough category to what we call sourfaux.
The 10th annual international Real Bread Week celebration of additive-free loaves and people who make them saw thousands of people across more than 20 countries buying, baking and enjoying Real Bread. Worldwide interest was evident from more than 2000 #RealBreadWeek messages posted on Instagram, plus many more on Twitter, by users in Australia, Brazil, Britain, Canada, China, Finland, Hungary, India, Ireland, Italy, Jordan, Latvia, Lebanon, Malaysia, Maldives, Malta, Singapore, South Africa, Spain, Sweden, Switzerland, United Arab Emirates and the USA. As well as bakeries and baking schools, organisations running events included nurseries, nursing homes and a catering college. Doughnations included Balcony Shirts raising more than £480 for us through the sale of the exclusive I Am Real Bread t-shirts, aprons and mugs.
Real Bread Week also marked the start of #WeAreRealBread, our new initiative to reveal the many, varied and often hidden faces behind the rise of Real Bread, giving these often anonymous stars a chance to shine. As well as being all-natural, one of the things that sets Real Bread apart from industrial loaf fabricators' products is that it's crafted by people. The new initiative encourages all Real Bread bakers (whether professional, semi-pro microbakers, enthusiastic amateurs, or novices giving it their first dough) to take to social media and post #WeAreRealBread photos of themselves making Real Bread to help encourage more people to get baking.
During Real Bread Week, we announced twenty one new, official Campaign ambassadors, who give a glimpse at the diversity of the people (and their work with Real Bread) in our network. Based in England, Scotland, Wales, Mexico, Malaysia and Romania, the 12 women and 9 men range from a 14 year old microbaker, to one who had recently moved her bakery out of a shipping container in her garden to the local high street.
In March, we again teamed up with Grow Your Own Playground, whose experts led children in a number of schools on a fascinating Lessons in Loaf: London journey from seed to sandwich during the year.
April to June
A decade after the Campaign began lobbying the UK government to make full ingredient labelling mandatory for all loaves and sandwiches, Defra announced that it will be introduced for all food that is pre-packed for direct sale.
On 18 June, 40 Real Bread lovers took over Café St Honoré for BATCH: Edinburgh. Guests at this networking evening heard inspiring stories of the place Real Bread has in the life and work of: Pam Brunton: Chef and co-owner of the multi-award winning and critically-acclaimed Inver on Loch Fyne; Neil Forbes: Buttery brioche fiend chef director of Cafe St Honoré, presenter of BBC Radio Scotland's The Kitchen Café and columnist for The Scotsman; Ameena Nur: Prince's Trust award-winning owner of Jeju's Bakehouse microbakery in Maybole, South Ayrshire; Andrew Whitley: Author of Bread Matters and co-founder of both Scotland the Bread and the Real Bread Campaign.
In May, we revealed that products manufactured by W*rburtons, H*vis, Allins*n's and R*berts had all failed our genuine sourdough test.
July to September
The success of our annual, international Sourdough September was indicated by more than 5600 social media posts from at least 57 countries.
Between 19 and 21 July, a trio of Campaign supporting bakers shared their knowledge of, and passion for, Real Bread with more than 300 people in the Theatre of Food tent at Latitude Festival.
Following our investigation and complaint to the Advertising Standards Authority about claims made by an industrial loaf fabricator, the company took the advert down.
October to December
In November, we launched a challenge of what we call a sourfaux cheats' charter that would allow the use of baker's yeast and additives in loaves named or marketed using the word sourdough. The large amount of high-profile media coverage we secured for this latest action included: BBC News, BBC Radio 4's Today and PM programmes, The Daily Mail, i Newspaper, The Telegraph, and The Times.
In November, Westminster City Council at last released to us (redacted) information regarding our successful complaint about Pret a Manger's 'natural' food claims it had been witholding from our (and public) view, some dating back to 2016.
In December, we announced that a special focus of Real Bread Week 2020 will be the fantastic enterprises and projects in the UK and beyond that help people to benefit from the therapeutic, social and employment opportunities of baking.
Also in December, we slammed the Advertising Standards Authority for failing to protect shoppers from four potentially misleading 'sourdough' loaf adverts.
Keeping Real Bread in the public eye
We continue our long, strong track record of keeping the rise of Real Bread, and obstacles to that rise, in both mainstream and bakery trade media. Coverage we secured in the UK included the following publications:
BBC Good Food, BBC Radio 2: Zoe Ball Breakfast, BBC Radio 4: The Food Programme , BBC Three Counties Radio, British Baker, Country & Town House, Feast, Health magazine, Prospect, Scottish Field, Stylist, Surrey Live, The Simple Things, Velvet, York Press, Yorkshire Food Guide. Berkshire Life, Cheshire Living, Chris Hawkins (BBC 6 Music), Cost Sector Catering, Dorset Life, Female First, Foodism, The Guardian, The Independent, The Irish Examiner, Jackal, The Jewish Chronicle, The Mirror, Positive News, Secrets of Your Supermarket Food (Channel 5), The Sun, The Sunday Express, The Sunday Times, Taste Cumbria, The Telegraph, The National, The Herald, The Times, BBC Radio 4 You and Yours, PM and Today, Your Home, The Sunday Telegraph, The Scotsman, The iPaper, British Baker, Bakery & Snacks and Bakery Business.
Beyon Britain, we secured coverage in countires including Ireland, Italy, India and Vietman.
What others said
These are just some of the comments we have received this year:
"The campaign is a benchmark of positivity in a rather dirty shallow world of fake. Keep up the good work." @tobywunkeynobee
"[We] had our busiest Saturday of the year in the Bakehouse." Simon Cobb, Stoneham Bakehouse on Real Bread Week
"It is a brilliant initiative." Milka Derosche, Milka The Happy Baker, Qatar
"It really helped with promoting our microbakery, as we only launched six months ago, improved our confidence in baking and allowed us to meet lots of great people in person and online" Lesley Lloyd, One Mile Bakery Pontardawe, Wales
"What a wonderful idea it is!" Gauhar Bano Qureshi, The Loaf, Lahore
"Five weekend adventures in sourdough baking shared with my family and a whole community of bakers all across the world." Paul Kelly, home baker, California
"Thanks to Sourdough September, I got up the courage to do my first batch of sourdough bread today for sale." Douglas Muir, London Road Craft Bakery
"You are doing great work encouraging people to make Real Bread." Liz Grieve, Doughlicious Bread Club, Dumfries
"We really enjoy the work of the Real Bread Campaign and have been following along. We are trying to take your lead and bring people better bread. Thanks again for your work." Tacy Call, Sunrise Flour Mill, North Branch, Minnesota

"The Real Bread Company [sic.] have been challenging Pret and other organisations over a number of years, not always in the most constructive or transparent of ways [...] we and the significant majority of common household bread producers are not in a feasible position to operate in accordance with their utopian requirements." email from Pret a Manger to Westminster City Council.
Published 29 Dec 2019
Real Bread Campaign: The Real Bread Campaign finds and shares ways to make bread better for us, better for our communities and better for the planet. Whether your interest is local food, community-focussed small enterprises, honest labelling, therapeutic baking, or simply tasty toast, everyone is invited to become a Campaign supporter.
Support our charity
Your donation will help support the spread of baking skills and access to real bread.