Between 19 and 21 July, a trio of bakers shared their knowledge of, and passion for, Real Bread with more than 300 people in the Theatre of Food tent at Latitude Festival.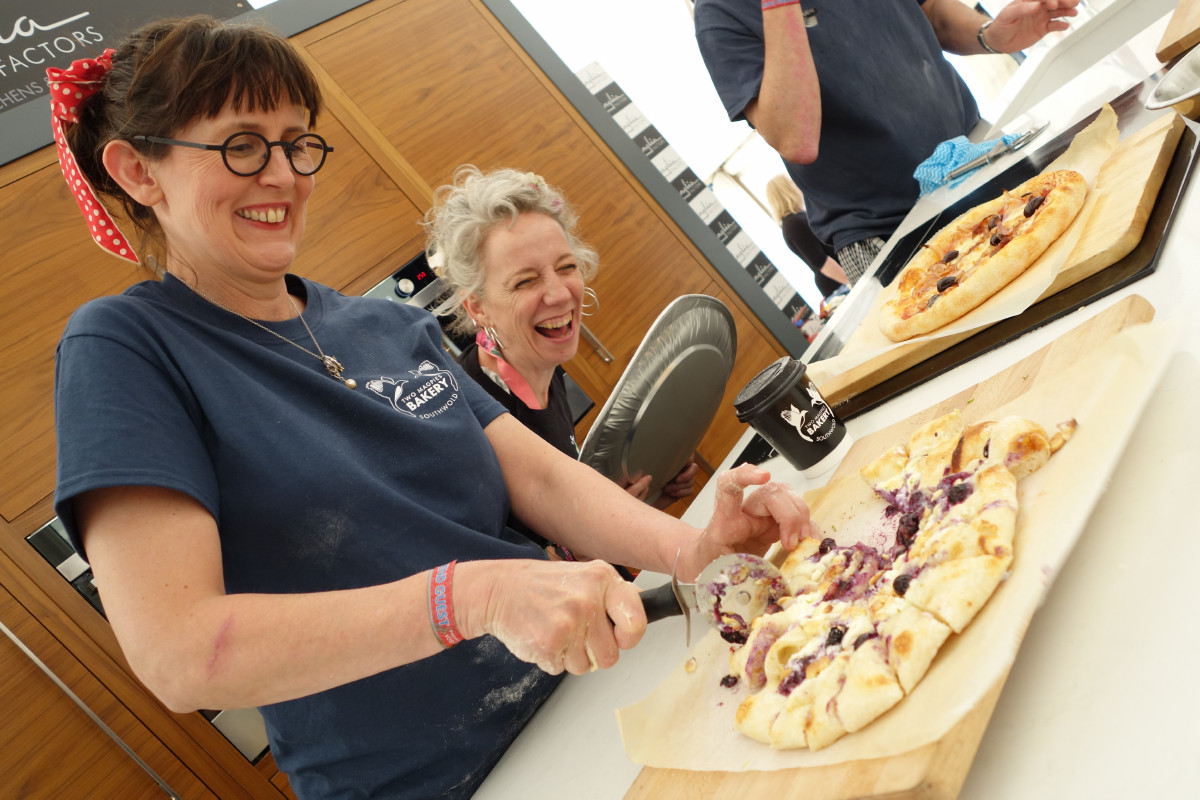 Rebecca Bishop by Chris Young / realbreadcampaign.org CC-BY-SA 4.0
The Friday afternoon saw Rebecca Bishop, owner of Two Magpies Bakery, returning to Latitude to demonstrate sourdough pizza making. She and her husband Steve Magnall, also on stage, talked about how they have expanded the business, adding to the original Southwold bakery a shop in Aldeburgh and a bakery and baking school in Darsham, just a couple of miles from the festival site.
Also returning to the Theatre of Food this year was third-generation baker David Wright of The Cake Shop Bakery in Woodbridge. Slap bang in the middle of barbecue season, he demonstrated an alternative to the current fashion for brioche burger buns. David's recipe uses cold-pressed Suffolk rapeseed oil for colour and cultured buttermilk, a by-product from the local Fen Farm Dairy, for greater depth of flavour. The buns are extra moist and fluffy thanks to the use of tangzhong. This Japanese technique, used in shokupan (literally 'eating bread'), involves heating flour and water to gelatinise the starch, locking in moisture. His other secret? Using a dash of yeast extract in his egg and milk wash to glaze the buns.
Star of the show on Sunday was Real Bread Campaign ambassador Kitty Tait, making her demo debut with moreish, Scandi-style cinnamon buns. In a double act with her dad, Al, fifteen-year-old Kitty told the overflowing tent how she has gone from only ever having baked a potato to opening The Orange Bakery in under a year. Last year, she was forced to take time out of school and started baking with her dad as something to do. While 'in a dark place', she found bread making a fascinating distraction and activity to focus on, devouring all of the books and videos she could, practicing every day. She baked more Real Bread than the family could eat and began giving it away. This led to a pop up, then an offer of the lease on a shop in the village, then a crowdfunding campaign, then… Well, we'll publish the story so far in issue 41 of True Loaf magazine this winter.
Aiding and abetting at each demo was Campaign co-ordinator Chris Young, who added in details here and there, sharing some of the differences between industrial loaf products and bread, as well as reasons for choosing to buy Real Bread from small, local businesses, or bake your own.
Thank you again to Sam, Sally, John and the rest of Food Haus Events team for hosting the Real Bread Campaign in the Theatre of Food; Vernon, Will and the whole kitchen crew, plus the rest of the staff, volunteers and other demo-ers, who made the weekend so great.
Support our charity
Your donation will help support the spread of baking skills and access to real bread.