The Real Bread Campaign's 10th annual international celebration of additive-free loaves and people who make them saw thousands of people across more than 20 countries buying, baking and enjoying Real Bread.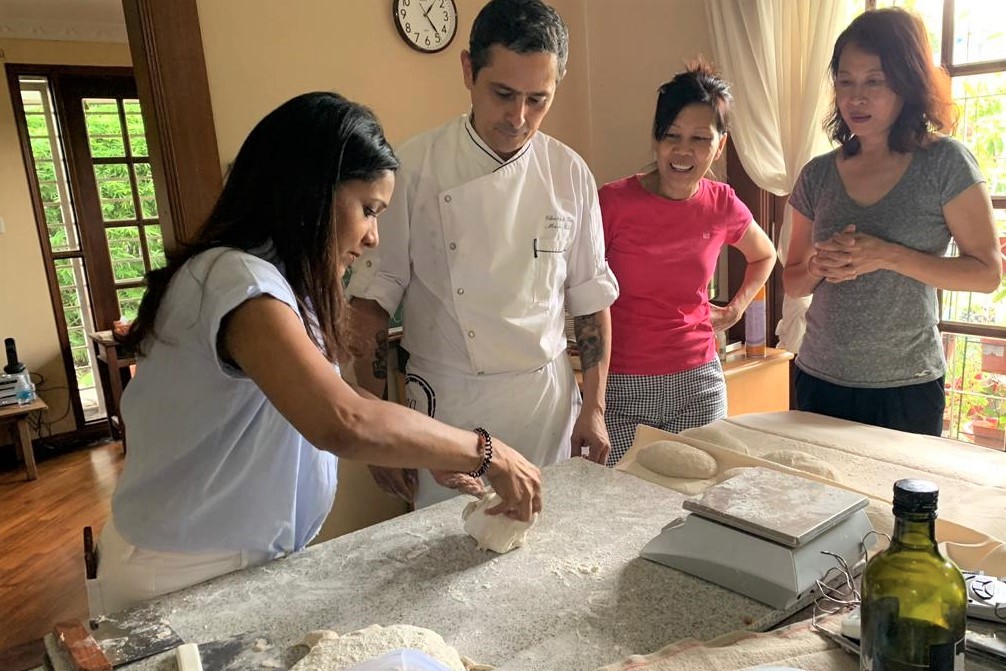 Garden to Table Edible Garden and Artisan Flavours in Petaling Jaya, Malaysia © Christphe Gros
Worldwide interest in Real Bread Week is evident from more than 2000 #RealBreadWeek messages posted on Instagram, plus many more on Twitter, by users in Australia, Brazil, Britain, Canada, China, Finland, Hungary, India, Ireland, Italy, Jordan, Latvia, Lebanon, Malaysia, Maldives, Malta, Singapore, South Africa, Spain, Sweden, Switzerland, United Arab Emirates and the USA.
The Campaign's initiative generated media coverage in the UK, Ireland and India, from publications including The Jewish Chronicle, The Irish Examiner, The Times, The Telegraph, BBC Radio 4's You and Yours, BBC Good Food, Delicious, Dorset Life, Cheshire Living, Berkshire Life, Taste Cumbria, Foodism, British Baker, and many local titles.
What went on
In addition to thousands of people enjoying what Real Bread bakeries offer year-round, special events and activities during the week included:
More than Grandparents, a Sunderland charity that supports kinship families, talking about, shaping and tasting bread with children, many of whom live with grandparents because they've suffered abuse or neglect.
Upton Priory School introduced 100 pupils to Real Bread making for the first time
Busy Bees nursery in Coventry baking wholemeal bread with the children, who also tasted different breads and ran their own play dough bakery
Chefs Adopt a School taught many children all about Real Bread, from the science of bread making through to bread types and traditions of many different countries and cultures.
Garden to Table Edible Garden and Artisan Flavours in Petaling Jaya, Malaysia, hosted a sourdough baking class, run by baker Christophe Gros
Sydmar Lodge Care Home in Edgware invited children from the local Shannon ChildCare nursery to a joint event with ShabbatUK, making more than 100 challah rolls with the residents, which they enjoyed with their families
Sacrewell Farm near Peterborough invited visitors to mill their own flour, which they then made into bread that they baked in a Victorian wood-fired oven
The Epsom Bakehouse broadcast on online bread tutorial to more than 2500 viewers
Ottley House care home in Shrewsbury hosted a bread tasting and history talk for residents, run by a local baker
The Claire Clark Academy at MK College in Milton Keynes had a sourdough masterclass for students, run by a former student of the college's bakery and patisserie course
Stoneham Bakehouse in Hove ran a baking class and talk for local schoolchildren, as well as giving away pots of sourdough starter throughout the week
Brixton Windmill brought together participants in the Lambeth Heritage Wheat Project
Blandford Bread, a startup microbakery in Dorset, baked a different Real Bread each day for local café Rebekah's Kitchen
Gwendough, a home-based microbakery in Pembrokeshire was launched!
Plus activities run by Better Health Bakery, Cinnamon Square, Cultivate London, East Sheen Microbakery, Hen Corner, Heron Corn Mill, Imagine Bakery CIC, Ivy Cottage Baker, Jeju's Bakehouse, Jo's Loaves, The Little Sourdough Bakery, Ma Baker, Manna from Devon, One Mile Bakery Hale, The Orange Bakery, Plantissimo, Savour the Flavour, Seasoned, Seven Hills Bakery, St Sidwells, Sugardough, Tamarisk Farm, Veg Patch Kitchen and many more.
People said…
100% of people who responded to a post-event survey said that Real Bread Week was worthwhile or very worthwhile.
Feedback included:
"[We] had our busiest Saturday of the year in the Bakehouse." Simon Cobb, Stoneham Bakehouse
"We had a lovely Real Bread Week! Your beautiful posters caused a stir in the village…" Lucie Steel, Birch Bread
"I think it's great to help small bakeries publicise their Real Bread efforts and how much better for you they are than mass produced junk. Thank you for supporting the real bakers out there and fighting for Real Bread!!" School of Artisan Food student, Nicola Parsons
"Real Bread Week encourages us all to get off our backsides and do something worthwhile, so yes it's a good thing!" Pete Taylor, Heron Corn Mill
"My family polished off both loaves in 24 hours!" Participant in a Heron Corn Mill class
"I enjoyed sharing my first bread with friends and family - cannot wait to spread the love of good bread. Thanks for campaigning for this." Cécile Della Torre
"The kids all had a great time and did a great job buttering and spreading!!" Melanie Nichols, More Than Grandparents
"Just, thank you." Liz Wilson, Ma Baker
A selection of Real Bread Week photos will appear in the April-June issue of True Loaf magazine
Raising dough
Doughnations include Balcony Shirts raising more than £480 through the sale of the exclusive I Am Real Bread t-shirts, aprons and mugs.
Thank you to everyone who bought one, made a personal doughnation, or became a Campaign supporter / renewed your support during the week.
Real Bread Week will return!
Put the dates in your diary / marketing / event calendar and getting planning now: 22 February – 1 March 2020.
(While you're at it, put #SourdoughSeptember in there, too)
Support our charity
Your donation will help support the spread of baking skills and access to real bread.