An introduction to The Sheffield Wheat Experiment by its co-founder and project director, artist Ruth Levene.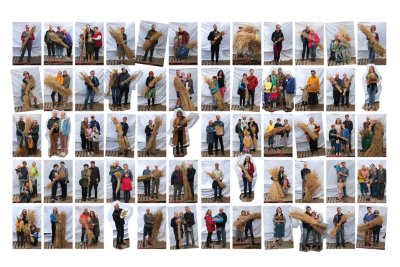 Microgrowers' harvest 2022. Copyright: The Sheffield Wheat Experiment
The Sheffield Wheat Experiment is an art project that invites the people of Sheffield to set up microfarms in their gardens, balconies and allotments to grow small plots of a heritage population wheat. We began in 2020 in response to flour disappearing from supermarket shelves during the first lockdown. The project is an invitation for people to imagine new infrastructures and open up new relationships. It carves out a space - and gives purpose - for people to come together, offering them support. At its heart is a very real collective attempt to create a wheat for, of and by Sheffield, taking a route that navigates round current seed laws.
As of spring 2023, we have more than 250 microfarms dotted across Sheffield and 1000 people playing their part. At the end of each growing year the growers harvest their crops and bring their wheat to a collective threshing day to prepare the grain to be redistributed, saved and resown.
Resilience and regulations
A population wheat is made up of many different varieties. Genetic diversity makes a population more resilient than a single variety to adverse growing conditions including pests and weather events. Grown in the same location year after year, a population wheat will adapt to it. Varieties in the mix not well suited to the soil, weather and other growing conditions will produce fewer seeds to be resown the following year than those that thrive. As Professor Martin Wolfe (see article in True Loaf 52) said so beautifully, it's "a seed of people and place."
While this resilience is of increasing importance as the climate and ecological breakdown takes hold, the heterogeneity of a population wheat means it cannot meet the distinct, uniform and stable (DUS) criteria of current seed marketing regulations. Seeds of cereals and certain other plants can only be marketed (which includes giving away, as well as selling or trading) for agricultural use in the UK by someone with a license to market, pack and process them. A licensed seed trader can only offer seeds of a variety registered on the national list, eligibility for which relies on it meeting DUS requirements.
Though it is legal to grow population wheat and even to sell it for people to mill, the regulations make it very hard to get hold of the seed to grow. As an art project, rather than a commercial venture, The Sheffield Wheat Experiment isn't subject to seed marketing laws but we still had to start from a very small amount of seed and are bulking it up by growing, saving and resowing.
People and place
After the winter wheat is sown in October, growers can get involved in wheat-related events and activities. These range from straw rope and corn dolly making, to meetups for film screenings and talks from guest speakers. We explore, question and learn about our current food and farming systems, possible alternatives, historical ways and much more.
Threshing is done by hand using our beautiful handmade flails and our new (to us) vintage Tiny Thrasher machine. This is followed by winnowing, sieving and fine cleaning. Each year we add to our collection of borrowed ideas, hacked tools and random inventions to help get the grain to a state where it can be milled. Now in our third year, we have just enough grain to turn our attention to baking, with growers having the chance to Mockmill the wheat into flour to make biscuits, pizza and Real Bread.
As well as the microfarmers, we work to develop relationships with people and small businesses that might have an interest in growing and using Sheffield wheat in the future, to sow the seed of a local grain economy, so to speak. We have two, half acre plots that, although relatively small, produced enough in 2022 that we could team up with local microbrewery Grizzly Grains Brewing to produce 200 bottles of our very own Growers Union saison beer. We've also taken a number of professional Sheffield bakers to attend workshops and training days with UK Grain Lab co-founder Kimberley Bell at Small Food Bakery in Nottingham and Henrietta Inman at Wakelyns Bakery in Suffolk.
Production and play
Being an art project, we can step out of production mode and embrace play. This allows us to root ourselves in experimentation and curiosity, with permission to take risks and - most importantly – to fail. We see ourselves on a journey of discovery, asking many questions along the way. The need to share knowledge, pass on stories and celebrate happens naturally when there are many people involved. The very nature of this approach sees us putting the role of culture at the forefront of agriculture.
This shift away from an economically-driven mindset also helps open up a space for different values to shape the choices we make. Working with our hands, we are re-discovering and learning new skills, getting to know the wheat and people who are growing it. As well as togetherness, this intimate, physical, bodily connection to the seed, land, food we eat and community offers us a deep sense of otherness, an alternative to the current infrastructure and capitalist system.
There are many people involved in the experiment, each of whom will give you a different story and reason for taking part. For some it's about being part of something bigger. For others it's a desire to see greater social complexity arise from the regeneration of absent food culture. Then there are those who simply enjoy growing and harvesting wheat.
Fields of vision
We don't know what brings about systemic change. We're simply sharing seed and creating moments for relationships, ideas and learning to happen. Bringing people together to experience, share and explore a different way of doing. We hope people might think more about what goes into flour and how food systems could better nourish relationships, environment and people.
We sometimes dream that Sheffield and its surrounds have a few more wheat fields, with a miller to mill it, lots of bakers to bake with it and the good Sheffield folk willing to try or buy it. In the meantime, we sow the seed, experiment and see what happens.
Originally published in True Loaf magazine issue 54, April 2023.
Sharing your seed to sandwich stories

Are you part of a regional/local non-commodity grain network? Perhaps it comprises just one farm, mill and Real Bread bakery. Maybe it includes a larger web of people and their businesses.

If so and you'd like us to help share your story to inform and inspire others, you can find out how here.
See also
Published 17 Apr 2023
Real Bread Campaign: The Real Bread Campaign finds and shares ways to make bread better for us, better for our communities and better for the planet. Whether your interest is local food, community-focussed small enterprises, honest labelling, therapeutic baking, or simply tasty toast, everyone is invited to become a Campaign supporter.
Support our charity
Your donation will help support the spread of baking skills and access to real bread.