Farmers, millers, bakers and other non-commodity grain enthusiasts invited.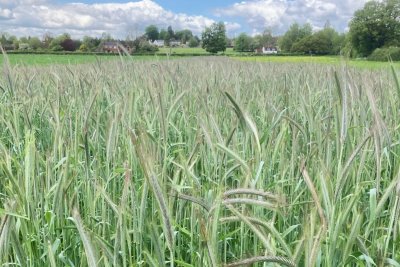 Rye growing on Green Acres Farm. Copyright: Mark Lea
The National Organic Conference 2023 takes place on 4 July at Green Acres Farm in Shropshire.
The annual event is run by Sustain alliance member OF&G Organic, 'with the aim of discussing the practical challenges and opportunities faced by UK organic farmers specifically and also the wider UK organic sector.' Organisers promise it 'will look at the whole of the farming experience from seed to shelf.'
Re-graining control
Of key relevance to Real Bread Campaign supporters and the wider Real Bread community will be a discussion on bringing genetic diversity and seed breeding back into the hands of farmers and growers, run by members of the UK Grain Lab collective.
They will present the latest work on genetically diverse cereal varieties, as well as the need for UK seed legislation to recognise the importance of heterogeneous grain and cereal production.
The panel
Dr, Charlotte Bickler, the Organic Research Centre
Dr. Edward Dickin, a crop lecturer at Harper Adams University and a keen plant breeder
Steven Jacobs, OF&G's business development manager and curator of the Conference
Josiah Meldrum, co-director of Hodmedods
John Turner, who farms organically in Lincolnshire with his brother Guy and was a founding member of Pasture for Life
More speakers
Other people presenting during the day include:
Ben Briggs, agricultural journalist and former editor of Farmers Guardian
Stephen Briggs, The Climate Farm Demo
Roger Kerr, OF&G's chief executive
Gareth Hughes, the Open Food Network
Henrietta Inman, Wakelyns Bakery
Joel Williams, Integrated Soils
Other organisations represented include Harper Adams University, Organic Arable, Organic Trade Board, Woodland Trust.
Mark Lea, owner of Green Acres Farm and Conference host, who has held organic certification for more than 20 years
Mark has around two dozen different cereal varieties for visitors to look at. These include 'some of the oldest wheats recorded in Britain', some very recent varieties, and cereal populations working with the old and the new. Participants will also be invited on a farm walk around the newest plantation of agroforestry at Green Acres Farm.
Read more and book at the OF&G Organic website.
See also
Support our charity
Your donation will help support the spread of baking skills and access to real bread.