School of Artisan Food student Catherine Paxton reflects on her experience of UK Grain Lab 2022.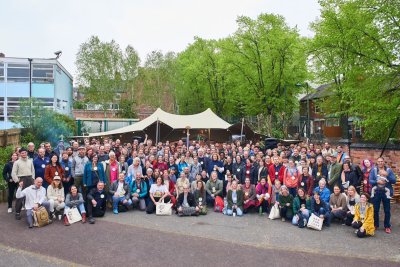 Singing about biscuits. Credit: James Gardiner
Billed as a 'gathering of farmers, millers, plant breeders, bakers, cooks, scientists and academics promoting the growing and eating of non-commodity grains,' UK Grain Lab was launched in 2017. Covid put the annual event on hold but, thanks to prodigious planning by founder Kimberley Bell, Isabel Kelly, and other volunteer organisers, it burst back with vigour around May Day 2022.
The organisers generously donated a pass for the weekend to a student baker from the School of Artisan Food's current diploma cohort and I was the lucky recipient. Unlike Charlie Bucket, who found his Golden Ticket to Willy Wonka's factory inside a chocolate wrapper, my pass arrived by email, rather than furled within the laminations of a heritage wheat croissant.
On course
Over the six-months of our diploma course, flour loomed large. We became acquainted with classification systems and wheat quality tests; visited working water and wind mills; baked with an array of grains, conventional and other; undertook placements with professional bakers holding different flour philosophies; and, within the business module, explored our own approaches to sourcing ahead of our metamorphosis into actual bakers. My plan avoided a definitive commitment. Bamboozled by the trade-offs, I hoped that UK Grain Lab would clarify my thinking.
Fighting FOMO
Around 300 attendees flowed between talks, workshops and demonstrations at Primary (an arts venue and creative hub, so named because it is housed in a former school) and other locations in Nottingham. Attendees had travelled from as far afield as New Zealand and Australia, helping to forge and strengthen bonds of solidarity and learning between similar movements around the globe. There was ample opportunity to spot Instagram, podcast and BBC Food Programme heroes, all helpfully labelled with wooden name badges. Despite the scale and lustre, UK Grain Lab preserved a sense of welcoming intimacy.
At times there were multiple sessions running simultaneously around Primary's former classrooms, halls and playground, as well as in the town centre at Ambigu Bakery and the Real Bread Campaign's free, open-to all fringe events at Malt Cross. Early on in the weekend, a veteran of past gatherings wisely counselled me against yielding to the fear of missing out: much better to think in terms of curating your own experience.*
My Grain Lab provided a situation report on the UK's regional grain alliances. It also took in sourdough babka with Dawn Woodward (Evelyn's Crackers, a heritage wholegrain bakery in Toronto); pastry chef Anna Higham previewing her new dessert book; and powerfully emotional links between food, memory, family and culture evoked by the inspirational and indefatigable cook Olia Hercules demonstrating varenyky - Ukrainian dumplings.
It encompassed Edinburgh University researcher Lindsay Jaacks' concept of the number of people and jobs nourished per hectare as a potential new metric; an expert panel explaining the regulatory barriers to marketing more diverse grain varieties and mixed populations and their optimistic engagement with DEFRA** on alternative approaches; and Oxford-based baker Kate Hamblin and Offley Watermill's David Howell illuminating their unique partnership. The weekend closed in Primary's playground with attendees' surprisingly harmonious singing of the phrase: imagine biscuits.
Choice and agency
I left certain that I have not overlooked an oven-ready solution that could deliver stoneground flour from delicious, nourishing, sustainably-farmed grain grown on my doorstep. I also came away believing that, as a minimum, it is my responsibility to ensure that the choices I make are informed and values-based. The lasting challenge of UK Grain Lab for me will be to consider what agency I have, in concert with others, to broaden the choices available for all.
*At times it did feel like a music festival, with set clashes between bands you want to see. [ed.]
**I wish we could say the same. [ed.]

@uk_grain_lab
@catherinepaxton1264
Originally published in True Loaf magazine issue 51, July 2022
See also
Published 21 Feb 2023
Real Bread Campaign: The Real Bread Campaign finds and shares ways to make bread better for us, better for our communities and better for the planet. Whether your interest is local food, community-focussed small enterprises, honest labelling, therapeutic baking, or simply tasty toast, everyone is invited to become a Campaign supporter.
Support our charity
Your donation will help support the spread of baking skills and access to real bread.