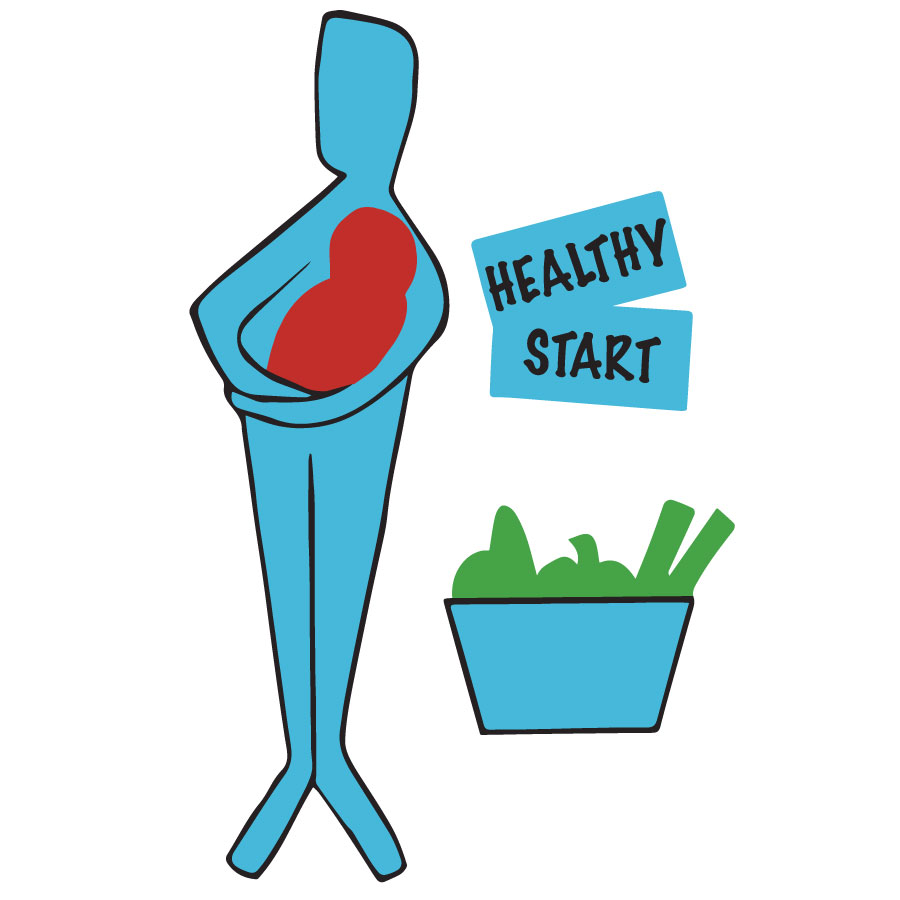 Healthy Start is the UK's food welfare scheme for pregnant women and young children in low-income families, who are amongst the groups most at risk of experiencing food poverty. The vouchers are an important means-tested scheme providing a basic nutritional safety net to encourage families to make healthy food choices.
Currently, low-income pregnant women, pregnant women under the age of 18 and children aged 1-4 years old can receive one £3.10 voucher per week to purchase fresh fruit and vegetables, milk or infant formula. Children under one year old can get two £3.10 vouchers (£6.20) per week.
Unfortunately, many families miss out on these important vouchers - in some areas only 55% of eligible families are receiving them (see a full map of current uptake). Food poverty alliances can play a vital role in helping to increase the uptake of Healthy Start vouchers in their area, for example by
Helping ensure Healthy Start is available and promoted in relevant settings, with trained staff/volunteers able to support families to apply (e.g. children's centres, GP offices, etc.)
Working with statutory and volunteer advice services to embed info about Healthy Start eligibility into routine support offered
Meeting with local public health decision-makers to discuss low uptake and how it can be addressed, including sharing research on the lost total income to families
Working with local food retailers to improve in-store promotion of the vouchers
Partnering with Alexandra Rose to increase voucher value if applicable
Local authorities can also play a key role in improving the uptake of these vouchers by appointing a council officer or health professional to oversee Healthy Start in the area, ensuring an adequate supply of information is available for health service providers and families, and improving the diversity of retailers accepting the vouchers.
In summer 2019 the Scottish Government will be implementing a new Best Start Foods payment to replace Healthy Start vouchers. Best Start Foods will continue to provide targeted financial support for low income pregnant women and families to purchase healthier foods. Read more.
Listen to our webinars on improving uptake of Healthy Start
Resources
As of October 2019, data on the number of eligibile beneficiaries and take up of Healthy Start vouchers is available online for Local Authorities in England and Primary Care Trusts in Wales. The data is updated every four weeks with the latest information available and can be downloaded from the Healthy Start website.
Join our Healthy Start email forum
A chance to ask questions, share resources and get support from others working on the scheme. Email healthy_start-subscribe@lists.riseup.net to join and once subscribed you can then send a message to everyone in the group by emailing healthy_start@lists.riseup.net.
Share
Get updates
Food Poverty: Over 8 million people in the UK struggle to get enough to eat. Sustain is working with communities, third-sector organisations, local authorities and government, aiming to make sure everyone can eat well.
Menu
Support our work
Your donation will help communities identify ways to alleviate food poverty and increase access to healthy food.