Making the most of Healthy Start: A toolkit for local action
The Healthy Start voucher scheme helps low-income pregnant women and young children in England, Wales and Northern Ireland to buy fruit, vegetables, milk and infant formula. The vouchers are a means-tested scheme that act as a basic nutritional safety net and encourage families to make healthy food choices.
Despite the significant positive impact that Healthy Start vouchers can have on a household's budget and access to a healthy diet, in some areas almost half of eligible families are missing out.
The aim of this toolkit is to share what actions can be taken by local authorities, health professionals and the community sector to increase take up of the scheme locally. The toolkit covers
What is Healthy Start?
Working with health professionals
Promotion and campaigning
Increasing retailer participation and awareness
Mainstreaming into local welfare and advice services
Scotland's Best Start Foods
Appendix A: A brief guide to Healthy Start
Appendix B: Healthy Start quiz
As of summer 2019, Scotland introduced a new Best Start Foods scheme to replace Healthy Start, which is covered in more detail on page 13.
Toolkit written by Maddie Guerlain with thanks to Sam Dyer and Simon Shaw.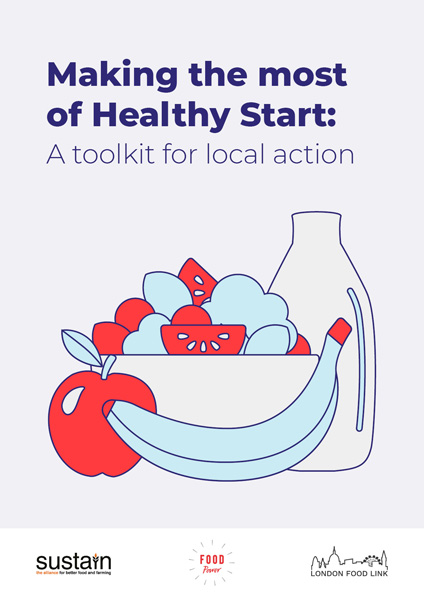 Making the most of Healthy Start: A toolkit for local action
20pp - 2019 | 1932Kb
Published 26 Sep 2019
Food Poverty: Over 5 million people in the UK struggle to get enough to eat. We're working to change that through people-powered projects and campaigns that tackle the root causes of food poverty and ensure everyone has dignified access to healthy, affordable food.