Gauhar Bano Qureshi of The Loaf microbakery in Lahore on spearheading the Real Bread Campaign Pakistan.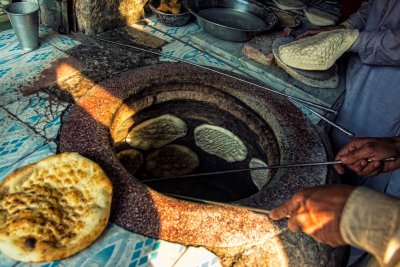 Tandoori naan in Pakistan. Credit: Tahsin Shah CC-BY-SA-4
It is said that you are what you eat and at The Loaf we believe in healing through food. Author Virginia Woolf wrote: "one cannot think well, love well, sleep well, if one has not dined well." Add to this the many gut-related health issues prevalent in Pakistan, the desire to influence change is instinctive. Our definition of Real Bread is the same as that of the Real Bread Campaign and we share an interest in the potential benefits of longer fermentation.
History
The history of Real Bread in Pakistan is longer than her existence as a nation. Wheat, flour and bread have all been part of daily life in the region since at least the Indus Valley Civilisation era, which lasted from around 3300 to 1300 BCE.
The roots of leavened bread can be traced back to Egypt, which shared strong trade relations with Greece. This relationship helped play a significant role in the advancement of bread making. From exporting wheat to disseminating baking knowledge and technology, ancient Egyptians are thought to have been partly responsible for some types of bread making spreading across Africa, Europe and Asia. For example, the traditional Pakistani tandoor (تندور in Urdu, from an Arabic word, via Persian) is thought to have originated in Egypt. Archaeologists have found remains of such ovens in countries including Syria, Iraq and Iran, as well as throughout northern Africa.
Today
A significant portion of Pakistan's cuisine relies on wheat, maize or other grain-based breads. Most Pakistanis consume bread of one sort or another with every meal. Breakfast typically starts with a paratha (a flatbread cooked in ghee – clarified butter) or a slice of European-style bread, depending on personal preference and/or income. Lunch usually includes a chapati (a light and airy flatbread cooked on a skillet over a flame) and dinner generally follows suit.
This is where another change in tide is seen. Bread making knowledge originally travelled to Europe and Asia from Egypt. Influences on Pakistani baking now tend to come from Europe and the USA. Today our country has her share of artisan bakeries and microbakeries selling products based on those traditions.
Real Bread for everyone
Income has a huge influence on eating habits. As people's spending power increases, some choose to start exploring sourdoughs, rye breads, brioche, croissants and bagels etc. alongside traditional Pakistani favourite Real Breads. These more recently introduced bread types tend to be beyond the reach of many Pakistanis, however. According to the World Bank, nearly 40% of the population lives below the poverty line and cannot afford to buy western-style bread from artisan bakeries, or even factory loaves.
Real Bread Campaign Pakistan aims not only to promote and encourage the consumption of all Real Bread, we want to ensure that western-style Real Bread is accessible to everyone, regardless of purchasing power. These are big goals, which require lots of tiny steps and a whole lot of help to make a reality.
The role of government
The task of introducing western-style Real Bread on a national scale requires a national effort, not only from the makers and buyers of bread, but also from a food security perspective.
Wheat enjoys a prominent place in Pakistan's food safety and nutrition policies. Bread, however, does not share the same protected status. Additives are permitted and are being used – particularly by industrial manufacturers - in both Pakistani and western-style baked products. We believe that the government's focus should be on setting standards for what qualifies as bread. This will help to create widespread awareness of what Real Bread is, while clear marketing will help customers distinguish between it and other products. A country that consumes over 10 million tons of bread, or US$32 billion in fresh bread and bakery products, deserves to know the difference.
We also want to use our platform to promote local food, contributing to our economy. As a wheat-growing-nation with an agricultural-based economy, Pakistan must do better to improve access to good-quality local products. This should start with wheat but must not end there. We need better policies, better training, and better supply chain management to encourage the customer to choose local produce over imported goods.
Our mission
To kick off our public campaign, we invite bakers across the country to join our cause. Together we must make the case for Real Bread amongst our communities, and in government policy. Key areas of focus include but are not limited to:
Awareness
Knowledge
Training
Policy
Standardisation
We're spreading awareness through knowledge shared on social media, word-of-mouth, adverts, email campaigns, and via our website. We use our platform to engage with our 'Loafers' to increase their awareness of Real Bread and how it might have positive impacts on gut health. We also offer bread subscriptions to encourage our Loafers to eat better.
We'd like to work with other bakers, united under the Real Bread Campaign Pakistan banner, to reach as many people as possible. We're working on a training programme for existing, professional bakers who will undergo a series of classes, lectures, training and assessments to share our methods of making artisanal Real Bread.
@loaf.the
Get involved!
Email Real Bread Campaign Pakistan to find out more and join.
Originally published in True Loaf magazine issue 51, July 2022
See also
Start your country's Real Bread network
Pan global - networks outside the UK
Published 4 Jul 2022
Real Bread Campaign: The Real Bread Campaign finds and shares ways to make bread better for us, better for our communities and better for the planet. Whether your interest is local food, community-focussed small enterprises, honest labelling, therapeutic baking, or simply tasty toast, everyone is invited to become a Campaign supporter.
Support our charity
Your donation will help support the spread of baking skills and access to real bread.