Like most Real Bread business owners, Natasha Tatton and her husband Ed have had to make changes to their bakery in British Columbia.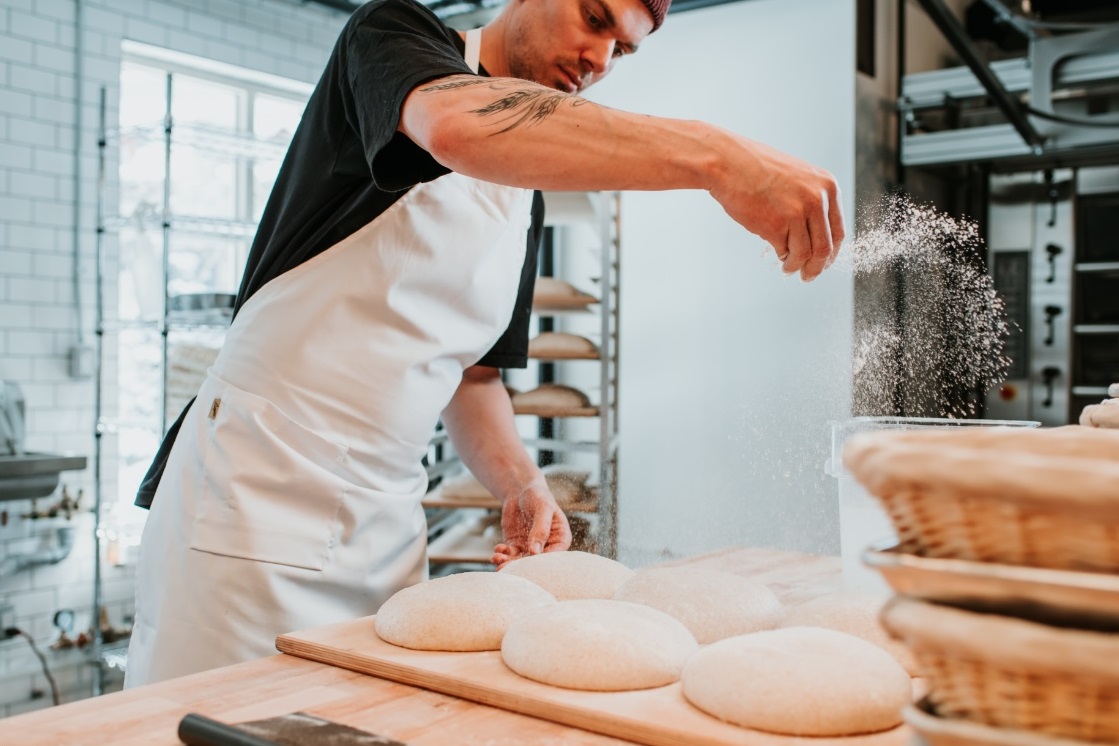 Ed baking before lockdown © Darby Magill
BRED is our zero-food-waste, plant-based, organic sourdough bakery café at Whistler Blackcomb ski resort. Ed and I are passionate about serving healthy, naturally-leavened bread, plus wholegrain and plant-based products, made from scratch daily. We teach our staff and customers about the importance of additive free baking and where the food comes from. Our food also looks and tastes great, making every eating experience more satisfying. We want to be known for the best bread not only in Whistler, but along the whole Sea-to-Sky Corridor.
Dough Canada
Originally from Kent, Ed has worked in fine dining kitchens around the world and has been making sourdough since 2008, while I'm from London and have a background in hospitality. We came from the UK to Canada in 2013 to snowboard for a season, during which time Ed worked at Alta Bistro, a farm-to-table restaurant in Whistler. We stayed on in Canada and, while we were working on Vancouver Island in the ski season summer break of 2014, Ed started a sourdough culture.
The starter culture came back with Ed to Alta Bistro, for which he began making sourdough bread. In 2016, we rented the bistro's kitchen once a week so Ed could make bread for friends, who subsequently told their friends. Before long, demand had increased to a point where Ed had outgrown the equipment and space. That's when we decided to start planning our own organic sourdough bread shop. I admired Ed's dedication to making tasty artisan loaves and he knew that my experience would come in useful for starting a food business. BRED opened its doors in March 2019 and, before COVID-19 hit, we were open five days a week, selling out of baked goods every day.
Après ski
Once the ski resort shut down, we knew that BRED could not operate in the same way anymore. Back in 2016, we started with a small-scale, pre-order system, which enabled us to open our bricks-and-mortar bakery café a year ago. Needing to close the café down and hoping to weather the storm ahead, we went back to our roots, switching to selling through our website with pick-up by appointment only. After a customer orders, we contact them with a Saturday afternoon time to pick up from a collection point located by our door.
Setting up an ecommerce store through our website was easy through the Square Space platform. We had to upgrade the site and invest some money to do this, but found that the spend per head is actually bigger online. Sadly, without a café to run, we had to lay off our team of eight, most of whom returned to their homelands before the border and international travel were shut down.
Everyone's a baker now
We love our community and want to look out for them as best we can. Our online shop is not run to generate profit but to keep people in Whistler stocked with staples. BRED is currently more of a grocery store, where we repackage and sell locally-sourced, organic flours much cheaper than the supermarkets, as well as lots of bread baking books.
Suddenly, everyone has become a sourdough bread home baker, so we have also hosted a few Q&A sessions on Instagram where people can reach out for help and guidance. People in our community have gained a better understanding of the process and appreciation of the dedication sourdough baking takes. None of the other local bakeries kept a regular online shop going, has been selling bread baking books, or offering the advice we have. We hope that this has all helped to enhance our reputation as the local experts on bread.
The future
We're now working to re-open the café on 26 June, with a new campaign focussed on sustainability. During our first year in business we strove hard to implement sustainable lifestyle practices. This included an ever-changing array of plant-based baked goods with an emphasis on local and organic ingredients and direct-sourcing of coffee beans.
We also used to offer financial rewards for customers who brought their own cups, but an effect of the COVID-19 situation is that take-out and single-use containers have become the new normal. We understand their role in protecting public health, but they are counteractive to battling the environmental crises the planet is facing. For every coffee sold we will have a tree planted, which we feel will have a bigger positive impact than the saving and reuse of a compostable cup. We will report BRED's coffee sales to the charity Trees for the Future, which works closely with farmers across Sub-Saharan Africa to establish regenerative agriculture in the form of forest gardens.
After BRED reopens, we will manage wastage better, as well as continually review and strengthen our operations and supply chain. Our hope is that our bakery, and its positive impact at both a social and an environmental level, will continue to grow.
We're still collecting and publishing details and photos of how Real Bread professionals are doughing things differently. If you'd like to share yours, please email us and we'll tell you more: realbread@sustainweb.org
See also
More information:
Published 22 Jun 2020
Real Bread Campaign: The Real Bread Campaign finds and shares ways to make bread better for us, better for our communities and better for the planet. Whether your interest is local food, community-focussed small enterprises, honest labelling, therapeutic baking, or simply tasty toast, everyone is invited to become a Campaign supporter.
Support our charity
Your donation will help support the spread of baking skills and access to real bread.