Locked down but not out
A trio of Real Bread pros tell Chris Young how they have bounced back from temporary closure.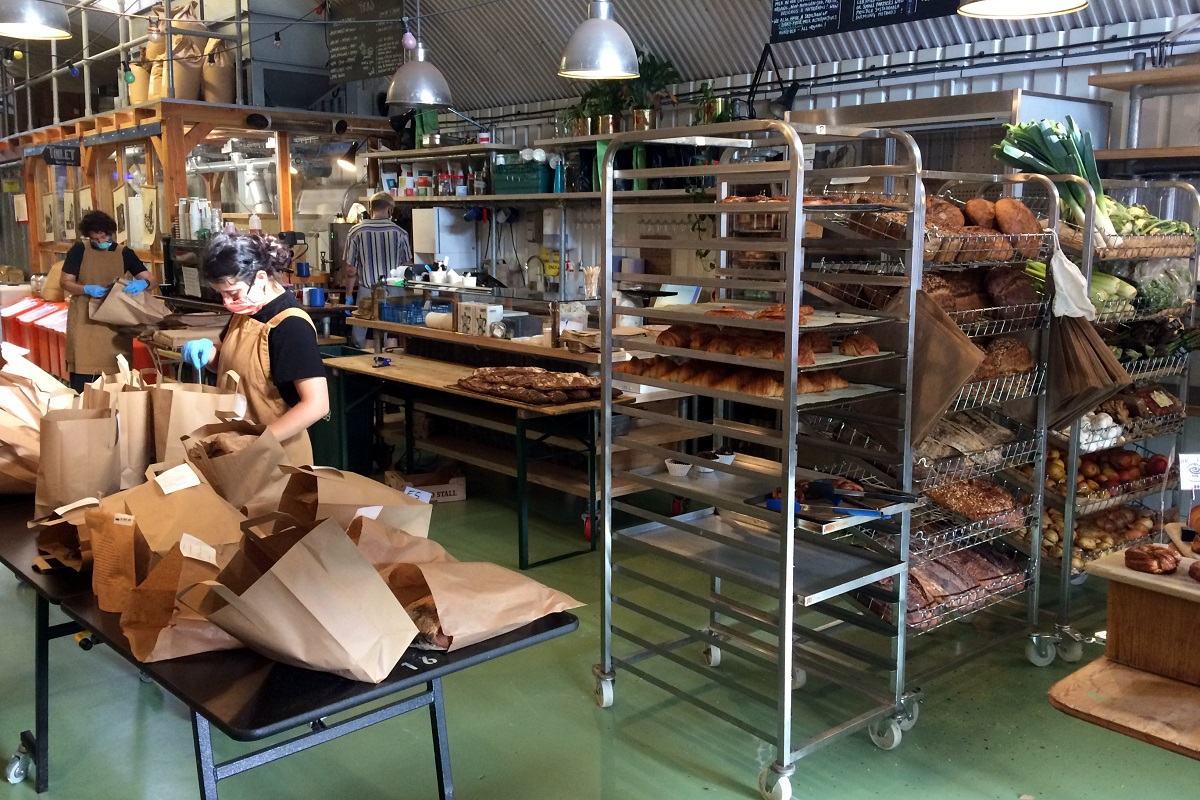 Three people who responded to a call I put out asking our supporters to share their experiences of closure during lockdown are Maggie Rich, founder of Companions Real Bread CIC in Bedford; Marta Nadhazi, who co-owns M's Bakery in Bournemouth with her husband Istvan; and Jess Kopp, a director at E5 Bakehouse in London.
Hanging up their aprons
On 23 March 2020 many UK businesses were forced to lock their doors as part of the government's plan to minimise opportunities for transmission of SARS-CoV-2, the coronavirus responsible for the disease commonly known as COVID-19. Although Real Bread bakeries are officially recognised as essential businesses and have been allowed to continue helping to feed people in their local communities, some owners closed temporarily in order to take stock and adapt for loafing under lockdown.
I started by asking Maggie, Jess and Marta why and how they took the decision to close. "Our main reasons were due to a growing feeling of moral responsibility for keeping customers and staff safe whilst COVID-19 cases were rising rapidly in London," said Jess. This was echoed by Marta: "We offered [staff members the choice] to stay at home if they decided to, but without them we couldn't stay open in a regular way."
Maggie told me that, initially, the social enterprise suspended the bakery training element of their programme for ex-offenders, while a core staff team kept baking. "Obviously, this is upsetting for us as giving that support is our primary motivation, alongside providing Real Bread." She added that they continued to provide pastoral support by phone. Soon, however, "we began to be fearful for the health of our staff as they worked consistently long hours to meet the demand. We were afraid that exhaustion might increase vulnerability to the virus, so we took the decision to close for a week around the Easter break to give them some rest time. It also gave us an opportunity to take stock of the situation and organise ways to manage orders better on re-opening."
The story at E5 was similar: "We wanted to ensure we could offer equal opportunity to work, and also equal pay to everyone who couldn't work by using the furlough scheme," Jess explained. "We needed time to consider the safest way to reopen, to review our space, develop new systems and change various elements of the business. We wanted to time to get this right so we could reopen in a way that made customers and staff feel comfortable to return."
Like Maggie and her team, feelings of responsibility at E5 spread beyond staff members: "We were most concerned about our wonderful customers and the local community who we serve daily, as obviously we did want to stop offering daily bread and essentials. That was the hardest part about closing temporarily."
Reopening
All three bakeries closed at around the same time for two to three weeks. During this period, a group of managers and directors at E5 had a number of planning calls to decide on the best way to reopen. Changes included setting up an online click and collect shop: "something we have wanted to do for a while but didn't have time to think about" and resigning the shop space, said Jess. "We felt ready to open when we had these elements in place, and also had considered our safe working policies," Over in Bournemouth, Marta and Istvan also set up a click and collect service. For them, this meant building a website first, as previously they had relied on social media accounts. "Because we never made a homepage before, it pretty much took us two to three weeks," Marta told me.
It was apparent to me that another thing that the businesses have in common is people passionate about what they do, who soon got itchy feet to get baking again. As Marta put it: "we just didn't want to stay at home anymore. We wanted serve the local community with healthy, nourishing bread and fresh pastries." This was echoed by Jess: "I think our staff appreciated having time to self-isolate and stay home to look after themselves and their households, however most of our staff were raring to get back to work."
Doughing it differently
E5's new online shop means: "that customers can order and choose a collection time, which has reduced queuing time, help us manage stock and plan production, and easier for customers to know what we have in stock."
Companions Real Bread is now operating with three staff members and no ex-offender trainees. Maggie said that: "We are offering a smaller range than usual so we can maximise the number of loaves produced." Similarly at E5, "for now, we have much smaller core team and we wanted to open only for essential items. We have not been serving meals or coffee, although we hope to bring these back soon to take away." Conversely, at M's Bakery Marta said that "we keep adding new things to our range."
Bake by popular demand
Wholesale bakeries have been hit hard by the closure of eateries, some losing most or even all of their usual orders overnight following the government's announcement in March. Many retail bakeries that have remained open, on the other hand, have seen a surge in demand for Real Bread.
Between pausing their volunteer training and the bakery's full hiatus, Maggie told me that "our orders increased dramatically with lockdown. Although we lost orders from some of our wholesale customers that had to close, we had just taken on a new contract with a local veg box supplier. They were overwhelmed with new orders and could take as much bread as we could give them. There was a big increase in sales through our most immediate retail partner, too." M's opened their webshop on 20 April "and it was insanely busy." As well as seeing bread sales rise, E5 is popular with Lockdown Loafers: "We've seen a big increase in flour sales and baking equipment so our millers have been working around the clock to meet the demand!"
People power
I often say that the Real Bread Campaign isn't really about food, it's mainly about people: We're finding and sharing ways of doing things that enable cereal breeders, farmers, millers, bakers and food surplus champions - not forgetting all of us who enjoy eating Real Bread – to benefit more.
This people power was in evidence from the way that Jess, Marta and Maggie were united in praise for their staff members. As Jess put it: "It's been a reminder of what an incredible staff team we have. Passionate and flexible people who have shown resilience and positive in the face of change."
All three also expressed gratitude for the support of people in their local communities. "Customers were understanding and supportive and we had no complaints, only sympathy and encouragement," said Maggie. Jess enthused that: "it's been brilliant to see the initiatives arising to help vulnerable people in our community, and also we have been able to donate leftover bread to people working in the NHS and other services." In line with reports of Real Bread's continuing popularity during the crisis, Marta told me that: "after three weeks, our fantastic customers keep us busier and busier."
The Real Bread Campaign is currently planning a PR and marketing initiative to encourage people to keep supporting neighbourhood bakeries and enjoying local loaves for life, not just lockdown.
Share your story
We are still collecting bakery owners' experiences of loafing under lockdown to help inform and inspire other business owners. The information we collect may also be used in media work and to feed into various governmental (and other) consultations, reviews and policy work. Please either email yours to realbread@sustainweb.org or add the details to this form.

Please also send your photos of what a Real Bread bakery looks like right now, which clearly show the new things you have in place. For example: Bakers at work with masks on and space between each other; cafe cleared for queuing; customers waitng in a well-spaced line; screens in place; cake counter turned into a general grocery; your team making deliveries - photos that tell this chapter in your story. As always, we prefer photos with people in them.
See also
More information from Sustain:
---
SHARE