Local loafers needed to help feed the nation
Campaign supporter Steven Winter is asking fellow Real Bread bakers to bake a new national loaf for NHS staff, other frontline and hidden heroes, and people in need.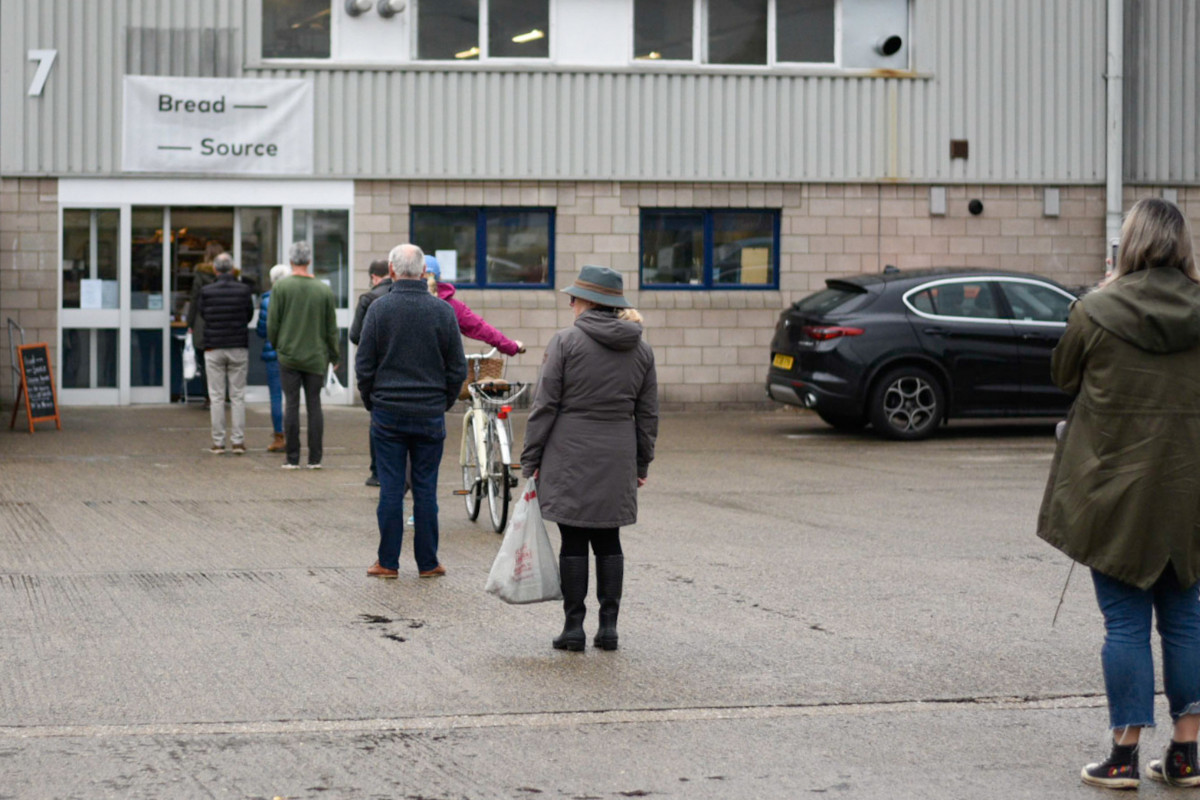 Photo © Rosie Mills-Smith
As bakers, we are committed to our social responsibility to ensure that good food is available to everyone in our community. We have set up the Bread Source National Loaf Scheme, baking a delicious, nutritious wholemeal loaf for just £1, which is available to anyone in need, no questions asked. Our pay it forward scheme means that people can buy a loaf for someone who is less fortunate to pick up. Alongside this we're offering a 20% discount on everything else to NHS and social care staff. They just need to bring their ID cards to our bakery counter in Norwich, which is open between 8am and 2am from Tuesday to Friday.
We also have a new online shop and offer the choice of contactless collection from the bakery or free delivery in Norwich and Aylsham. This allows people in self-isolation, and others who can't (or would prefer not to) get out and about to still get our Real Bread, and other essentials, from the comfort and safety of their homes.
The story so far
I'm a lifelong professional baker and established Bread Source over 10 years ago, with a vision of bringing Real Bread to the people of Norfolk. At the heart of Bread Source is an ethos of feeding people well, and never has that been more important than in the current circumstances we all face. As bakers, we are committed to our social responsibility to ensure delicious and nutritious food is available to all members of our local community.
Back on 25 March, we began making 100 loaves a day in our own time to giveaway - no questions asked - to chefs, bakers, front of house staff, baristas and other people working in hospitality who have recently lost their jobs. This quickly developed into our mission to launch The Bread Source National Loaf: great-tasting, slow-rising, highly nutritious Real Bread made using only 100% stoneground wholemeal flour, sea salt, water and yeast.
The concept, and name, derives from the National Loaf developed by the Ministry of Food during the Second World War as part of the home front effort to keep the country fed healthily, and to minimise the waste of wheat when supplies were threatened by German blockades. While white flour was around 70-72% extraction (wholemeal flour is 100% extraction), the National Loaf was made from wheatmeal flour of around 80-85% extraction. This mean that that up to 15% more of the grain, much of which was imported at the time, went into bread instead into animal feed.
Get involved
We now need help extending the Bread Source National Loaf Scheme to everyone around the UK who is facing hardship and isolation. If you run a bakery or mill and want to help make £1 loaves of wholemeal Real Bread available to people in your local community who need it most, please get in touch with me.
We're also on the hunt for partners to get involved and find ways to ensure that people in rural Norfolk can get their daily bread and other essentials. We're particularly interested in speaking to anyone who might be able to set up a distribution hub in their village or town – we drop to one location from which people collect or you do local deliveries.
Read full details of the Bread Source National Loaf Scheme.
See also:
Support our charity
Your donation will help support the spread of baking skills and access to real bread.