Campaign coordinator Chris Young curates another collection of Real Bread bakers adapting to thrive.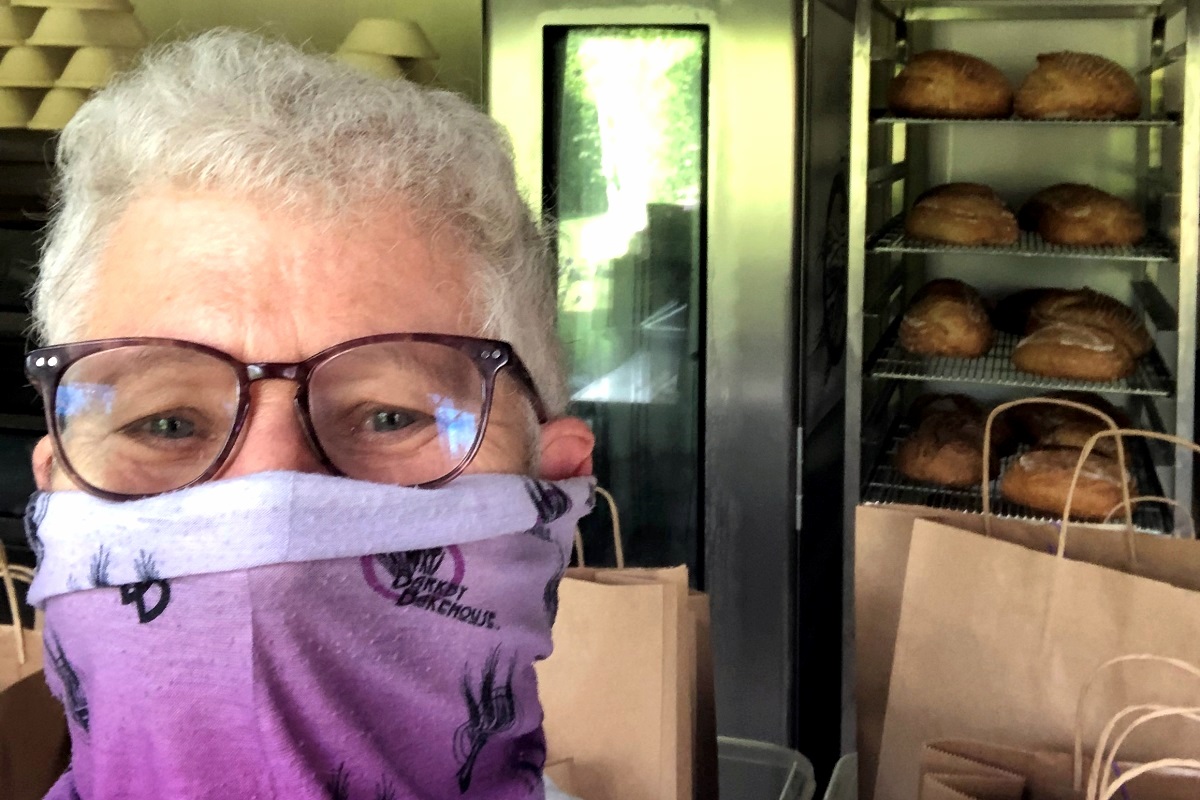 Photo © Barkby Bakehouse
There are exceptions but the general picture I've seen over the past few months is that Real Bread bakeries have either been rushed off their feet or closed altogether. Wholesale bakeries lost up to 100% of their business overnight as restaurants, pubs, caterers and the rest of the hospitality sector was locked down. Meanwhile, many retail bakeries, from one-off micros to regional chains, have seen a huge surge in demand.
Continued popularity
Initially, the influx of business was probably largely driven by empty supermarket shelves. As time has moved on, it seems that a number of factors are contributing to the continued popularity. These might include:
A preference for the shorter queues outside small, local shops; avoiding the greater possibility of infection transmission presented by a supermarket visited by thousands of people
The convenience of the online ordering and friendly, contactless, doorstep delivery that many bakeries have set up
Wanting to support an independent business at the heart of a local community
The discovery, or reminder, that delicious, nutritious, genuinely fresh Real Bread is simply fantastic!
A batch of busy bakers
Since the start of lockdown in March, I've been asking Real Bread bakery owners to share stories and photos of how they're doughing things differently and faring. Here are eight more…
Barkby Bakehouse
"This is a photo of me (above) preparing for deliveries. This is how I'm selling all my bread during lockdown as the markets I usually attend are still closed." Sue Shaw, Barkby, Leicestershire (14 June)
Le Petit Prince Patisserie
"After having some time out to re-assess and put health and safety measures in place for our staff and our customers, we re-opened our doors for takeaway on the 5th of May. We have a one-in, one-out system at the moment and everyone waits patiently and is mindful of others. Customers can also order click and collect or home delivery on our website, and we are prioritising those who are vulnerable or isolating. Although this is a difficult time for small businesses, it has enabled us to cater to a wider range of customers who may not be able to visit our shops during this time.
Every week we make adjustments to our products, such as offering more of our speciality breads, seasonal products, and stocking more from local suppliers including coffee, Dorset honey, apple juice and cheese. We have also started doing live online bread and pasty classes, which will now be a regular addition to what we offer. This is all very new for us, but it's been going really well. We've had a huge amount of support from existing and new customers and our team have been working incredibly hard as always." Rebecca and Michael Russell, Westbourne and Wimborne, Dorset (20 May)
The Doorstep Baker
"I started planning my home-based microbakery business in November 2019. I handed my notice in as a coordinator at a local charity and launched The Doorstep Baker this March. About a week later, COVID-19 hit full force.
My initial deliveries went from just a few to fully-subscribed, plus people on a waiting list. Many of my customers are self-isolating or shielding vulnerable people. I offer contactless deliveries by providing a lidded box, which subscribers place outside for me each week. I wrap the bread and cakes in brown paper, and soup in lidded cardboard containers, place these in the box, ring the bell and leave. Between each delivery I use hand sanitiser. I tried gloves but they irritate my skin and it was a waste to use one pair for each house delivery, when NHS staff could be using them. Adapting is the name of the game and we can always learn more, even when we think we know it all!
I'm enthusiastic about creating and sharing with others. The best thing about all this is that (along with family and friends) people in my local community and the online community have been so enthusiastic and supportive. If I have any surplus goods I randomly surprise a different neighbour with a free treat of homemade cakes. As for the future, more fridge space and a bread oven are on my wish list. Part of my business plan was to offer baking classes. This looks very unlikely right now, so I'm devising a way to do this online.
Last year I was a sourdough novice but, with self-belief and my confidence in cooking other things, I've got there. It is the best decision I ever made and I love it. Thank you, Sustain and the Real Bread Campaign, for supporting microbakeries." Cath Lloyd-Williams, (19 May)
Forge Bakehouse
"We've chosen to trial visors for staff who are working closer than two metres, as a good alternative to static screens, which totally work at supermarket checkouts, but not when everyone in the building is constantly moving. We feel like we are in a sci-fi movie and are now a little deaf, but they work!⁠" Martha Brown, Sheffield (May) Martha has also written a full feature for True Loaf magazine issue 43, July-September 2020
Bread and Roses
"I'm just trying to do everything I can to keep our business running right now as we are very busy with our shops. I'm baking about 70 hours a week across six and a half nights on top of which I still have to run the business." Campaign ambassador Andy Smith, Alnwick, Northumberland (26 May)
The Crow's Rest Bakehouse
"Since the lockdown I've had to stop baking workshops and pop-up stalls in town. On the plus side customers collecting orders from my home have almost doubled, making up for some of the lost revenue. My husband, who has been left out of work, has become my bakery assistant. I've been baking for our local foodbank, which started with 17 loaves in the first week. Then people in my local community started helping me with funds and ingredients, so I am now able to deliver closer to 50 loaves a week." Alexandra Vaughan, Wakefield, West Yorkshire (27 April)
Bread Baker Steve
"By now my stall, which is quite dependent on the visitor trade, would have started operating from Thursday to Sunday each week. There are of course no visitors. However, I received a request from a self-isolating household in my village to make bread, so started baking anyway. After asking my local EHOs for the required extra safety procedures and receiving no reply after many weeks, I've started up an unmanned bread stall on Thursdays and Saturdays with voluntary payment. I'm also doing a free 'flash bake' on Sundays, which allows me to have a bit of fun experimenting with new recipes. Perhaps one of the beneficial side-effects of Brexit is that I've been maintaining stores of ingredients for the last couple of years in anticipation of a 'cliff drop', so I had a good supply ahead of lockdown and mill closures." Steve Rickaby, Treen, Cornwall (22 April)
Bread Making New Forest
"I normally teach bread making classes, which are currently suspended during the current lockdown. I therefore decided that as we had a reasonable stock of flour etc, we could make and donate freshly-baked bread to frontline NHS staff and vulnerable people as a token gesture of our support. We normally provide a daily delivery of two dozen freshly-baked sourdough and other artisan breads which have been very much appreciated by staff at our local hospital in Lymington, which is a Covid-19 triage centre." Alan Brand, Hordle, Hampshire (19 April)
We're still collecting and publishing details and photos of how Real Bread professionals are doughing things differently. If you'd like to share yours, please email us and we'll tell you more: realbread@sustainweb.org
See also
More information:
Published 16 Jun 2020
Real Bread Campaign: The Real Bread Campaign finds and shares ways to make bread better for us, better for our communities and better for the planet. Whether your interest is local food, community-focussed small enterprises, honest labelling, therapeutic baking, or simply tasty toast, everyone is invited to become a Campaign supporter.
Support our charity
Your donation will help support the spread of baking skills and access to real bread.