Loaf ad leaves bitter taste
The Real Bread Campaign submits complaint to the Advertising Standards Authority.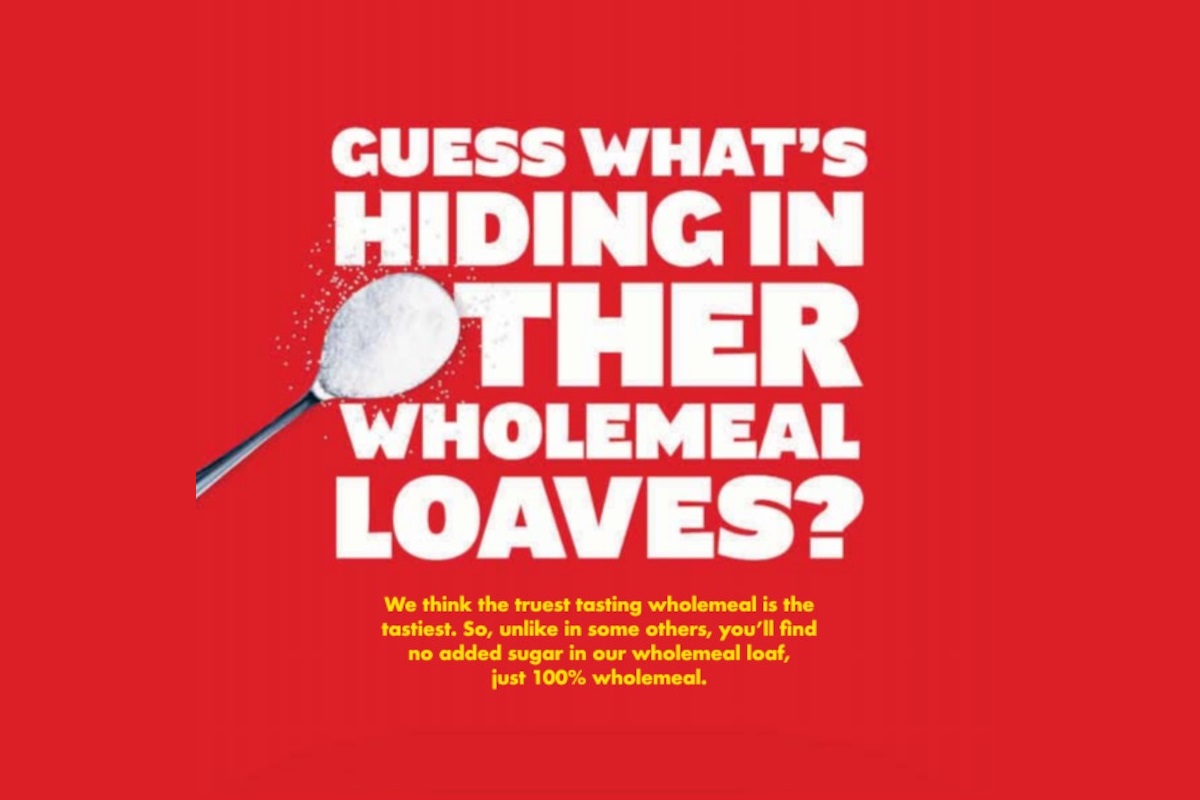 Detail of one of the ads © Warburtons (fair usage)
The advertising campaign by one of the UKs largest industrial loaf fabricators, for a product it manufactures using wholemeal flour, includes kerbside billboards and videos posted on social media.
Complaint wording
We believe that Warburtons' current 'no added sugar' / '100% wholemeal' / 'truest tasting wholemeal' advertising campaign seeks to denigrate wholemeal Real Bread and the bakers who make it. We further believe that the campaign breaches the letter and spirit of the CAP Code on non-broadcast advertising, in particular clauses 3:1, 3:3, 3.38, 3:9, 3:10 15.1.1 and 15.6.5.
We have written to Warburtons, who declined to amend, or immediately remove, the claims. Nor did they promise, or give any assurance, that they will not repeat such claims in the future without appropriate clarification and qualification.
We are seeking 1) public confirmation that they breached the CAP code, 2) removal of the claims (including from social media accounts) a promise that they will not repeat such claims without appropriate clarification and qualification and 3) an advertising campaign of the same scale and prominence that makes clear that they were not implying that Real Bread bakers add sugar to their wholemeal loaves.
A key claim of the campaign is 'no added sugar'. Why has the advertiser chosen to do this, when sugar is not a basic ingredient of bread? The advertiser even goes as far as asking 'guess what's hiding in other wholemeal loaves?' We believe this could be taken as an accusation that Real Bread bakers add sugar to their wholemeal loaves. Is the advertiser trying to lead shoppers to understand that the product is healthier, more 'wholesome' or otherwise 'better' than wholemeal loaves made by Real Bread bakers? If so, where is the evidence and why does the advertiser not show this qualification on the ads? Perhaps the advertiser is in fact accusing other industrial loaf manufacturers, rather than Real Bread bakers, in which case they should make this clear.
While choosing to highlight one particular unnecessary ingredient not added to the product, the advertiser has chosen not to mention seven unnecessary ingredients and additives that they have used: rapeseed oil, palm oil, mono-and diglycerides of fatty acids (E471), sodium stearoyl lactate (E481), diacetyl tartaric acid ester of mono- and diglycerides of fatty acids (E472e); calcium propionate (E282), ascorbic acid (E300). This is material information that people need to make informed decisions in relation to the product and, by omitting it, we believe the advertiser is in breach of the CAP code.
Regulation (EC) No 1924/2006 states that if a 'no added sugar' claim is made about a food in which sugars are naturally present, the claim should be qualified with the statement 'CONTAINS NATURALLY OCCURRING SUGARS'. Sugars are naturally present in this product but the advertiser has failed to declare the fact in this advertising campaign.
We have a number of concerns with the '100% wholemeal' claim. The Bread and Flour Regulations require that, in order to use the word wholemeal in naming or marketing a product, all of the flour has to be wholemeal. Why has the advertiser chosen to emphasise that they are simply following a legal requirement? Is the advertiser trying to lead shoppers to infer that some Real Bread bakers might not be? The advertiser has in fact diluted the wholemeal flour by the addition of soya flour and extra wheat gluten and so we believe that the '100%' claim breaches the spirit of the CAP code and may also be in breach of the Regulations.
We trust you agree that the true taste of wholemeal is enjoyed by people eating slowly fermented Real Bread made from just wholemeal flour, water and salt, leavened using either a sourdough starter culture or baker's yeast. How then can the advertiser legitimately make 'true taste' and 'truest taste' claims for this industrial loaf product, the flavour of which has been distorted from that of wholemeal Real Bread by their use of a no-time manufacturing process and the many unnecessary ingredients and additives?
Updates

7 June 2021: The ASA has decided to investigate whether: 1) the 'no added sugar' claim complied with the conditions of use for that nutrition claim; 2) the 'so unlike in some others, you'll find … just 100% wholemeal' claim was misleading because all wholemeal loaves are required by law to contain 100% wholemeal flour.

27 April 2021: The ASA responded to our challenge: "Having considered the issues you raise further, we can see that a consumer who is viewing the Warburton's advert for a commercially produced, sliced and packaged wholemeal loaf may conclude that the ad makes the objective superiority claims that you raise in respect of similar, commercially produced loaves. We suggest that this is the strongest and perhaps most nuanced area to explore and with your approval could investigate this point further. We could, in theory, explore whether the comparison is likely to be seen as one made against the qualities of an artisan loaf, but strongly suspect that this would be found not to be the case."

12 April 2021: The ASA replied to our complaint, saying '...you pointed out that the claim "no added sugar" is made in relation to this loaf, but that the loaf contains naturally occurring sugars and that this should be declared in the advertising. We will be contacting Warburtons with a view to seeking that the ad is amended in this regard.' The ASA declined to act on the rest of our complaint and we wrote back to challenge this.
---
Our experience of the ASA's complaint handling process is that it can take months and, in one case, more than a year.
For updates, please sign up to our free mailing list. We will also publish updates here and via our social media accounts.
See also
Support our charity
Your donation will help support the spread of baking skills and access to real bread.