Freshly baked or freshly faked: Who's protecting shoppers?
The Real Bread Campaign is warning shoppers buying industrial loaves advertised using claims of freshness that they might not be getting what they expect.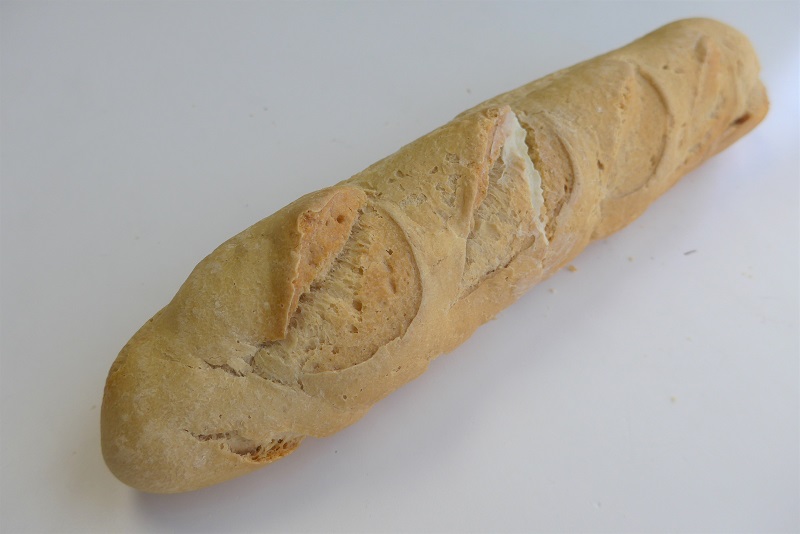 Loaf tanning salon baguette by Chris Young
Recently, the Advertising Standards Authority (ASA) rejected complaints about loaf, baguette and sandwich advertising using 'fresh' marketing claims. The Real Bread Campaign believes that the ASA's rejection of such complaints might not be in line with current government guidance*. In one case, products described as 'fresh' were manufactured elsewhere and re-baked in stores; while another company's loaves had shelf life prolonged by an artificial preservative.
While slamming Pret a Manger's 'misleading' claims of serving 'natural food' and "avoiding the obscure chemicals, additives and preservatives", the ASA rejected the second element of the Real Bread Campaign's complaint regarding where and when Pret baked. Meanwhile, the Trading Standards department of Westminster City Council still has not announced whether or not it will take action against Pret in response to the Campaign's parallel complaint submitted 16 months ago about similar claims made on packaging and signs in-store.
The fresher the better?
The multinational food-to-go empire makes marketing claims including: "You may have noticed we have a big, fancy baker's oven in every Pret shop (indeed some have two). We bake our baguettes, pastries, croissants and savouries in-house throughout the day..." and "we bake our baguettes throughout the day, the fresher the better" and "our wraps and flat breads are handmade throughout the day in each shop kitchen…"
The reality is that Pret does not make a single sandwich loaf, baguette, croissant, wrap or flatbread fresh from scratch in any of its outlets; these products are manufactured by third-party suppliers. In the case of croissants and baguettes, they are delivered frozen, rather than fresh. The latter are supplied previously baked, with Pret in-store employees using the "big fancy baker's oven" as a 'loaf tanning salon' merely to brown and crispen the crusts.
Industry body dismissing government guidance?
In its ruling (A16-367959), the Advertising Standards Authority (ASA) appeared to dismiss current official Food Standards Agency guidance partly on the grounds that it is "based on consumer research carried out prior to July 2008". The ASA said it "considered that consumers were unlikely to interpret 'baked in store' to mean only products that were made from scratch using basic raw materials such as flour and butter. We considered that consumers were likely to interpret it to include products which were cooked from frozen raw dough or from part-baked dough."

In another case, the supermarket chain Iceland claimed certain industrial loaf products were "delivered fresh each day", despite being artificially preserved by the use of potassium sorbate and calcium propionate additives to prolong their shelf life. Use of these additives indicate they were likely to be designed to be able to be bought and eaten days after manufacture and sale. In its ruling (A17-393093) the ASA stated: "We did not consider that consumers would expect every loaf of bread being sold in the range to have arrived in the store that day, but that fresh loaves were delivered."
Campaign coordinator Chris Young said: "We believe that the ASA is failing to protect shoppers from being misled by advertisers using 'freshness' to market products that have in fact been baked twice, or are laced with preservatives to prolong what industrial loaf fabricators and retailers call 'durability'."
Young added: "As for Westminster Trading Standards, we believe the department may be more focussed on protecting the interests of a company than those of shoppers looking for genuinely freshly-baked bread and of other small, local, independent businesses that make and sell it."
We need an Honest Crust Act
The Real Bread Campaign believes that 'freshly baked bread' and related claims should only be used to market products that are made without any artificial additives and sold within 12 hours of being made from scratch, and not to promote bought-in chilled or frozen dough items that are merely 'baked off' on site, or previously baked products that are then re-baked in store.
The Campaign calls for the government to introduce an Honest Crust Act that will legally define and protect bakery descriptions including 'fresh', 'wholegrain', 'artisan bread' and 'sourdough'. From late 2017 to early 2018, more than 1,500 people wrote to Secretary of State for Defra Michael Gove in support of this but to date, none has received a reply. The Campaign will be taking the next steps in this mission later in spring 2018.
ENDS
* "Terms such as 'freshly baked, 'baked in store' and 'oven fresh' may mislead consumers into believing that they are being offered products that have been freshly produced on site from basic raw materials. Some stores sell bread made from part-baked products that have been packed in an inert atmosphere or frozen off-site then 'baked off' at in-store bakeries. Use of terms like 'freshly baked', 'baked in store' and 'oven fresh' on these products could potentially infringe the general legal [food labelling and marketing] provisions…" Criteria For The Use Of The Terms Fresh, Pure, Natural Etc. In Food Labelling, Food Standards Agency
Support our charity
Your donation will help support the spread of baking skills and access to real bread.