Wholemeal loaf law breach?
Real Bread Campaign questions loaf manufacturers using the word wholemeal in 'half and half' product names and marketing.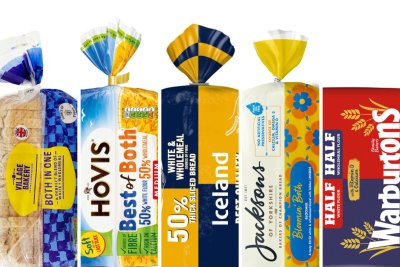 Less than 100% wholemeal. Credit: Fair use
The word wholemeal is being used prominently by Aldi, Hovis, Iceland, Jacksons and Warburtons in the marketing and, in two cases, names of industrial loaf products in the 'half and half' category.
This is despite each of the products containing at least 50% highly-refined white flour.
The law
Section 6 of The Bread and Flour Regulations 1998 demand that: 'There shall not be used in the labelling or advertising of bread, as part of the name of the bread, whether or not qualified by other words […] the word 'wholemeal' unless all the flour used as an ingredient in the preparation of the bread is wholemeal.'
The Regulations go on to require that: 'no person shall sell or advertise for sale any bread in contravention of this regulation.'
Governmental guidance published by Defra states that: 'Bread labelled or advertised as 'wholemeal' must contain 100% wholemeal flour.'
The products
The brands and products in question are:
Aldi / Village Bakery: Both in One
Hovis: Best of Both
Iceland: 50% White and Wholemeal
Jacksons: Bloomin' Both
Warburtons: Half White Half Wholemeal
The Real Bread Campaign has written to the heads of the five companies, which are amongst the UK's largest supermarkets and industrial loaf manufacturers, asking them to review the marketing of these products.
Real Bread Campaign coordinator Chris Young said: "The problem here is that the law and official guidance clearly state that the word wholemeal can only be used in a product name or marketing if all of the flour in that product is wholemeal. While we're working hard to convince the government to improve loaf labelling and marketing legislation in the UK, it's a worry if manufacturers and retailers can't even follow the law as it stands."
He added: "Bakers helping people to trade up from 100% white to at least fifty-fifty is a good thing. What we don't want to see from industrial loaf fabricators is any marketing that's misleading or otherwise breaches applicable regulations. While they're at it, we'd love to see them ditching the additives they use, all of which are unnecessary by definition."
Other brands
'Half and half' category loaf products manufactured under the M&S, Braces and Roberts bands appear to have discontinued.
Meanwhile, Kingsmill sidesteps the issue by using the phrase 'hidden wholegrain' to market its 50/50 loaf, thereby taking advantage of a legal loophole. While the use of 'wholemeal' is regulated in the UK, the use of 'wholegrain' is not. The Campaign continues to lobby for a legal definition as part of its proposed Honest Crust Act.
Updates
26 September 2022: Defra replied to the Campaign's email.
17 August 2022: The FSA Helpline replied: "With regard to your enquiry please contact the Department of Environment, Food and Rural Affairs (Defra) as they have the lead policy in labelling." We did as advised.
16 August 2022: Citizens Advice replied: "...as Trading Standards are not accessible to the public there is no direct contact number or contact details for them to contact." They added: "Trading Standards would look into the business practices, however you may have more luck in raising this with the Food Standards Agency here as they regulate the food industry in the UK." We followed this advice.
8 August 2022: We asked for a contact email address in order to forward the full details of the case to whichever trading standards officer/department was dealing with this, and so that we can find out the progress and outcome of their investigation.
25 July 2022: Citizens Advice wrote: "We will refer the information you have provided to Trading standards, there is no commitment for them to contact you directly, Trading Standards will only contact you if they deem it necessary. Whilst this does not help you resolve your dispute, it gives Trading Standards vital intelligence on how a trader is conducting their business."
19 July 2022: The course of action suggsted by Tower Hamlets' food safety team would mean pursuing five separate complaints with five different local authorities on this single issue. Instead, we raised it with Citizens Advice consumer service, in the hope that they will act on it as a single complaint.
11 July 2022: We received this response from Tower Hamlets' food safety team: "While you are based in Tower Hamlets, the companies you are referring to are not so you would need to raise any concerns you have with the local authorities in which they are based."
7 July 2022: Having not had a satisfactory (and, in three cases, any) response from the companies, we wrote to the trading standards department of the local authority where the Campaign office is located, asking them to investigate.
4 July 2022: Aldi's second response was: "I can advise that following your contact, the artwork has been reviewed in great detail to ensure that it coincides with the Bread and Flour regulations. The word 'wholemeal' is in reference to the flour with white flour also being listed as an ingredient. We do not refer to the product as a wholemeal loaf. I hope the above information reassures you that we take customer feedback seriously and will always aim to mitigate any concerns."
27 June 2022: We wrote back to Hovis and Aldi, asking each company how they reconcile section 6 of the Bread and Flour regulations, which prohibits the use of the word wholemeal in the marketing of a product unless 100% of the flour is wholemeal, with using the word prominently to market a product in which half of the flour is white.
24 June 2022: Representatives of two companies responded.
"Thank you for contacting Aldi regarding our Village Bakery Both In One loaf. Following receipt of your email I reached out to our Quality Assurance department and have been informed the artwork is not in breach of the regulations as the loaf itself is a blend of white and wholemeal flour and this is clearly labelled on the packaging."
"Food labelling in the UK is highly regulated to protect consumers and to ensure they acquire accurate information about the product they are about to purchase. In line with the food industry, our labelling conforms to the relevant UK and EU legislation.Given the strict regulations around labelling and any Health and Nutrition claims made on our packaging, it would be impossible for [Hovis] to knowingly mislabel our products."
23 June 2022: We wrote again to all of the CEOs, asking them to either answer our questions, or at least advise when they will.
See also
Sustain summit
12 Oct 2022
The summit will consider meat and dairy production and consumption in the context of the climate and nature emergency, where inspiring work and opportunities exist, and the assumptions and underlying values about meat which have shaped our policy to date.
Support our charity
Your donation will help support the spread of baking skills and access to real bread.