Sainsbury's ordered to say adios to white flour in wholemeal tortillas
Trading standards raps supermarket's knuckles for regulation breach.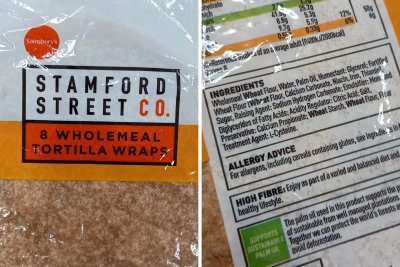 Third ingredient is white flour.. Credit: Chris Young / www.realbreadcampaign.org CC-BY-SA-4.0
In response to a complaint about 'Stamford Street Co. Wholemeal Tortilla Wraps' submitted by the Real Bread Campaign, on 25 July 2023 an Oxfordshire County Council trading standards officer responsible for the Primary Authority relationship with Sainsbury's wrote:
"I would agree that regulation 6 of the Bread & Flour regulations does place restrictions on the use of the word 'wholemeal' in these products. The business has now been advised how to comply with the legislation by relabelling and / or reformulation. The business has confirmed it is looking at formulation and labelling in due course to ensure that the changes comply with the legislation."
Real Bread Campaign coordinator Chris Young said: "It's good to see that the law that says you can't use white flour in a product sold as wholemeal has been enforced on this occasion. We'd like it even more if Sainsbury's takes this opportunity to change the product into Real Bread by throwing out all of the additives, which by definition are totally unnecessary."
It is unclear when Sainsbury's will reformulate or re-name its 'Stamford Street Co. Wholemeal Tortilla Wraps'. The trading standards officer simply wrote: "there will be a delay before compliant products are seen on sale in-store."
Wholemeal and wholegrain regulation 'a mess'
Complaints that the Campaign submitted in July 2023 about white flour being used in products marketed as wholemeal by Aldi, Asda, The Co-operative, Marks & Spencer and Waitrose are at various stages of investigation. Also pending are complaints dating back as far as June 2022 about 50% white flour products marketed by Aldi, Hovis, Jacksons, Sainsbury's and Warburtons.
On 26 June 2023, Oxfordshire County Council advised: "the [Sainsbury's own brand] 50 / 50 product will also be subject to a relabelling exercise."
Young said: "Defra needs to step in and sort out the regulation and enforcement of the term wholemeal, and actually introduce a definition of the term wholegrain and regulations for its use. The current situation is just a mess."
The Campaign continues to lobby Defra for an Honest Crust Act of updated and improved composition, labelling and marketing standards. Amongst other things, this would include revised regulation of the word wholemeal and a legal definition of wholegrain.
Support our charity
Your donation will help support the spread of baking skills and access to real bread.