Iceland drops loaf after Real Bread Campaign complaint
Retailer axes half white product marketed using the word wholemeal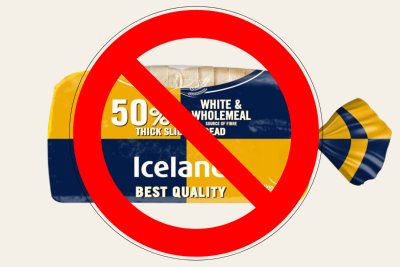 bread binned. Credit: Chris Young / www.realbreadcampaign.org CC-BY-SA-4.0
UK food chain Iceland has withdrawn its own-brand '50% white and wholemeal' loaf following a trading standards complaint by the Real Bread Campaign.
Real Bread Campaign coordinator Chris Young said: "The law is clear on what you can and can't name and market using the word wholemeal. It's good to see Iceland's move in line with this, though they could've just renamed the product."
Iceland is one of five companies to which the Campaign wrote in June 2022 about the naming and marketing of their 'half and half' products. The Campaign continues to follow up its complaint about Aldi, Hovis, Jacksons and Warburtons with the trading standards teams at Bolton Metropolitan Borough Council, Buckinghamshire & Surrey County Councils, Hull City Council and London Borough of Waltham Forest.
The Campaign also continues to lobby the government to review regulation of the words wholegrain and wholemeal as part of its wider Honest Crust Act work. On 12 December 2022, Defra advised "we are still considering the best course of action to address this issue."
Young commented: "Evidently there's an issue with the content, understanding and enforcement of current legislation, a full overhaul of which is long overdue."
**Ends**
Read a fuller timeline of the case
Notes
The Campaign first wrote to the CEO of Iceland on 9 June 2022, pointing out the apparent discrepancy between the naming and marketing of the product, which was made using less than 100% wholemeal flour, and Section 6 of the Bread and Flour Regulations 1998. This was followed up on 23 June.
Having not received a response, on 7 July, the Campaign submitted a complaint to the trading standards department of London Borough of Barnet, the Primary Authority for Iceland.
On 15 December 2022, a member of LB Barnet's trading standards team wrote that Iceland had advised its intention to stop manufacturing the product.
The law
The Bread and Flour Regulations 1998 demand that: "There shall not be used in the labelling or advertising of bread, as part of the name of the bread, whether or not qualified by other words […] the word 'wholemeal' unless all the flour used as an ingredient in the preparation of the bread is wholemeal." The Regulations go on to require that: "no person shall sell or advertise for sale any bread in contravention of this regulation." [Our emphasis.]
Governmental guidance published by Defra states that: 'Bread labelled or advertised as 'wholemeal' must contain 100% wholemeal flour.'
See also
Support our charity
Your donation will help support the spread of baking skills and access to real bread.