Warburtons nutrition claim breach
Advertising Standards Authority rules on Real Bread Campaign complaint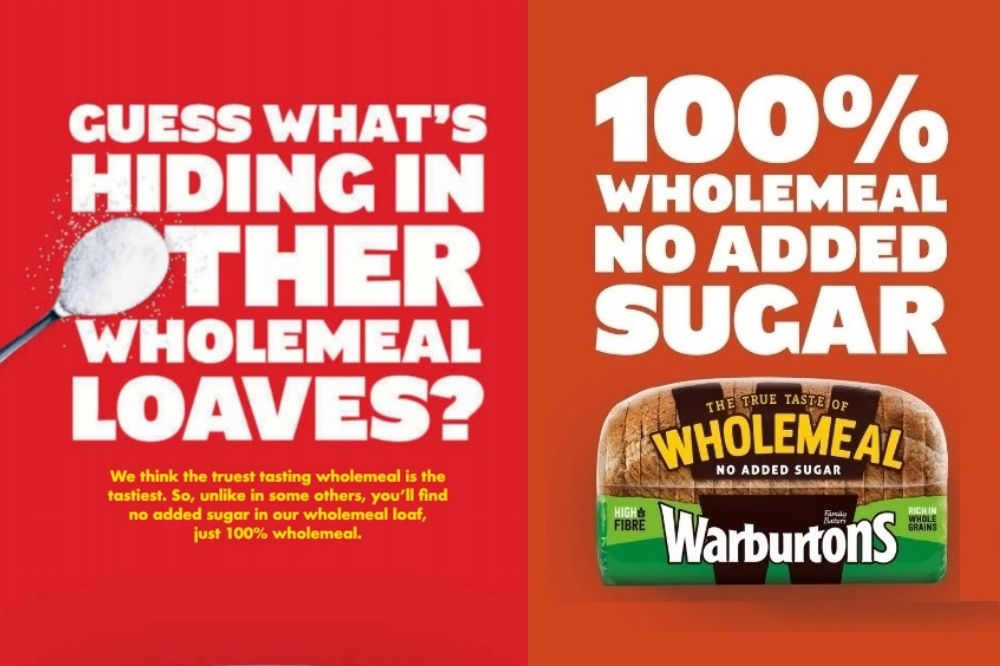 Two of the Warburtons adverts
Seven months ago, we reported submitting a complaint to the Advertising Standards Authority (ASA) about an advertising campaign by Warburtons.
Having whittled our original complaint down to just two points for investigation, the ASA confirmed that the loaf manufacturer failed comply with regulations for a nutrition claim it made. The ASA went on to advise: "Warburtons have provided a written assurance that in future they will include the qualification "contains naturally occurring sugars" in their advertising and we are resolving that issue of complaint informally on that basis. "
Real Bread Campaign co-ordinator Chris Young said: "We're glad that our action has resulted in an assurance from Warburtons that they will follow the law if they choose to make this claim again."
True taste of wholemeal
The ASA Council today ruled that it has not upheld the remaining point of our original complaint.
Young reacted: "We are deeply disappointed that the ASA has failed to uphold the rest of our complaint. We believe the advertisements were intended to lead shoppers to believe that this product was not only better than other industrial loaves, but somehow better than wholemeal bread as well. It's Real Bread bakers who have nothing to hide, crafting wholemeal bread with flour, water, salt and maybe baker's yeast, plus time to develop flavour. Now that's the true taste of wholemeal."
Guess what's hiding?
Unlike sugar, if an additive is deemed to be a 'processing aid' a manufacturer can choose to omit it from ingredients listings. Does Warburtons, or another industrial loaf fabricator, have anything they're not telling us?
The ruling
The ASA wrote that it "considered that the emphasis of the ads was on the fact that the product did not contain added sugar. In ad (a), "no added sugar" was featured in the headline in large lettering as well as on the image of the product, and in ad (b) the headline text "Guess what's hiding in other wholemeal loaves?" was accompanied by a visual of a tablespoon of sugar and "no added sugar" also featured in the image of the product. We also noted that both of the ads referred to 'taste' – in ad (a), where it stated "Try the true taste of wholemeal" and in ad (b) where it stated "We think the truest tasting wholemeal is the tastiest …".
We understood that the complainant believed consumers were likely to view the claims as meaning Warburton's loaf contained flour that was 100% wholemeal and that, by highlighting that fact, there was an implication that other wholemeal loaves might not contain flour that was 100% wholemeal. We considered consumers were unlikely to interpret the claims in that way because of how they were presented in the context of the ads, where the focus was on the product containing no added sugar. We considered consumers were also unlikely to interpret "100% wholemeal" to mean that because there was no added sugar, the loaf only contained wholemeal flour and no other ingredients. We considered consumers were unlikely to take such a literal view and would understand that loaves were likely to contain other key ingredients in addition to flour, such as salt and water.
We considered that, in the context in which the claims were made, with the emphasis being on 'no
added sugar' and taste, consumers were likely to interpret the claims "100% wholemeal" in ad (a) and "So unlike in some others, you'll find no added sugar in our loaf, just 100% wholemeal" in ad (b) to mean their product had a less adulterated or purer taste compared to loaves with added sugar which created a sweetness that might mask some of the wholemeal taste."

What we're fighting for 2023
Support our charity
Your donation will help support the spread of baking skills and access to real bread.