On Thursday 30 March, forty five and a half* supporters and friends of London Food Link (LFL) gathered at The Clerkenwell Kitchen to enjoy the Local Food Feast, raising more than £2000 for LFL's work.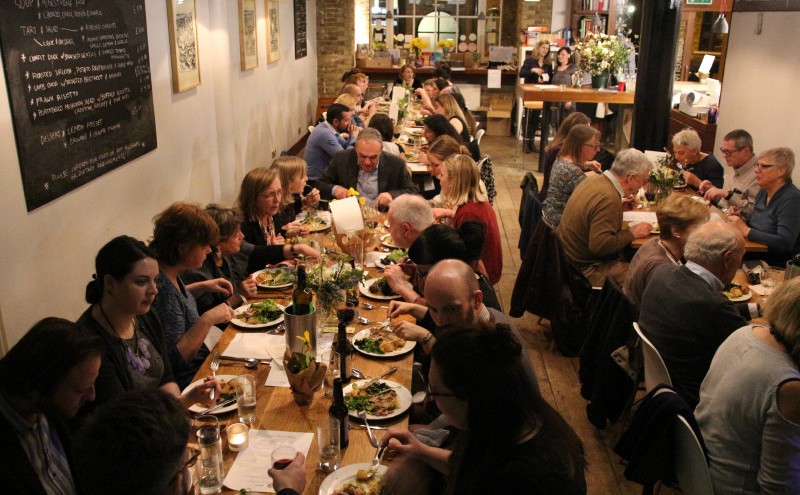 Chef Oliver Rowe and his voluntary kitchen brigade served up a four-course, sumptuous, seasonal supper, which showcased some of the capital's finest growers and small batch producers.
During the evening, guests also enjoyed personal food stories from BBC Food Programme presenter Sheila Dillon, with a lucky few bagging delicious lots in a silent auction and raffle.
The event was held both as a celebration of the best of London's local larder and as the start of a crowdfunding campaign to help secure the future of The Jellied Eel magazine, supporting small producers and growers, and the rest of LFL's work as the voice for good food in London.
The next LFL event will be on 9 May at St JOHN Maltby, with guest speakers including St JOHN chief executive, Trevor Gulliver. Read more and book now.
Be the first to read details of LFL's events and forthcoming crowdfunding campaign by becoming a supporter or signing up for the free mailing list.
*A two year-old…
Thanks
LFL could not have held the Local Food Feast without the generous donations and support in kind from a huge number of people and enterprises, who in no particular order included:
Oliver Rowe; Emma, Laura and Piotr at Clerkenwell Kitchen; Sheila Dillon; Claire and Brian at GCDA; Bill at Kappacasein Dairy; Crayfish Bob; Sarah at Better Health Bakery; Deepak at Oddbox; Kim at Whole Foods Market – Kensington; Duncan and Jamie at Dalston's; Kate at Forty Hall Farm; Hazel the Fruit Magpie; Mat at Cobble Lane Cured; Adrienne and Matt at Cultivate London; Caroline at Bee Collective; Lawrence at BTW; Ashley at East London Liquor Company; Hannah and Disi at Hiver Beer; Meetal at Pearly Queen Beer; Rachel de Thample; Tash at Wild Card Brewery; Neil and Joe at Vintage Roots; Jensens Gin; Maria, Suzy, Maddie, Phili, Simon at Sustain; Liv at Grub Club; Leon; Katie at Food Assembly; Rosie at Rude Health; Nat at Hackney Herbal;; Lou and Jo at F Bombe; Natalie at Audacious Veg; Laura Hutton Social Media Management; Sapori et Saperi Adventures; E5 Bakehouse; Cookery School at Little Portland Street; Richard Gladwin at Rabbit; Grain Store; Andina; Sourced Market; Ned at Cheese Tasting Company; Crown and Queue Meats; Café from Crisis; Craving Coffee; Harringay Local Store and Gosnell's Mead
Notes
Part of the food and farming charity Sustain, London Food Link is the voice for good food in the capital. Through its campaigns and initiatives, LFL works to help create a healthy and sustainable food system for all, and helps join-the-dots between growers, makers, cooks, sellers, savers and enjoyers of good food across the boroughs.
This work includes: The Capital Growth network of more than 2500 food growing spaces; The Jellied Eel, the magazine for good food in the capital; the annual Good Food for London report; Urban Food Fortnight and the Urban Food Awards; Sustainable Fish City; and the London Food Poverty Campaign.
Whether they grow, produce, teach, peddle or simply enjoy good food and drink in the capital, everyone is welcome to join LFL's mutually-supportive network.
Support our work
Your donation will help support community food initiatives and enterprises to thrive as part of a more sustainable food system.