Borough Market publishes new food policy
One of London's oldest and most famous markets has published a new Food Policy, to ensure that sustainability cuts across all parts of the Market's operations.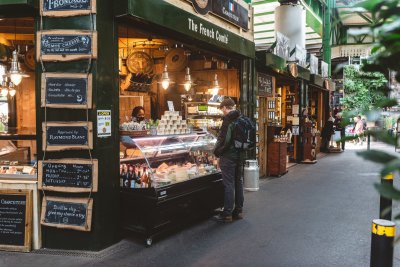 Borough Market. Copyright: Borough Market
The new policy, developed over three years, sets standards for quality, environmental sustainability, social & economic sustainability, animal welfare, knowledge & transparency, opportunity, health, variety, and accessibility. The move has been taken to ensure principles will be applied not just to the food sold by the traders but to everything that happens at the Market.

Going forward all new taters will need to demonstrate a commitment to environmental and social responsibility, while existing traders will be supported to align with the policy over coming years.

Development of the policy has involved research, surveys, focus groups, conferences and interviews with and between traders and stakeholders, to establish the need for a Food Policy and what it should include. It has also involved staff working with trustees Shane Holland, Executive Chairman of Slow Food in the UK and Claire Pritchard, CEO of the Greenwich Co-operative Development Agency and Chair of the London Food Board, to draft, review and amend the policy.
Shane Holland, Borough Market Trustee and Executive Chairman of Slow Food in the UK, said: "Many of the policy's principles can already be seen in practice across the Market, but as a forward-thinking Trust that has long set the pace for the wider food industry, we don't want to rest on our laurels. "

As a next step Borough Market will set new standards for each category of food available at the Market over the coming months and years, which will apply to all traders, including produce traders, catered food traders and guest traders.
Ruth Westcott, Campaign Co-ordinator at Sustain, adds: "We welcome Borough Market's new food policy which includes a great vision for how the market should operate responsibly for the environment and the community."
Read Borough Market's Food Policy
Want to share your London food news with our readers? Email thejelliedeel@sustainweb.org
Support our work
Your donation will help support community food initiatives and enterprises to thrive as part of a more sustainable food system.