This self-audit template is designed to help you gather the information you your supplier need to assess the sustainability of the seafood you buy and serve.
The self-audit template is simply a table that helps you and your supplier to summarise key information about the origin of yoru fish. The format can be adapted to suit your own needs. Once you've gathered together your information in a table like this you will be better prepared to improve your sourcing, following the principle of "Avoid the Worst, Promote the Best, Improve the Rest". You can work with your supplier to fill in the blanks.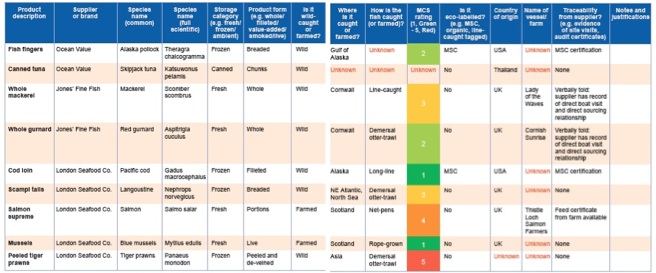 Share
Get updates
Good Catch: Good Catch provides practical information for chefs, caterers and restaurateurs, making it easier for them to serve more sustainable seafood.
Sustain summit
12 Oct 2022
The summit will consider meat and dairy production and consumption in the context of the climate and nature emergency, where inspiring work and opportunities exist, and the assumptions and underlying values about meat which have shaped our policy to date.
Menu
Support our charity
Donate to enhance the health and welfare of people, animals and the planet.