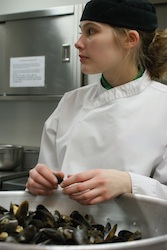 The Good Catch project brought together chefs, caterers, fish suppliers and restaurateurs, making it easier for them to serve more sustainable seafood. Good Catch was a joint project of the Marine Conservation Society (MCS), the Marine Stewardship Council (MSC), SeaWeb's Seafood Choices and Sustain: the alliance for better food and farming - helping restaurants and caterers to navigate the subject of seafood sustainability.
These partners, together with other sustainable seafood and conservation organisations, went on to work together to:
Win a sustainable seafood commitment from the organisers of the London 2012 Olympic and Paralympic Games, the first such commitment by any major international sporting event, in 2009
Help the London 2012 organisers and the London 2012 caterers to implement the sustainable seafood policy, from 2011 to 2012
Launch the Sustainable Fish City campaign, aiming for London to become the first sustainable fish city in the world, coordinated by Sustain, and which in 2013 started to spread to more cities in the UK
Useful Good Catch materials include:
This website
The Good Catch website is a first port-of-call for improving your seafood sustainability. It gives practical information to get you started on your journey and directs you on to other relevant resources and organisations.
Publications
Good Catch published guides for chefs, caterers and restaurateurs. These include:
Good Catch Manual: a rough guide to seafood sustainability for chefs, restaurateurs and caterers, which was the first publication designed to help the UK catering sector make sustainable seafood choices
An authoritative Seafood Audit Template to help you and your supplier gather and assess key information about the sustainability of the seafood you buy
Other activities (now finished)
Previously, Good Catch also ran workshops, tastings and kitchen demos, to help attendees understand the issues of seafood sustainability and build good practice into their businesses. Field trips were also run as an opportunity to connect foodservice professionals directly with fishermen and fish farmers, to help both industries be informed and inspired about sustainable fishing and farming techniques used in UK waters.
The Good Catch partner organisations aim to encourage seafood sustainability progress and increase awareness in key areas of the catering sector. Examples of how this is promoted include sponsorship of the Good Catch Award at the National Fish and Chip Awards and supporting young chefs and catering colleges through the UK Young Seafood Chef of the Year Competition.
Advisory Group (now working on other projects)
The Good Catch project was advised by a group of industry professionals with a personal commitment and passion for sustainable seafood. Many are now supporting the Sustainable Fish City campaign. The group included:
Tom Aikens, chef, restaurateur and writer
Iain Baillie, senior course manager for professional cookery courses .
Caroline Bennett, founder and managing director of Moshi Moshi, the UK's first kaiten sushi bar
Mike Berthet, director of fish and seafood at M&J Seafoods
CJ Jackson, a freelance food writer and teacher and at the Billingsgate Seafood Training School.
Allegra McEvedy, chef, broadcaster and writer
Richard Ord, managing director of Colmans of South Shields
Geetie Singh MBE, managing director and founder of Duke of Cambridge organic pub
Peter Weeden, then head chef of Paternoster Chop House restaurant
Laky Zervudachi, director of sustainability at Direct Seafoods

Share
Get updates
Good Catch: Good Catch provides practical information for chefs, caterers and restaurateurs, making it easier for them to serve more sustainable seafood.