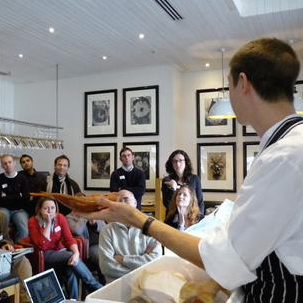 Inspire your staff, peers, suppliers and customers to join in!
By improving your own seafood sourcing you are already leading by example, but you can also encourage wider progress by influencing seafood practices, management and policy. There are many ways to do this, and what works for you will depend on your own strengths and connections. Some ideas include:
Signing up to a Sustainable Fish City pledge, and adding your name to the campaign that has already helped to win sustainable seafood commitments from Government, Number 10, the armed forces, HM Prison Service, one fifth of schools, top tourist attractions, blue-chip companies, universities, retailers, and large and small catering operations - caterers that together serve well over 200 million meals per year. The campaign started in London and since the beginning of 2014 has been spreading to at least six more cities around the UK. Help build the momentum!
Using your voice to be a spokesperson for sustainable seafood choices, such as in the media, amongst fellow chefs and with chef associations you are part of.
Supporting campaigns asking for fisheries and aquaculture management to be more environmentally responsible.
Encouraging suppliers and producers to improve and document environmental performance, and make this sustainability information fully available.
Cultivating responsibility in the next generation of chefs by working with trainees and catering colleges.
Contacting your government representative to support policy and rule making for a healthy seafood supply and oceans.
Read the stories of culinary professionals who are already encouraging others to improve the sustainability of the seafood they buy and sell. Read more stories of sustainable fish pioneers on the Sustainable Fish City website.
---
Go to: Sustainable Fish City
Share
Get updates
Good Catch: Good Catch provides practical information for chefs, caterers and restaurateurs, making it easier for them to serve more sustainable seafood.
Menu
Support our charity
Donate to enhance the health and welfare of people, animals and the planet.