In a speech at the Sustain alliance's AGM in December 2019, Sustain's Vice Chair Stephanie Wood ran through some of the charity's achievements over the past year.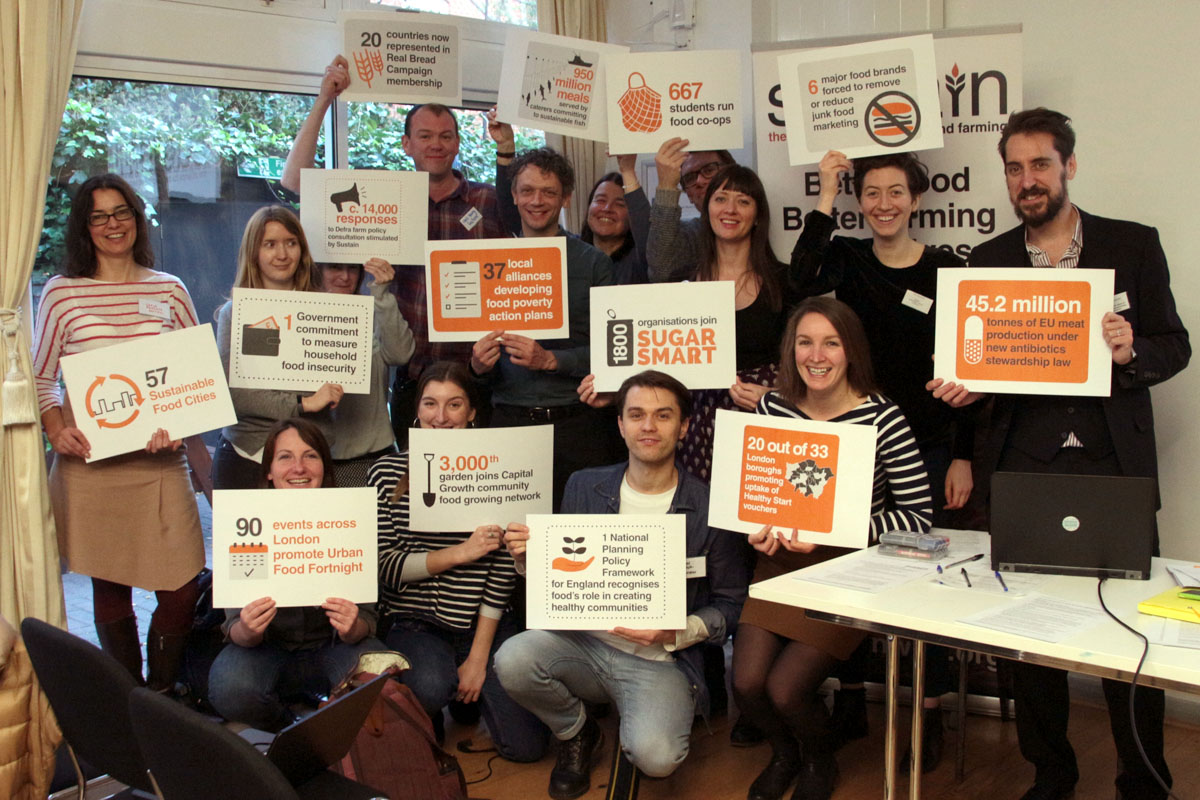 Sustain staff illustrate our achievements 2018-19. Photo credit: Chris Young
This has been another extraordinary year for Sustain. The profound implications of Brexit for farming, fishing, food standards and international trade have become ever more real; our response as a robust alliance ever more needed.
In spring 2018, the Sustain alliance co-hosted with Defra a consultation event on future farm policy, with Secretary of State Michael Gove MP as a keynote speaker. In the autumn, National Food Strategy lead Henry Dimbleby joined us for a vibrant discussion at Sustain's AGM. Throughout the year, our policy team has worked with great dedication to consult with, brief and meet with alliance members, sister alliances, MPs, Peers, parliamentary researchers and the media, to help shape thinking on some of the biggest policy changes that our sector has experienced in decades.
There is so much at stake. Just this spring, Extinction Rebellion protestors brought many streets to a standstill. Young school strike instigator Greta Thunberg brought her compelling message of climate and nature emergency to the world's leaders, with a call to action that Sustain, our members and the towns and cities we work with are rising to respond to. Meanwhile, concern about the impacts of unhealthy and unsustainable diets continues to grow.
The issues that we care about so deeply, and which we and our members have worked on for so many years, are now centre stage. Public debates are positively fizzing about how radically to reduce food waste; eat much less – and better – meat and dairy; shift at scale to agro-ecological farming; secure everyone's right to healthy, affordable and sustainably produced food.
It is 20 years since the Sustain alliance was created to address growing challenges with our food system. Our main birthday celebrations will be held this year and we have not been short of parties over the past year, with the 10-year anniversaries in 2018 for three of our flagship campaigns - Capital Growth, the Real Bread Campaign and Sustainable Fish Cities. It is testament to the power of our alliance and campaign creativity that these initiatives – and others such as the Children's Food Campaign and Food Poverty campaign are going strong – achieving impressive change.
Yet it is also sobering that such initiatives are still needed. Healthy and sustainable food is much better understood and appreciated than 20 years ago, but it is still not the norm. Making it become the norm is the great task ahead of us. We look forward to working with Sustain's members and ever-increasing network of organisations and supporters to achieve it.
Sustain's year in numbers
Welcoming new Sustain alliance members
Over the past year, we have welcomed the following organisations to Sustain's growing membership:
Since joining Sustain in 2004, Ben has helped launch the Food Power network and was a founding member of the Sustainable Food Cities network. Most recently he came up with the 50 Fountains Challenge (run in partnership with Refill), born out of the Sugar Smart campaign which he developed with the Jamie Oliver Food Foundation. He worked with Jamie Oliver's team to get the government to adopt a sugary drinks tax, and set up the award winning Children's Health Fund which piloted the levy with restaurants.
Ben Reynolds
Deputy Chief Executive
Support our charity
Donate to enhance the health and welfare of people, animals and the planet.