Fairtrade heads to the London 2012 Olympic and Paralympic Games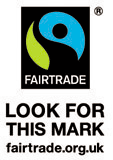 The Fairtrade Foundation congratulates The London Organising Committee of the Olympic Games and Paralympic Games (LOCOG) on their decision to serve Fairtrade bananas, tea, coffee, sugar and chocolate during the London Olympic and Paralympic Games, across 40 locations, as this will help to support farmers, workers and their communities in developing countries.

The decision was published last week in the Food Vision report, which sets the standards for catering at the event, during which 14 million meals will be served.

Harriet Lamb, Executive Director of the Fairtrade Foundation said: "By setting Fairtrade as the standard for many foods at the Olympics, the Committee will help bring the vision of a sustainable 2012 Olympics alive. By asking the catering industry to source Fairtrade products, LOCOG have set new standards for the catering industry for not just this iconic event but future major events – quite a legacy.

"We are now calling on LOCOG to extend this to other aspects of the games such as ensuring Fairtrade certified flowers for the winners and Fairtrade cotton uniforms for the events staff, or using Fairtrade cotton in the bedlinen and the merchandising, so making this the fairest Olympic games ever. Fairtrade works with producer organisations in 59 developing countries and Fairtrade certified products are sold in 22 countries so athletes and audiences alike from right across the world will be cheered to find Fairtrade at the London Olympics. "

Banana farmer Cornelius Lynch from the Windward Islands Farmers Association (WINFA) which was established in 1982 to promote the social and economic welfare of small-scale farmers has welcomed the news. "By choosing to source from Fairtrade which trades with farmers from developing countries on more equal terms, LOCOG are sending out a positive message about the changing the way we trade and making it a fairer playing field."

The Fairtrade Foundation is a member of Sustain, an alliance of NGOs and not-for-profit organisations which been advocating that the 2012 Games food promotes health and sustainability, wins new business for sustainable producers, and creates an important food legacy. Kath Dalmeny of Sustain said: "We are absolutely delighted that the 2012 Olympic Games organisers have recognised the importance of Fairtrade certified products in their Food Vision, because it is important to help farmers to build a sustainable future."

– ENDS –

Notes to Editors
In spring 2009, the London Organising Committee of the 2012 Olympic and Paralympic Games (LOCOG) convened a Food Advisory Group which includes representatives from the farming, catering and food manufacturing industries, the three food sponsors of the Games (McDonald's, Coca-Cola and Cadbury), as well as the Chair of the London Food Board, journalist Rosie Boycott. Sustain's policy director Kath Dalmeny is also a member, and has chaired a working group including NGOs like the Fairtrade Foundation which has made recommendations to the Food Advisory Group.
The FAIRTRADE Mark is a certification mark and a registered trademark of Fairtrade Labelling Organisations International (FLO) of which the Fairtrade Foundation is the UK member. The Fairtrade Foundation is an independent certification body which licenses the use of the FAIRTRADE Mark on products which meet international Fairtrade standards. This independent consumer label appears on products as a guarantee that disadvantaged producers are getting a better deal. Today, more than 7 million people - farmers, workers and their families - across 59 developing countries benefit from the international Fairtrade system.
Today over 4,500 retail and catering products have been licensed to carry the FAIRTRADE Mark including coffee, tea, herbal teas, chocolate, cocoa, sugar, bananas, grapes, pineapples, mangoes, avocados, apples, pears, plums, grapefruit, lemons, oranges, satsumas, clementines, mandarins, lychees, coconuts, dried fruit, juices, smoothies, biscuits, cakes & snacks, honey, jams & preserves, chutney & sauces, olive oil, rice, quinoa, herbs & spices, seeds, nuts & nut oil, wines, beers, rum, confectionary, muesli, cereal bars, yoghurt, ice-cream, flowers, sports balls, sugar body scrub, plus cotton products including clothing, homeware, cloth toys and cotton wool.
Today there are over 450 Fairtrade Towns, 100 Fairtrade Universities & Colleges, over 5,000 Faith Groups and more than 3,000 schools registered with the Fairtrade Foundation.
Share
Get updates
Olympic Food: Sustain ran a five-year programme of work to win healthy and sustainable food standards for the London 2012 Olympic and Paralympic Games.
Menu
Support our charity
Donate to enhance the health and welfare of people, animals and the planet.