London 2012 food achievements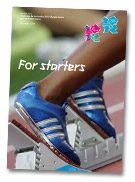 Implementation of the London 2012 Food Vision demonstrated what can be done to achieve healthy, ethical and sustainable food in large-scale catering. Key achievements, implemented by LOCOG's catering team, working with food certification bodies, non-governmental organisations, and some of the UK's largest contract caterers, were as follows:
Fairtrade: A high level of Fairtrade products: tea, coffee, cocoa, bananas, chocolate, sugar, oranges and white and rosé wine.
Animal welfare: 100% free-range shell-on eggs as standard, which in 2011 won the London 2012 organisers, LOCOG, a Good Egg Award from Compassion in World Farming. In some venues, particularly the Athletes' Village and the Media Centre, also a high level of RSPCA Freedom Food pork and chicken, with special efforts to work with chefs and caterers to make higher welfare meat available and affordable.
British farming: A high level of British and seasonal produce, and Red Tractor assured food, particularly milk, traditional cheese, fresh meat, seasonal fruit & veg and bread.
Sustainable fish: Demonstrably sustainable wild-caught fish served, helping to preserve precious marine fish and ecosystems for future generations to enjoy.
Environmental standards for farming: Sourcing of milk from organic-certified farms, ensuring high animal welfare and high environmental standards of production.
Public promotion: Successful championing, with LOCOG and the IOC, of public promotion of Fairtrade, MSC and Red Tractor assurance marks on menus, and free-range eggs, to raise awareness of important food standards with millions of spectators attending the London 2012 Games from all over the world.
Healthier eating: Healthier options served by caterers, and support of LOCOG's provision of free drinking water available at all venues, which proved to be extremely popular, with thousands of spectators bringing their own refi llable water bottles.
Inspiring change in the industry: A London 2012 Food Vision standard that sets the pace and inspires future events organisers to serve healthier and more sustainable food.
---
Sustain went on to coordinate the Food Legacy 2012 programme, winning healthy and sustainable catering commitments from more caterers and large-scale events organisers, and to run ambitious and influential legacy projects such as:
Sustainable Fish City, the campaign coordinated by Sustain for London to buy, sell, serve and eat only sustainable fish. One year on from the London 2012 Games, Sustainable Fish City had already secured sustainable fish pledges from caterers that together serve over 1 billion meals a year.
Capital Growth, the campaign coordinated by Sustain to create 2,012 new community food growing spaces in London by the end of 2012 - a target which we met and surpassed, and the campaign is going strong over 10 years since it was originally launched.
Share
Get updates
Olympic Food: Sustain ran a five-year programme of work to win healthy and sustainable food standards for the London 2012 Olympic and Paralympic Games.
Menu
Support our charity
Donate to enhance the health and welfare of people, animals and the planet.