Real Bread Week raises awareness, dough and smiles
Sharing stories and snaps.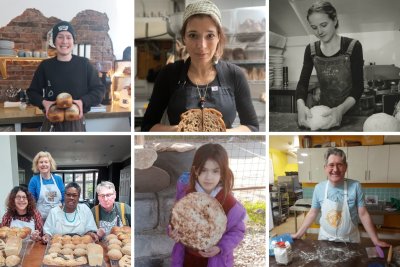 A fraction of the farinaceous fun. Copyright: Various (see below)
The 14th annual international Real Bread Week saw bakers and other bread lovers around the globe baking and raising awareness for the rise of Real bread.
If you made or bought Real Bread; or boosted the Real Bread Campaign (in cash or kind) during Real Bread Week, thank you!
What went on
The Scottish Bread Championship moved 'home' from the summer to Real Bread Week, announcing its awards at the first-ever Scottish Real Bread festival (report coming soon). See photos.
Kitty's Kits started sending out free Real Bread-in-a-bag kits to schools and community groups.
Lemon Tree Trust worked with familes and children making khubz in the community oven at the Azadi Community Garden in Domiz 1 Camp in the Kurdistan Region of Iraq. They noted that this flatbread is "central to Syria's food culture and is an important reminder of home."
Residents and staff at Lanercost House care home in Carlisle enjoyed making bread rolls and a loaf for everyone to share in their Memory Lanes lunchtime. They reported "It was really exciting to experience and we are very proud of the results."
"The teacher in each of our 10 classes chose five Hidden Heroes, children who always do the right thing, to receive bread mixes kindly donated by Kitty's Kits. We started off with pupils from our reception year Silver and Crimson classes, who had the best fun making bread hedgehogs with pumpkin seed eyes." Campaign ambassador Marcia Harris, the Child and Family Support worker at Pakeman Primary School in Islington
"We spent Saturday in the company of genuine bread lovers. During the class we had fun making the white Real Bread we produce every day in the bakery, which won a silver at last World Bread Awards. We used it to make a classic cob, the forgotten cottage loaf and the always fascinating bloomer. I hope that our initiative helped to spread the importance to eat additive-free bread among the people." Giovanni Di Sarno, Mayfield Farm Bakery, Old Harlow
Social media
Our awareness-raising generated more than 4000 #RealBreadWeek #RealBread and #RealBreadCampaign hashtagged posts. These were posted in more than 40 countries, including: Albania, Australia, Bahrain, Brazil, Bulgaria, Canada, Croatia, England, Estonia, Finland, France, Germany, Greece, Hungary, India, Ireland, Italy, Lebanon, Malaysia, Netherlands, New Zealand, Northern Ireland, Pakistan, Palestine, Philippines, Poland, Portugal, Romania, Scotland, Singapore, Slovakia, Slovenia, South Africa, Spain, Sweden, Switzerland, Thailand, Trinidad & Tobago, Turkey, UAE, USA, Wales. The posts included one on Instagram by Jamie Oliver that harvested more than 36,500 likes before the week was out.
Did you buy, bake or boost in any country we have missed off this list?
We secured coverage from media outlets including: 947 (South Africa), BBC Radio Bristol, BBC World Business Report, British Baker, Cape Talk (South Africa), Daily Post, Delicious, Eastern Daily Press, EazyDiner (India), Express and Star, Farmers Guardian, Good Housekeeping, Mayo News (Ireland), Mid-Day (India), New Food, Wicked Leeks and Worcester News.
Did you appear in (or write/publish) Real Bread Week media coverage by another outlet?
During the week, 115 people either joined the Campaign or renewed their support for our work.
Balcony Shirts sold 53 t-shirts, 13 aprons and 7 mugs with the limited edition 'seize the dough' design.
Please send us the dough you raised for our charity's work
Tell us about it
How was it for you? What did you get up to?
We're particularly keen to hear about:
Real Bread Week activities run by/for schools; and community groups/organisations and initiatives.
How Real Bread businesses (mills, bakeries, baing schools) benefitted from getting involved - improved sales, media coverage, making new connections etc.
Any Real Bread firsts – bakeries opening, local grain networks launched etc.
And...
Please send us an email.
Let's see the faces behind ther rise of Real Bread
We'd love to see and share your PEOPLE pictures taken during the week. Please email your photos of you and/or other people:
making Real Bread or holding Real Bread you baked or bought. (No photos of just bread without people in them, thanks.)
Planting wheat/grain and/or milling flour.
Other Real Bread week events/activities you organised
Please advise the credit (eg photographer name) and copyright / Creative Commons license details. Please also confirm that both the person/people shown and the copyright holder gives the Real Bread Campaign / Sustain permission to publish.
Save the date
Real Bread Week 2024 runs from 17-25 February: Put it in your calendar now!
Before that, don't forget to start making your plans for Sourdough September.
In the meantime, EVERY week is a time to:
---
Photos Thanks to and © @vince_is_caffeinated @purekneadbakery, @charlottessourdough, theloaftinbakery, @bake88_, @lemontreetrust and David Bates.
Support our charity
Your donation will help support the spread of baking skills and access to real bread.