Free Real Bread kits for Breaducators
Kitty's Kits available to Real Bread community initiatives.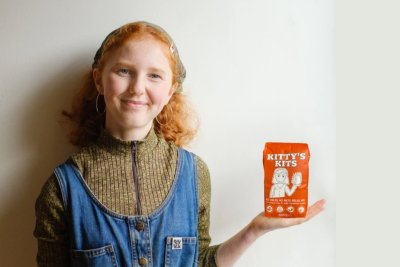 Kitty Tait and kit. Copyright: Kitty's Kits
Following a hugely successful crowdfunding campaign, past Real Bread Campaign ambassador Kitty Tait's Breaducation initiative has 10,000 'bread-in-a-bag' kits to give away.
Run a food bank or free / at-cost bread making workshops in a school, prison or any sort of community setting? You can apply for free kits.
Baking for yourself, or running baking sessions but don't need to claim a free kit? Buying a Kitty's Kit will fund a free kit for the Breaducation initiative.
If you don't want/need a kit, you can still make a donation to the scheme.
Kitty's Kits contain only flour, baker's yeast and salt. Kitty decided to make these 'just add water' bags, and to advocate the no-knead method, in order to make Real Bread making as approachable as possible.
Kitty says that the kits "can make an infinite variety of different carbs from bagels to boules, focaccia to flatbread but don't worry I'll be sharing recipes and videos every week. This week I'll be showing how you can make bagels. garlic butter flatbread, bialys, olive and walnut bread, crusty boule, Marmite and cheese rolls and.......pizza!"
Recipe videos will all be posted by the @kittys.kits Instagram account.
"Can't wait to see your bakes!" says Kitty.
Support our charity
Your donation will help support the spread of baking skills and access to real bread.