Everyone is invited to bake to the future.
20-28 February.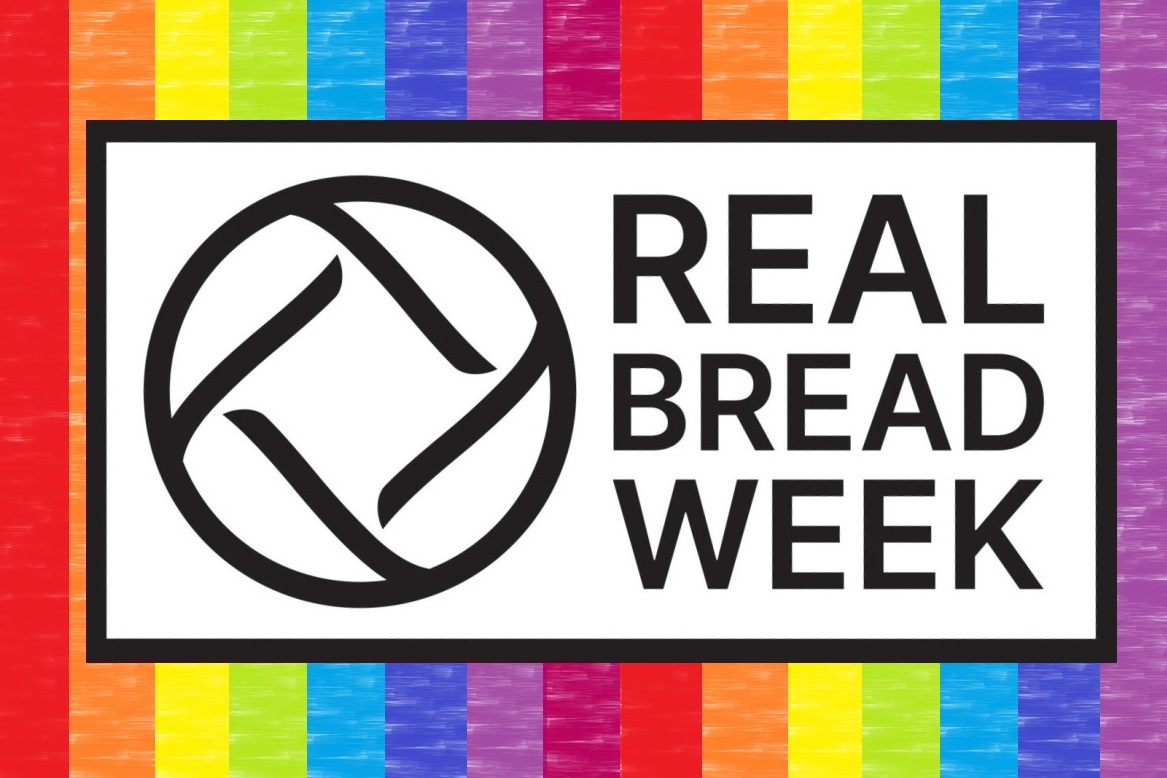 2020 saw the popularity of Real Bread making, buying and even microbakery startups surge. Bonds between bakers and their neighbours have been strengthened, and the place of independent bakeries at the hearts of their local communities is being reinforced. Meanwhile in crowded and lonely homes alike, people are benefitting from the therapeutic nature – and sheer enjoyment – of making Real Bread.
This sets the stage for Real Bread Week (20 to 28 February) the annual, international celebration of delicious, nutritious, additive-free loaves, and the people behind their rise to be the biggest yet.
What is Real Bread Week?
Created and run since 2010 by the Real Bread Campaign, Real Bread Week's main aims are to encourage and help people around the globe to:
Real Bread Campaign coordinator Chris Young said: "We're working towards a future in which everyone has the chance to choose Real Bread, whether skilfully crafted by a local baker or lovingly made at home."
What's doughing on?
Bakeries, baking schools, mills, schools, care homes, local markets, grain networks, youth and other community groups around the world will be running classes and other activities. Though most organisers don't get round to adding the details to the Real Bread calendar, activities that we do know about this year include:
Hen Corner: Online classes - How to make bread (22nd) Microbakery (26th).
Toast Ale x Hobbs House Bakery: Baker's Witbeer launch. Brewed using surplus organic slices, this is the first beer to carry The Real Bread Loaf mark. Part of Toast's Rise Up campaign with fellow B Corps, highlighting the negative environmental impact of our food system to galvanise action ahead of COP26 (25th)
Virtuous Bread: A free Zoom bake along (21st and 28th)
Bretzel Bakery: Covid-safe pop-up Real Bread stalls in Rathfarnham (20th) and Killester (26th and 27th)
Britain Loves Baking: Kids' baking kits that make two loaves for £5, with 20 being given away, plus free online bake along (date TBC)
Bake It Forward
A number of Bread Angels microbakeries and others will be running bake it forward schemes for #RealBreadWeek, or are running them already. A customer buys two loaves, one of which goes to someone less able to afford it. In some cases bakeries even do this as 'you buy one, we give one.' Those we know of include:
Bread In Common: Buy a loaf for yourself and a loaf to go in another Stoke family's food bag via the local Fareshare scheme. (order by 24th for delivery on 26th)
Hen Corner: For every bakery order and class booking in the week, Sara will bake an extra loaf for Hounslow Community FoodBox.
Ma Baker: Customer's are invited to pay for a loaf to go to Hammersmith and Fulham Foodbank but Liz acually donates two loaves.
Scotland The Bread: Inviting people to buy Solidarity Bags of heritage wheat flour, which will be sent to bakeries and community organisations to distribute to local people, either to bake with or already crafted into Real Bread.
The Crow's Rest Bakehouse: Customers can donate £1.50, which helps to subsidise the Real Bread Alexandra bakes for City of Sanctuary Wakefield.
This is what a Real Bread baker looks like
Once again, our friends at Balcony Shirts are producing limited-edition t-shirts, aprons and mugs, making a doughnation to the Campaign for each sold. This year's exclusive This Is What a Real Bread Baker Looks Like design is available until 10 March only from www.realbreadshop.co.uk
#WeAreRealBread
From farmers to millers to bakers and beyond, people of every age, nationality, colour, sex, gender identity, ethnic heritage, (dis)ability, neurological status, religion and economic background worldwide enjoy Real Bread and are involved in its rise.
The Campaign encourages all Real Bread makers to share #WeAreRealBread selfies of themselves in action or holding loaves they make during #RealBreadWeek – even better if they're wearing the t-shirt or apron! Everyone else is welcome to post selfies holding #RealBread they've bought from local, independent bakery. Last year saw more than 2000 posts from at least 37 countries.
Look for the Loaf Mark!
Throughout the pandemic, local Real Bread bakeries have been there for people in their local communities. Real Bread Week is a perfect time for people to swing by (or order a delivery online) to give a little extra love back. People can find places to buy from over 1000 bakeries on the Real Bread Map and keep an eye out for The Real Bread Loaf Mark for a bakery's at-a-glance assurance of additive-free loaves.
We knead dough
For many years, the Real Bread Campaign has received no grants or sponsorship, relying instead on contributions from people who support its work. As well as joining the Campaign and making a doughnation, people can help by buying these gifts:
Real Bread t-shirts, mugs and aprons from Balcony Shirts
A Real Bread dough-scoring UFO lame from Wire Monkey
Sourdough Slingers t-shirts and aprons
The Real Bread baking box from Bakers Love Britain
Slow Dough: Real Bread, published by Nourish Books
A slice from each sale goes towards helping the charity Sustain continue its bready work.
A number of bakeries - including Ritchie's Bakehouse in Vancouver, and Aston's Bakehouse, which has a number of London Farmers' Markets stalls - will doughnate a percentage of takings to the Campaign.
Find full details about all of the above and more at www.realbreadcampaign.org
Get social with us
@RealBread (Twitter)
@RealBreadCampaign (Instagram and Facebook)
Suggested social media posts
Feel free to adapt or create your own.
Campaign supporters can login to download the Real Bread Week logo.
Twitter
It's #RealBreadWeek, @RealBread's annual, international celebration of additive-free loaves and people behind their rise. Find bakeries, recipes, classes, t-shirts and more here>> www.sustainweb.org/realbread/national_real_breadmaker_week/ #baking #bread #RealBread
It's #RealBreadWeek! Share your #WeAreRealBread selfie holding #RealBread you've baked or bought with @RealBread and the world. Find details here>> www.sustainweb.org/realbread/national_real_breadmaker_week/ #baking #bread
Instagram
It's #RealBreadWeek, the annual, international celebration of additive-free loaves and people behind their rise.
Created and run since 2010 by the @RealBreadCampaign, Real Bread Week's main aims are to encourage and help people to:
>>Buy Real Bread from local, independent bakeries
>>Bake their own Real Bread
>>Support Sustain, the charity behind the Real Bread Campaign
Find bakeries, recipes, classes, t-shirts, how to support the charity's work and more at: www.realbreadcampaign.org
#RealBread #bread #baking #bakery #microbakery #localfood #homebaking #homebaker #smallbusiness #sme #bakerslife #artisanbread #artisanbaker #sourdough #community #bakersofcolor #localbakery #instabread #bakersofinstagram #breadbosses #breadstagram #WeAreRealBread #charity
Facebook
The same as Instagram, but linked directly to www.sustainweb.org/realbread/national_real_breadmaker_week/
Published 20 Feb 2021
Real Bread Campaign: The Real Bread Campaign finds and shares ways to make bread better for us, better for our communities and better for the planet. Whether your interest is local food, community-focussed small enterprises, honest labelling, therapeutic baking, or simply tasty toast, everyone is invited to become a Campaign supporter.
Support our charity
Your donation will help support the spread of baking skills and access to real bread.