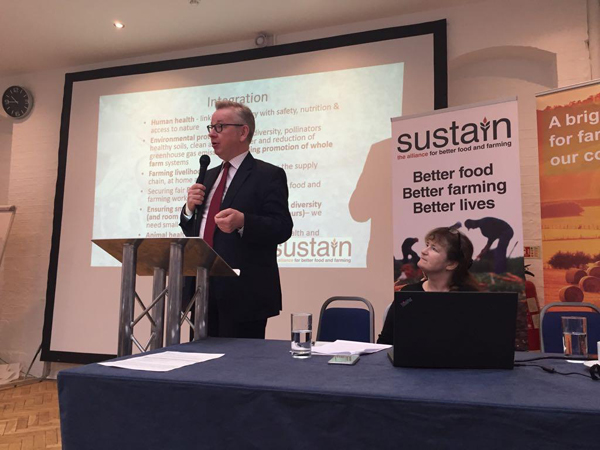 Defra Secretary Michael Gove speaking at a consultation event co-hosted by Sustain and Defra, 10 April 2018; with Sustain's Vicki Hird preparing to respond
If you do one thing today…
Tell Defra Secretary of State Michael Gove what you want from future farm policy: TAKE ACTION NOW
Defra's landmark farm policy consultation is a mixed bag - with some big gaps - but could deliver some of the better farming outcomes we know are needed for the environment, nature, farmers, animal welfare and rural communities. These early ideas need developing and backing. We are seriously concerned about the lack of reference to human health (as this blog highlights) and to important sectors like organic, family farming and farm workers.
Submit your response to the government's farming consultation using either Sustain's simplified online tool, or respond directly using Defra's online version (which will take a bit longer): the deadline is 8 May 2018. A clear win would be to ask Defra to include "public health" in the list of "public goods" that will be supported by UK agriculture policy – ideally also UK trade policy.
Sustain is finalising a full response to the Defra consultation, to which our Sustainable Farming working party and others are contributing. Contact: vicki@sustainweb.org
And apart from that… Brexit food, farming and fishing policy is really kicking off now, with now less than one year to go to exit day. Hold on to your hats for a bumpy ride and a bumper news update! Our summary of recent developments is below. Please do keep on sharing your insights and news – it really helps.
Kath Dalmeny
Chief Executive, Sustain: the alliance for better food and farming
www.sustainweb.org/brexit; @UKSustain

---
Contents
---
Sustainable farming
Get on Sustain's sustainable farming email list here: www.sustainweb.org/foodandfarmingpolicy/

Michael Gove speaks at joint Sustain-Defra consultation event
Secretary of State for Defra Michael Gove has talked of public health objectives in farm policy. At the packed consultation event co-hosted with Sustain and Defra on 10 April, Michael Gove urged people to respond to the Defra consultation on Future Farming, saying "I want a food and farming policy that reflects what the people in the country want – higher standards and better outcomes." Noting that farming is for food, and hence intimately connected to health, he said that government should be prepared to act, "not as nanny, but as a guide and to promote incentives and remove perverse incentives.... to identify ways we can support high quality food production that ensure what ends up on our plates isn't just a source of pleasure, but also a source of sustainable good health. And harmony – if we produce food good for us, it will also be good for the planet and the natural world and our environment." Read Sustain's brief write-up; and respond to the consultation.

Farming, conservation and environmental groups call for diverse farming
A group of farming, conservation and environmental groups – including CPRE, Tenant Farmers Association and Sustain – have released a statement calling for the protection and enhancement of farm diversity as a core purpose of the new agriculture bill. Measures proposed would help deliver the food we need whilst creating a resilient and dynamic farming industry, which works for the wider community as well as for the environment.

Food, Farming and Countryside Commission sets to work in earnest
Explore the work of the Food, Farming and Countryside commission, and get on their mailing list at: www.thersa.org/action-and-research/rsa-projects/public-services-and-communities-folder/food-farming-and-countryside-commission

The RSA's Food, Farming and Countryside Commission – has launched in earnest its programme of research, consultation and thoughtful deliberations. In a recent inspiring blog, Commission chair Sir Ian Cheshire poses the important challenge to government on the need to adopt integrated policy, pointing out that "decisions on trade, housing, immigration, health, work and pensions, energy, transport and industrial strategy, and by the Treasury, will make or break [the] ambitions that Gove has set out" for the future of the UK's food, farming and countryside, necessitating "a mandate from citizens to challenge deep-rooted expectations about what our food costs and what our countryside is for". The Commission is therefore "reaching out to the citizens and communities across the UK and intent on hearing all voices".

The Commission has begun a seven-month UK-wide bicycle-powered tour, engaging rural communities across the UK's four nations. On her first week on the road, researcher Lynne Davis cycled through Essex and Suffolk, reaching parts of the country that most policy research programmes don't engage with directly. As Lynne says, "Without listening to and learning from those who make up the rural economy, working in our food and farming system to bring 200 millions meals per day to our plates, the policy transformation that Brexit requires is unlikely to have a mandate from those on whose shoulders it rests." Her first report back on this momentous yet patient and thoughtful process is on the RSA website.

Living in Scotland? Take part in a Kitchen Table Talk on future food policy
Take a moment to sit down with friends or family to talk about your concerns and hopes for the future of food in Scotland. Our food system is ripe with problems, but the Good Food Nation Bill is a key opportunity to take our food in our hands and bring fairness, sustainability, and democracy at the centre of Scottish food law and policy. By doing Kitchen Table Talks and sharing the outcomes with us, you will be helping shape the Good Food Nation agenda and making sure this unique opportunity isn't missed.

UK horticulture faces up to staffing problems… and offers solutions
The Guardian has highlighted that Brexit fears and the falling pound have left fruit and vegetable farms short of more than 4,000 farm workers, according to 2017 survey data from the National Farmers Union (NFU), which covers about half the horticultural labour market. The proportion of workers returning to work in the UK after previous years is also dropping fast, from 41% in 2016 to 29% in 2017.

The Landworkers' Alliance, working with Growing Communities, has launched a plan to boost UK's post-Brexit horticulture production. Their report, based on extensive professional experience of supporting smaller-scale and agro-ecological producers, sets out a series of practical proposals, accompanied by illustrative case studies, for a scheme dramatically to increase local fruit and vegetable production following Brexit.

Meanwhile, hotels, pubs, bars and restaurants report they are on a hiring spree – despite a consumer downturn – because they fear a shortage of migrant workers when Britain leaves the EU.

Scotland's farming policy must address climate change
Farming and environmental groups in Scotland have written to Cabinet Secretaries for Climate Change and the Rural Economy, calling on the Scottish Government to use the new Climate Bill to drive a just transition to a carbon-neutral, resilient farming sector by 2050 at the latest – including action on nitrogen, soil and promotion of agro-forestry.

Farming and fisheries in the spotlight for four-nation decision-making
The Institute for Government has published a report on Devolution after Brexit, "Managing the environment, agriculture and fisheries", recommending changes to the way the governments of the UK nations interact and make decisions. Environment, agriculture and fisheries policy are especially significant in terms of EU-derived policies and powers in relation to the Devolved Administrations, together making up "41 of the 153 areas in which powers returning from the EU are devolved". Further, "Of the 24 areas which the UK Government believes will need some form of legislative framework, 19 relate to these policy areas." The Institute for Government comments extensively on committees, processes, institutions and distribution of funding to enable four-nation agreement. The Institute recommends that:
The promised new environmental watchdog should have a four-nation remit and would be more robust if it reports to, and is co-funded by, the four legislatures.
Other public bodies established to replace the functions carried out by EU agencies in these policy areas should be UK-wide where possible, to pool expertise, be more cost efficient, and reduce compliance costs for business – co-designed by the UK Government and the Devolved Administrations, and with increased capacity to deal with increased workload and four-nation responsibilities. Examples cited include those replacing functions of the European Food Safety Authority, the European Chemicals Agency and the European Environment Agency (noting that the UK's relationship with these are still subject to negotiation).
The Joint Ministerial Committee should be updated to deal with Brexit-related governance, with meaningful opportunities for civil society and industry to make a positive contribution.

Sustainable farming good reads
One year to Brexit: What's been agreed - what's still to be settled? A helpful summary from IEG Policy: Agribusiness Intelligence.
Is Britain sleepwalking into a food crisis? asks Thomas Lines, providing useful data and economic analysis of the current state of UK farm incomes, the underlying losses papered over by subsidies, price volatility and trends in commodity prices, concluding that "If our farmers cannot afford to continue in business, who will feed the rest of us?"
A paper from the Green Alliance backed by the Co-op, Nestlé, Sainsbury's and Tesco, argues that the EU-UK Brexit negotiations should deliver a more sustainable food system, not just a greener environment, including good environmental reporting, investment in farm-based innovation, and standards safeguarded in trade deals.

Upcoming event
Book your ticket now for the Future of Farming conference, 27-28 April at Fir Farm in Gloucestershire, run by the Sustainable Food Trust and featuring talks by Secretary of State for Defra Michael Gove and NFU President Minette Batters, among many others.
---
Sustainable fish
Get on Sustain's sustainable fish mailing list here: www.sustainweb.org/sustainablefishcity/

Sustain calls on Labour Party to support sustainable UK fish
The Sustain alliance's Sustainable Fish project has called on the Labour Party to make all UK fisheries verifiably sustainable. In response to the Labour Party's consultation on coastal communities, we set out the case for helping all UK fisheries to become either Marine Stewardship Council (MSC) certified or green-rated by the Marine Conservation Society, to allow UK caterers, restaurants and suppliers to buy sustainable fish confidently from UK fishers.

UK fishing industry feels economic and policy pain
Protests around the UK have been organised by the very vocal Fishing for Leave, making the forthcoming Brexit deal and UK Fisheries white paper ever more contested territory (if they weren't so already!)

Some EU countries have been reported as demanding their continued right to fish in UK waters under the Brexit deal. Meanwhile, Defra Secretary Michael Gove has told the fishing industry that he shares their "disappointment" that current fishing policy will continue unchanged through the Brexit transition period, but urged them to keep their "eyes on the prize" of gaining control. The EU is reportedly prepared to allow the UK a say in the negotiations on setting the allowable catch for the EU fleet even after the formal exit date of 29 March 2019.

The Times has provided interesting commentary on how much of UK fishing quota is in any case owned by other countries. And Greenpeace's Unearthed project has documented evidence that, "Small-scale fishermen in England are struggling to retain their livelihood, while multi-million pound companies buy up the majority of fishing right," stating that, "Nearly half of the England and Wales' quota is held by companies based outside the those countries, despite reforms to the EU's fisheries policy, which encourage national governments to allocate fishing quota on social and environmental grounds."

Sustainable fish good reads
'Plenty more fish in the Brexit sea?' is an in-depth article from the BBC's business and economy editor for Scotland, providing helpful data and analysis on the current state of UK fisheries, and the complex web of factors affecting fishing incomes, quotas and fishing rights, fisheries conservation status, fishy political machinations and the likely negotiating position of the EU27.
"To really take back control of UK fisheries we must treat fishing rights as a public resource", argues Griffin Carpenter of the New Economics Foundation, who has also provided plenty of helpful commentary and expert analysis, including this on fishing quotas, and the importance of retaining the EU as an export market for UK fishers.
Governor of the Bank of England Mark Carney has warned of 'market failures' from overfishing in the world's oceans.
---
Environment policy
Follow the Greener UK alliance on Twitter: https://twitter.com/GreenerUK_
Are 'green Brexit' promises wearing thin?
"Time is running out and we need to act now for nature's recovery and a healthy environment," says the Greener UK alliance of environmental groups working together for a green Brexit. They argue that new laws should build on the strong foundations of the full body of existing environmental law and result in:
Ambitious and measurable goals for nature's recovery and a healthy environment.
Strong principles to underpin fair and far-sighted decision making.
Independent institutions to uphold environmental law, champion citizens' rights and prevent the roll-back of existing environmental protections.
A Westminster Environment Act will be an important part of this, as will relevant legislation in the devolved legislatures. Read the Greener UK briefing here.

As Britain approaches its departure from the EU, legal advisor to the RSPB Carol Day asks what will replace the EU's crucial legal institutions, which enforce environmental standards and provide routes for challenging Westminster, especially in a context of reduced support for Judicial Reviews and increasing court costs? Carol poignantly comments that "Inadequate access to justice is a chill wind that blows nobody any good."

Local election purdah has begun, meaning the delayed governance consultation covering a proposed new environment watchdog and environmental principles cannot now appear until at least May. Greener UK continues to convene specialists to discuss how the new body could work in relation to existing agencies like the Natural Capital Committee, the Environment Agency and the Climate Change Committee.

The House of Lords Select Committee on the Natural Environment and Rural Communities Act 2006 has concluded that the Government has diminished the resources given to departments and bodies that protect the UK's natural environment and promote the needs of rural communities. The Committee argues that this has had a profound, negative impact on England's biodiversity, environment and the social and economic welfare of rural areas, and must be addressed.

Michael Gove delivers keynote speech at Prosperity UK
A rapidly convened and well-attended conference on Green Brexit (organised by Prosperity UK) heard a keynote from Defra Secretary of State Michael Gove, and speeches from Natural Capital champion Dieter Helm, NFU President Minette Batters, WWF campaigns director Tony Juniper and ClientEarth chief executive James Thornton, among many others – with panel contributions from others, including Sustain's chief executive Kath Dalmeny and several Sustain alliance members. Videos of all sessions are now available online.

EU calls for UK to retain environmental law
The EU's chief Brexit negotiator Michel Barnier has proposed that the Brexit deal should include a legally binding 'non-regression clause' to stop the UK lowering its environmental standards.

Environment good reads

Upcoming event
Law firms Leigh Day and Matrix Chambers are hosting a seminar on Environmental Governance post-Brexit on 26 April, in London. Contact: events@leighday.co.uk


---
Defending our food standards
Where have all the food police gone?
Fresh analysis from the Sustain alliance suggests that Britain's domestic regulators are hopelessly ill equipped for the extra work load that leaving the EU will entail. Cuts identified include:
Food Standards Agency: budget sliced by over a quarter since 2011.
Trading Standards Institute estimated cut in staff of 57%.
Local Authority food law enforcement officers: 22% drop.
Chartered Institute for Environmental Health: 47% of respondents to a workforce survey stated that resources "were only just adequate to provide a basic statutory service, left no contingency and that any further cuts would compromise service delivery".
A National Audit Office report on real-terms reductions in government funding for local authorities, and local authorities' spending power.

Northern Ireland and food – a focus for border concerns
The absence of serious consideration of food flows into, out of and through Northern Ireland is a significant policy omission in the ongoing Brexit negotiations, argue Professor Tim Lang and authors from the Chartered Institute of Environmental Health. Food is central to the economy of Northern Ireland, and the continuing supply of safe, high quality, healthy food is currently dependent on the absence of border controls between Northern Ireland, the Republic of Ireland, Great Britain and the rest of the European Union. Hundreds of thousands of tonnes of food criss-cross these borders every year, and any changes will risk increased costs, barriers to trade, and risks of food contamination and fraud. The report is downloadable here: Food, Brexit and Northern Ireland.

The House of Commons Northern Ireland Select Committee has described the Government's ideas on the Irish border as 'imaginative' and criticised lack of sufficient progress on the issue. The Commons House of Commons Select Committee that scrutinises the Brexit department DExEU has argued for a soft form of Brexit, with an open Irish border, no tariffs on trade with the EU, convergence of standards and fair and reciprocal access to fisheries.

Defending food protections from de-regulation
The House of Commons Regulatory Reform Committee is inquiring into the effectiveness of the Government's deregulation agenda (deadline for submissions: 20 April 2018). Sustain has contributed to a joint response with the New Economics Foundation and British Safety Council, highlighting severe cutbacks to the UK bodies that inspect and safeguard our standards, and associated worrying upward trends in problems with safety and pollution.

A new think tank is to be formed by the Chartered Trading Standards Institute (CTSI) to check that EU standards remain in place and robust after Brexit, and to ensure no loopholes in important standards such as food labelling.

The Red Tape Initiative led by Oliver Letwin MP reported in March that it had identified 50 pieces of EU regulation to be axed after Brexit. The list is not yet available and food and farming standards have not been mentioned, but we will keep a watchful eye. A representative of the Red Tape Initiative has recently commented that: "The experience of speaking to hundreds of business people about Brexit has been revealing. I would have thought there would have been more appetite for large scale deregulation than what we're finding so far."

The consumers association Which? has launched a Consumer Charter for Brexit. Which? states that, "We believe that the success of Brexit will ultimately be defined by what it delivers for consumers and what matters to them most – choice, prices, standards and rights. Our Charter sets out consumer tests for Brexit on these four themes alongside the outcomes we want to see delivered for consumers in areas such energy, travel and food." The Consumer Charter proposes four consumer tests – principles that matter most to consumers: Standards, Choice, Rights and Price.

Weakening UK food law enforcement would be a risky tactic in Brexit, say Professors Erik Millstone and Tim Lang in their latest briefing. They explain that the UK Food Standards Agency (FSA) is beginning to roll out a far-reaching programme of regulatory change called Regulating Our Future (ROF). This Briefing Paper argues that ROF risks making the UK's food supply less safe, undermining the ability of UK food producers to export to the EU after Brexit, and creating irreconcilable conflicts of interests.

Support grows for UK to stay in the EU chemicals regulatory system
The CHEM Trust has heightened its call for the UK to stay in the EU chemicals regulatory system REACH, following Prime Minister Theresa May's indication that this would also be a preference for the UK Government. CHEM Trust explains that, "REACH is the most sophisticated chemicals regulatory system in the world. In our view leaving it will weaken the protection of human health and the environment in the UK from harmful chemicals – as well as damaging UK businesses."

---
International trade in food
Read the Sustain alliance's 10 red lines for trade in food.

Will international trade deals promote or undermine our health?
Sustain and the Royal College of Paediatrics have expressed concerns that a future trade deal with the US could fuel the obesity and diabetes crisis by undermining UK efforts to reduce sugar consumption and import American levels of diet-related diseases alongside their highly processed foods. Similar concerns have been expressed in reports discussing the hidden calorie cost of the NAFTA trade agreement, and US opposition to junk food warning labels and interpretive or colour-coded food labelling. We assume they may object to the UK's Soft Drinks Industry Levy, which came into force on 6th April; read our report here

Sustain submitted a response to the EFRA Committee inquiry on Brexit and trade in sugar. We reminded the committee that UK policy aims to reduce sugar consumption to tackle obesity, tooth decay and diabetes. This should not be undermined by making sugar cheaper again. Enhancing quality standards (e.g. via environment and nature objectives) and diversification strategies for both farmers and workers could help deliver for a 'less and better' sugar demand. We also need full transparency and parliamentary scrutiny over trade policy and trade deals, informed by sectoral impact assessments.

The UK Public Health Network ran a very useful seminar on 'healthy trade' on 23 March, with expert presentations from the UK Trade Policy Observatory; Sustain trustee and UK Health Forum policy specialist Modi Mwatsama; and Mark Weiss of Sustain member the Faculty of Public Health (among others). They shared concerns about the lack of transparency and health impact assessments for UK trade deals, cautionary public health tales from US trade deals with other countries, and likely contentious issues. Notes and presentations are available on the Network's website.

Industry predicts a 'hidden hard Brexit' for food and drink exporters
The UK is a major producer and exporter of high quality food, selling over £22 billion in overseas markets. Multiple ingredients in those UK products can themselves be home-grown and/or imported from around the world. According to the Food and Drink Federation and the National Association of British and Irish Millers, this could pose significant challenges for food manufacturers, if a post-Brexit customs union between the EU and UK falls off the negotiating table. Under various scenarios of free trade arrangement, 'rules of origin' would apply, meaning that if a product were not deemed to be sufficiently 'British', it would not qualify for preferential tariff rates, and therefore be subject to significantly greater export costs.

Potential UK trade partners start to indicate their agendas
The 2018 National Trade Estimate Report on Foreign Trade Barriers has been published by the US Office of the United States Trade Representative. This report sets out, country by country by trade bloc, what the US trade department thinks are barriers to trade. The US highlights European rules it would like to see changed, including the European CE Mark, REACH chemicals regulation, sustainability certification, country of origin labelling, nutritional and other health labelling, agricultural quality schemes (PDOs, PGIs and TSGs), certification of animal welfare, animal cloning, and 'pathogen reduction treatments' (including the now infamous chlorine-dipped chicken).

Australia is reportedly set to demand that Britain imports hormone-treated beef under a post-Brexit trade deal. Hormone-treated beef has been banned for years from all EU countries on safety grounds. International Trade Secretary Liam Fox is reportedly understood sympathetic, arguing that it would reduce meat prices for consumers. The Times reported and Sustain commented.

The public believes in standards? Work harder to persuade them they're wrong!
Research for an extraordinary report was undertaken for the free-trade Legatum Institute by founder of the Taxpayers' Alliance, Matthew Elliott. It found that the majority of both Labour and Conservative voters associate free-market capitalism "with greed, selfishness and corruption more than anything else". Further, "We find that on almost every issue, the public tends to favour non-free market ideals rather than those of the free market. Instead of an unregulated economy, the public favours regulation. Instead of companies striving for profit above all else, they want businesses to make less profit and be more socially responsible. Instead of privatised water, electricity, gas and railway sectors, they want public ownership. They favour CEO wage caps, workers at senior executive and board level and for government to reign in big business. They want zero hours contracts to be abolished." The conclusion? Matthew Elliott recommends that proponents of free-market capitalism fight back against inconvenient public opinion and up their communications game.

International trade in food good reads
What are geographical indications and what do they mean for post-Brexit UK? A helpful explanation from Peter Ungphakorn and the UK Trade Forum of protected food names for artisan foods, and why they are so contentious in international trade deals, with further comment in the Artisan Food Law newsletter.
This Twitter thread gloriously unpicks 'cheap food' and 'no tariff' myths promoted by Jacob Rees-Mogg and The Sun (who has since deleted their original story, but the Twitter thread reproduces it for posterity).
---
EU Withdrawal Bill (Repeal Bill)
For wider progress updates, join the Repeal Bill mailing list: https://repealbill.org/

The EU Withdrawal Bill trundles on; now in the House of Lords Report stage (until 8 May). The Government has also issued a response to Constitution Committee recommendations, providing for example:
A technical legal response on the status of EU-derived law post-Brexit and principles for how these can be amended in future, stating that: "The Government intends to make an amendment requiring Ministers to explain why it is appropriate where they provide for a legislative function to be exercised other than by a Minister through SIs and for an annual report on the exercise of those powers to be laid before Parliament."
Confirmation of establishment of a 'sifting committee' to help manage the large amount of EU-derived legislation that will need to be amended before adoption into UK law.
Confirmation of the intention to ensure that UK courts "should in no way be bound by, or required to consider, anything done by the Court of Justice of the EU (CJEU), an EU entity or the EU itself after exit day, they should be able to take such things into account where it is helpful to do so".
Comments on legislation and powers in relation to the Devolved Administrations, seeking to balance devolved matters with "retain[ing] a mechanism to protect our internal market, our common resources, and our reputation as a credible international trading partner", with a requirement for Government to consult.
Meanwhile, both the Scottish and Welsh Governments have indicated that they will withhold legislative consent for the EU Withdrawal Bill (and the Trade Bill). They have expressed concern that the provisions in these Bills would diminish the existing competencies of the devolved legislatures and executives. A fascinating briefing paper from the House of Commons Library comments on the implications of the 'legislative consent convention', commenting that Westminster could legally go ahead and ignore formal objections from the Devolved Administrations but, "To do so, however, would be a constitutionally unprecedented course of action, the Government having explicitly acknowledged that the convention applies to [the Scotland Act 1998 and the Government of Wales Act 2006]."

Policy should 'do no harm' to public health
The Faculty of Public Health and a coalition of public health groups have been supporting a Lords amendment to the EU (Withdrawal) Bill, called the 'Do No Harm' amendment, and tabled by Crossbench Peer Lord Warner. Peers from across the political spectrum spoke in favour of insertion of a new clause: "In carrying out their duties and functions arising by virtue of this Act, a Minister of the Crown or a public authority must have regard to the principle that a high level of human health protection must be ensured in the definition and implementation of all policies and activities."

Lord Warner received a Ministerial assurance that there will be no rollback of public health standards, but no commitment to put a "high level of human health protection" on the face of the Bill. The Faculty is continuing to work with parliamentarians to champion this vital amendment, backed by nearly 50 leading public health groups; read more here.

Environment and health policy should continue to be 'precautionary'
Greener UK alliance members are supporting environmental amendments to the EU Withdrawal Bill at House of Lords Report stage, emphasising in particular environmental principles (such as polluter pays and the precautionary principle) and governance. Amendments have both tabled by Baroness Brown of Cambridge (Julia King DBE) and are supported by Lord Deben (Sir John Gummer).

Workers' rights need to be defended
The public sector union UNISON, a member of Sustain, has published an EU Withdrawal Bill briefing for the House of Lords, encouraging Bill amendments that would – among other measures – secure the scrutiny and limit the scope of delegated powers; and promote powers to amend UK law to ensure compliance with international obligations, including those relating to workers' rights and protections.

Trades unions – including Sustain members Unison and Unite – have also continued to express their concerns and support amendments to secure workers' rights and protections through the EU withdrawal process. Their concerns are summarised in a document from the Trades Union Congress (TUC).

Read the UNISON and TUC briefings here.

Tracking Statutory Instruments
Sustain is dipping our collective toe into assessing how our alliance could track and respond to changes in UK legislation necessitated by the repatriation of powers and responsibilities to the UK from the EU. A letter from Defra's Secretary of State to Neil Parish MP, Chair of the EFRA committee, shows that Defra:
Has identified 850 pieces of legislation as a result of Britain's decision to leave the EU.
Envisages needing to make around 100 Statutory Instruments (SIs)
Is planning on how best to engage and consult with stakeholders on their SIs programme by setting up a consultation group to provide external advice.
Currently assumes a breakdown of expected SIs, which excludes secondary legislation being considered under the Agricultural and Fisheries Bills, consisting of
Animal and plant health: 32
Environment: 27
Fisheries: 2
Food and farming: 34
Interested in Statutory Instruments?! Do get in touch. kath@sustainweb.org
Share
Get updates
Brexit: We stand at a cross-roads. When the UK leaves the European Union, will our leaders uphold good standards for our food, farming, fishing and trade deals? And will they agree a sensible deal with the EU? We need to make sure that they do!