The UK must measure up on 'true' food security
Whatever you think of the term "food security", it will soon be in UK law, so let's make the best use of it that we can, argues Sustain's chief executive Kath Dalmeny.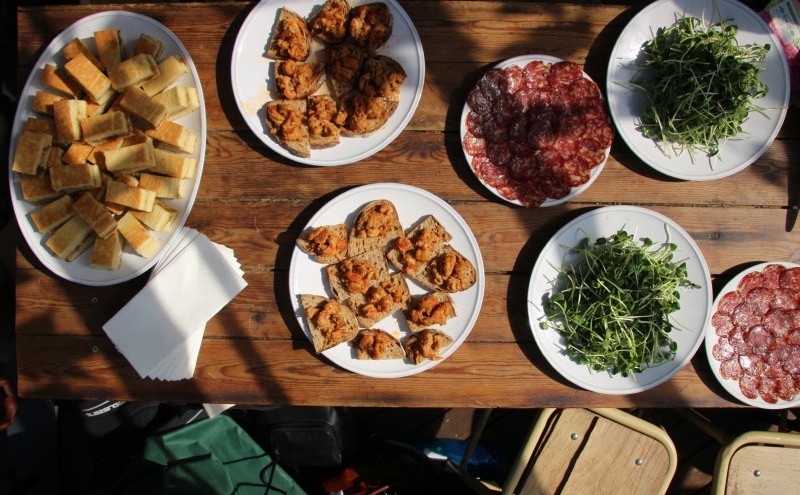 Photo credit: Chris Young
Under the terms of the landmark Agriculture Bill currently going through Parliament, the Government will be required to measure and report on "food security". But what do they mean and what will they measure? And if the data shows up any worrying trends (which it undoubtedly will), will policy-makers be required to do anything about it?
As a movement supporting healthy, fair and sustainable food and farming, we could use this new legal provision to press for measures and actions that support health, food poverty reduction, better skills and jobs in food production, and farming and fishing practices that respond adequately to the climate and nature emergency. All of these are essential to 'true' food security.
Yet traditionally "food security" is a very narrow measure concerned largely with food volume, trade and economics, largely unfit to inform responses to the health, inequalities, climate and nature challenges of our time. A focus on 'true' food security would mean taking into account the impact of food production on climate, soil health, water, pollinators and fish stocks - our "food security" being inherently dependent on natural assets. It would mean measuring and improving the ability of everyone to afford a healthy and sustainable diet as part of their human right to food; and it would help govern a decline, rather than the precipitous rise, in referrals to charitable food banks and farmers going out of business. One could also argue that access to fairly paid and well treated workers to produce food is another big factor affecting our food security.
However, measurement is all very well, but more important is what we do about these things. When "food security" data are published, as will be required by the new Agriculture Act, will Government, land-owners, local authorities and businesses be required to do anything about it? Will they also be measured on their policies and action, in a similarly robust way to how the Climate Change Committee now scrutinises government policy on carbon? And if the answer to either of these questions is "no", then surely the time is also ripe to lobby for allocation of legal responsibilities and accountability for taking effective action.
Should our government be required to measure and act on such important matters? I believe that they must; and this would require placing a legal duty on them to do so. Indeed, I would go so far as to say that the Agriculture Bill, new Environmental Land Management System and National Food Strategy will be on very shaky foundations if we do not take the opportunity to place such a duty on government. Defining 'true' food security as part of wording and implementation of the new UK Agriculture Law could be a golden opportunity to begin.
What the Agriculture Bill currently says
(subject to any amendments that may come)

"Duty to report to Parliament on UK food security

(1) The Secretary of State must, at least once every five years, prepare and lay before Parliament a report containing an analysis of statistical data relating to food security in the United Kingdom.

(2) The data analysed in the report may include (among other things) data about the following matters—
(a) global food availability;
(b) supply sources for food (including the range of supply sources and the availability to the public of food from domestic and other sources);
(c) the resilience of the supply chain for food (including in response to disruptions in, or significant price increases for, the supply of energy);
(d) household expenditure on food (including in comparison to expenditure on other items);
(e) food safety and consumer confidence in food."
Sustain is supporting an amendment to the Agriculture Bill, tabled in February 2020 by Emma Lewell-Buck MP. It seeks inclusion of 'household food security' within the definition of 'food security', to put current ONS household food security measurement on a routine and mandatory footing, to help inform efforts to end food poverty. Read the amendment here (page 11, amendment 62, clause 17: https://publications.parliament.uk/pa/bills/cbill/58-01/0007/amend/agriculture_rm_pbc_0225.pdf
Background and thoughts on the term 'food security'
Note added since publication: This blog was published just before the COVID-19 Coronavirus pandemic, wihch itself throws into sharp relief the need for UK policy-makers to pay far more attention to the security and resilience of our food supply, and its equitable distribution.
The term "food security" means different things to different people. The term is quite loaded, traditionally dominated by trade and economic concerns. If a requirement to measure "food security" is going to be in UK law from 2020, then it may be helpful to understand how this is currently seen and used by a range of different institutions and policy-makers.
At all levels, "food security" is generally understood as being about ensuring that enough food is available – either right now, or for the future (growing) population. This often focuses on broad categories of foodstuffs, and especially on a few mega-scale commodity crops and livestock products, less so on diverse crops and fruit and veg. Concerns about whether everyone can afford or access the food are not generally included, nor whether the food supply meets the conditions of health-promoting diets. Nor are concerns about how production impacts on the environment, people, animals and natural assets involved in providing the food.
Perhaps most concerningly for our era, "food security" rarely if ever takes into account the severe challenges now facing our food system, such as climate change, water shortages, soil health, antibiotic resistance, the crisis in fish stocks or pollinator decline – although bodies such as the UN are increasingly incorporating such issues into international negotiations and agreements.
At national and international level, "food security" can be quite a broad concept related to ensuring that populations have sufficient food flowing into the market, measured by value, weight or calories. There may be some consideration of the general balance of different foodstuffs that contribute to a healthy diet, but not in much detail. There is also not much consideration with regards to the dignity of accessing food, value, weight, or calories says nothing as to whether the food was given out as food aid or if it was purchased in a local shop. This all still feels like monitoring patterns rather than being a prompt to action.
At national level, "food security" can be treated as a measure of "self-sufficiency" – the extent to which a country is producing the food that its population consumes.
In this context, "food security" (meaning national self-sufficiency) is generally measured as the difference between the amount of food by market demand and the proportion of this that is either domestically produced or imported. In the UK, Defra already monitors this in the Food Statistics Pocketbook, so the only difference the current UK Agriculture Bill provisions would make if "food security" is so narrowly defined (as set out above) would be to create a legal requirement for Defra to go on doing something they're pretty much already doing.
Businesses and business-focused policy-makers are often interested in such data to identify food categories where more domestic production – or more stages of value-adding and processing – could reduce reliance on imports and hence boost domestic enterprises, the economy and jobs. Hence "food security" can be treated as a measure of "food financial value generated or retained domestically". In this way of seeing things, aiming for "food security" can be viewed by some as a loaded term to promote domestic GDP and jobs, protectionism, artificially higher prices (i.e. keeping out cheaper imports) and can also be perceived as potentially anti-trade. This is probably why economists get agitated at the notion of "food security" linked to "self-sufficiency".
At all levels, "food security" also becomes intertwined with notions of "food resilience" – the ability of a population to continue to access food supplies long-term; in the face of growing chronic challenges such as climate change, water shortages, antimicrobial resistance, human and animal disease or pollinator decline; or in times of acute problems such as disruption or crisis – pandemic, flood, conflict, blockade, fuel shortages or (as we experienced recently) planning for the predicted consequences of a no-deal Brexit.
At community and household level, "food security" is understood much more viscerally in terms of the experience of individuals. Recently, after campaigning from various civil society groups including Sustain as well as Emma Lewell-Buck MP, the Office of National Statistics has agreed on a voluntary basis to measure "household food security". Although not yet implemented, this is a welcome first step, to help bring to public attention the fact that so many of our fellow citizens, including millions of children, go to bed hungry.
A "true food security" approach would also consider the affordability, accessibility and sustainability of everyone's food supply, and provide the insights that could help prompt action on the root causes of food insecurity. Measurement of household food insecurity is not just a stepping stone towards the achievement of the right to food; it is also a key way of understanding and developing policies to counter the insecurity in the first place. This is usually about people having sufficient income (wages or social security benefits), physical access or services (e.g. school meals; meals on wheels) to be able to eat well. Food deserts, where people have low access to nutritionally adequate food sources may be a matter for local planning, spatial, development and welfare policy. Government responses to "household food security" rarely consider either income or nutritional adequacy, except in the case of – for example – mandatory nutritional standards for school meals, and free school meals for families most in need.
---
Further reading

In relation to farming, environment and supply chain, find out about Sustain's other priorities for the Agriculture Bill
Read Sustain's briefing on measuring household food insecurity
Read a House of Commons Research Briefing on the Agriculture Bill
Read the draft Agriculture Bill itself (as introduced into Parliament on 16 January 2020)
Sustain annual conference - 8 December

Book now
Published 26 Feb 2020
Food Poverty: Over 5 million people in the UK struggle to get enough to eat. We're working to change that through people-powered projects and campaigns that tackle the root causes of food poverty and ensure everyone has dignified access to healthy, affordable food.
Kath is Chief Executive of Sustain: The alliance for better food and farming, since 2016 leading the alliance's response to Brexit and its profound implications for healthy and sustainable food, farming and fishing and developing the Campaign for a Better Food Britain. During the Covid-19 coronavirus pandemic in 2020, Kath has been the alliance lead on Food and Vulnerability, serving on numerous liaison and coordination groups to support the emergency food response at local and national level. She was instrumental in launching a judicial review of the government's approach to children's holiday hunger during Covid-19.
Kath Dalmeny
Chief Executive
Event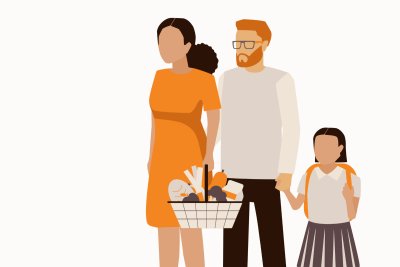 Sustain annual conference - 8 December
Support our work
Your donation will help communities identify ways to alleviate food poverty and increase access to healthy food.